Fish ED Web TV Episode "Bottom Bouncing Spinners For Late Summer Walleyes" August 2, 2018

"There's always more than one way to catch a walleye, but some are more fun than others.
One super productive and really fun way to catch walleyes is by using bottom bouncer and spinner combinations. This simple and effective presentation will put a lot of walleyes in your boat, especially once you learn some tips and tricks that will help you get the system dialed in.
Join Fish ED host Jon Thelen and fishing guide Jeff Sundin as they troll up some walleyes using bottom bouncers and spinners."
View Video >> Fish ED Web TV Episode "Bottom Bouncing Spinners For Late Summer Walleyes" August 2, 2018
---
Jeff Sundin Fishing Report August 1, 2018 "Question; Wiggle Worming Walleyes, What Are The Basics?"

On August 1 Loren Keizer Wrote; "Q) Hello Jeff. I was curious if you could share any information on your "wiggle worm" technique?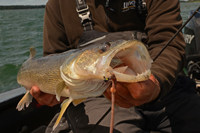 I'm going to be fishing this weekend with my oldest son, 10, and nephew, 12.
I'd like to try targeting some walleyes over shallow weed flats and thought this technique would work? Thanks in advance for any help or information."
A) Loren, Wiggle Worming does work for fishing in and around weed patches. During this warm water period, you are likely to catch a lot more than just walleyes. Bass, panfish and even pike are liable to keep the kids busy while your search for walleyes takes you down the weedline.
Here are some links that will get you started with the basics of Wiggle Worming. Read >> Wiggle Worming 101 View Video >> Fish ED Wiggle Worming
After you take a look, let me know if you have any specific questions remaining about the presentation.

- Jeff Sundin 218-245-9858 or EMAIL
---
Join US On Facebook and Become A Duly Deputized Fishrapper Cub Reporter
Helping your fellow fishermen and women stay abreast of fishing conditions in your area is good for everybody and it's easier than you think!
You don't have to write a book, you don't have to share your secret fishing spots and you don't even have to mention your lake. But even a few words about general trends, seasonal patterns and local weather conditions can really help.
Fishing Reports Minnesota, the Facebook counterpart to this page is open to the public, so you can post your own fishing update or just share a photo of a nice catch. Be like me, become a duly deputized "Cub Reporter", it's good for fishing! Contact Us
---
Jeff Sundin is a full time, professional fishing guide, outdoor writer and photographer. Book Jeff for guided fishing trips, for fishing seminars, fishing promotions and media events. Click here >> learn more about Jeff Sundin.
"The Early Bird Fishing Guide" Jeff Sundin - Fishing Blue Books, LLC 715 Byington Ave, LaPrairie, MN 55744 218-245-9858
Email copyright©2018 Fishing Blue Books, LLC All Rights Reserved - last revised 08-01-18