This is about as close to the "Normal Summer" as we've gotten in the past several years. The rainy season came on schedule and now the hot season appears to be rolling in. Surface water temperatures have risen from the cool sixties up to the high seventy-degree range in about a week. With the warm up we've seen accelerated weed growth, a variety of insect hatches and re-locating fish. Moving from spot to spot and checking for "new arrivals" has been the rule of the week. The summer season is upon us.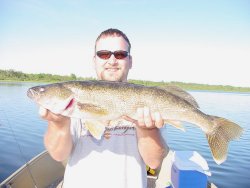 What? You don't like dabbling in the weeds? Try pulling one of these out of a big green Cabbage Bed and you'll be converted for life. In this weed bed, we could see the Walleye moving out as the boat approached. It took a lot of patience, but the rewards were great.
Walleye can still be found in the shallows, especially on windy days. But now the preferred bite is centered on main lake bars and humps. Now that the water is warming up, there are enough minnows and insects on the deeper structures to begin signaling the Walleye to make their move. We've been able to catch some of the deep Walleyes on Jig and Minnow, some on Night Crawlers and some on Leeches. Any day this week that I would have shown up without one of these three baits, would have been a day without a few of the fish we otherwise caught. It seems like we've had to change baits almost every time we moved to a new location. Each small group of fish has had it's own preference.
Shallow water Walleye are inhabiting the deeper portions of the new green weed beds and in areas where weeds meet deeper water, rocks or gravel, there will be at least some fish holding there. When it's calm, we've been able to catch some of these fish by going into the weeds and "flipping" our jigs tipped with either minnows or crawlers, into pockets. These pockets are open spaces between weed clusters that offer the fish an ambush spot to catch bait as it moves through. By concentrating on these openings, you can fish the weeds without getting snagged up. Use a vertical jigging approach and don't worry about making long casts. Just fish far enough ahead of the boat to get to the fish before they see you coming and you'll be able to scratch out several fish from each of the better weed beds.
Crappies, for the most part, have moved out of the shallow areas and are located in and around the deep weeds adjacent to deep open water holes. The better locations will have cabbage; coontail or other mixed weeds and should be fairly close to open water. During the day, the fish will move to the deeper portions of the weed bed or even out into the open water. At dusk, the fish are moving into the shallower edges and inner sections of the weeds. Some folks are using slip bobbers, but this is an excellent time to catch some of these fish by casting with an ultra-light. Try small Beetle Spins, 1/16-ounce feather jigs or my favorite, a 1/16-ounce jig with a 1-1/2 inch tube tail. Cast into the edges of the weeds and fish S-L-O-W-L-Y back to the boat.
Larger Northern Pike are showing up on the deeper portions of the new green wed beds, especially on the deeper lakes that have been slower to warm up. Holding toward the deeper edges, they've been easier to catch with a jig and minnow. In fact, the largest fish we've caught in the past week have all been on a jig/minnow on the deeper weed edges. With all of the sunshine, it's been tough to get these fish to move up and take spoons or crankbaits, but they would probably cooperate on a gray day with a little rain or chop on the water to make them move. An alternative to the jig/minnow fishing would be to slow troll a large sucker or Chubb along these deeper edges.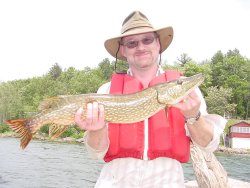 In Alaska, fish like these wouldn't even get a mention. But, fishing jig and minnow with light line and no leader, they are plenty scrappy and loads of fun to catch.
Smallmouth Bass and Largemouth Bass that were on the beds heavy last week are beginning to scatter and move deeper right now. We fished bass in a few areas this Wednesday and found only a few in active Smallmouth remaining on beds. With the accelerated high water temperatures in the shallows, I'd expect to see Bass moving to the deep weedlines soon, if they haven't made the move already. For daytime fishing, try a jerk worm like the popular Slug-go. Cast it out on to the shallow flat portions of the weed beds and work it back to the boat slowly using a twitch and pause motion. During this early part of summer, you'll get some really explosive hits on these things and if you haven't tried them before, you owe it to yourself to see how they work.
Bluegills and sunfish are still in the shallows and active this week, with lots of nice catches being reported on the smaller Bass/Panfish type lakes in the area. Shallow, mixed sand and gravel areas are where these fish spawn and you'll locate lots of them by cruising along the shoreline and finding the nesting areas visually. Once located, presentation is simple. If you have an ultra light rod with light 2 to 4 pound test line, casting small jigs toward the shallows and retrieving slowly is the most fun. But bobbers set for shallow water will also get you in to plenty of Bluegill action right now.