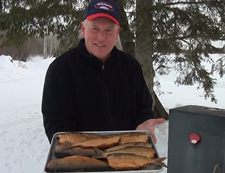 Watch Jeff walk through the whole process on video. Smoking Tulibees January 2011.
5 Lbs Canning/Pickling Salt
2 Lbs Brown Sugar
2 TBSP Onion Powder
1 TBSP Garlic Powder
1 TBSP Mace
2 TBSP Oregeno
This recipe makes several batches of smoked fish and can be used for other meat too. Mix thoroughly, store in well sealed zip-lock bags.
For me, 1Gallon size freezer bags with 1-1/2 cups of powder in each is perfect.
In large plastic bag, add about 1 cup of dry mixture and shake moistened fish in powder until coated liberally. Add small portions of dry brine as needed to avoid mixture becoming wet or "slushy". Coating should be uniform and heavy. For larger, whole fish, add powder to inside of body cavity.
Place fish in suitable plastic, crock or glass container. While curing, store in refrigerator. Curing time depends on personal taste, 6 to 12 hours depending on size of fish and salt taste desired.
Use a clean crock, glass container or plastic pail. Do not use metal container. Mix 1-1/2 cups of powder in about 8 cups of water, stir until mixed thoroughly.
Check for correct mixture by dropping in a peeled potato or fresh, un-cooked egg. The egg or potato should float easily. If either will not float, add small amounts of powder until they do.
Place fish in liquid and use a glass plate to keep pieces completely submerged. Soak 8 to 12 hours. Keep chilled, stir occasionally.