Recipes that make your fishing experience
worth all of the effort!
---
---
Pictured - 8 Crappie Fillets and and all of the ingredients ready to start dipping.
- Coat fillets with the seasoned flour.
- Dip coated fillets in egg wash.
- Roll fillets in Coconut mix.
- Pre-heat cooking oil to 350 degrees and fry fillets until golden brown. Serve with flavored Mayonnaise.

Using seperate bowls: Combine Coconut and Cracker Crumbs, Stir thoroughly until well mixed.
Mix Flour and dry seasonings thoroughly, sift if desired. Pre-heat cooking oil to 350 degrees.
- Dip coated fillets in egg wash.
- Roll fillets in Coconut mix.
- Pre-heat cooking oil to 350 degrees and fry fillets until golden brown. Serve with flavored Mayonnaise. Don't overheat, avoid burning!

*Click Images To Enlarge
---
HEY!

This is Jeff Sundin's official shore lunch recipe. The one that Jeff serves to his most cherished customers and best friends. This recipe is guaranteed to make your fish taste just like you cooked them over and open fire, out on a big flat rock on Rainy Lake! >> Book A Guide Trip With Jeff .
---
Basic Pan Fried Walleye - Simply Delicious Home Recipe

This simple recipe is perfect for folks who love fish and don't want to taste anything else. The mild, light coating lets all of the sweet Walleye flavor shine through and it's so easy that anyone can make perfet walleye every time.

2 Eggs - 1 Cup Milk - 1/2 Tsp. Black Pepper - 1/2 tsp. Salt - 2 Cups White Flour - Canola Oil (or your favorite vegetable oil).
Mix the eggs, milk, black pepper and salt in a mixing bowl. Dip the Walleye fillets in the milk/egg bath and then roll the fillets in flour. Let the fillets stand on a plate for a few minutes while you heat your cooking oil to about 340°F. Place fillets in hot oil and fry one side until golden brown, flip and fry the other side until the fillet will not fold, buckle or break when lifted gently with a fork. . Do not overheat oil! Fillets should sizzle briskly, but to avoid burning, take care that the oil does not smoke while cooking.
---
6 Walleye fillets
1 cup olive oil, divided
6 ounces butter, melted
3 cups Bread Crumbs, French Bread hand crumbled
1 cup whole wheat bread, hand crumbled
salt and pepper
1-1/2 cups Parmesan cheese.
Heat 1/4 cup olive oil in pan. Salt and pepper fillets and saute for about 2 - 3 minutes on each side until just done. Place in 9 X 13 glass pan and cover fillet's with bread crumb mixture. Place in oven for 10 - 15 minutes until brown on top.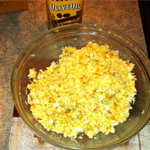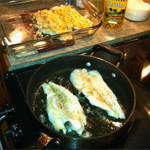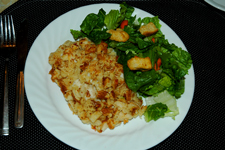 Pre heat oven to 350. Crumble fresh bread to a fine mixture. Use crusts. Add Parmesan to bread mixture with melted butter and 1/4- 1/2 cup olive oil. Just enough to make bread crumbs moist.
---
2 Lbs. Walleye Fillets
1 Cup Plain White Flour or FryCrisp™
1 Tsp Salt
1 Tsp Baking Soda
1 Can Beer (flat)
1 Egg
Your Favorite Cooking Oil: Canola, Peanut, Shortening or Vegetable Oil

Wash Fillets and cut into serving size pieces. Mix dry ingredients, then add egg and stir in beer until consistency is like thick gravy. In a deep skillet or deep fryer, pre-heat oil to 350 Degrees. Place battered Walleye pieces in hot oil and fry until golden brown. Walleye is fully cooked when pieces float to the top of hot oil. Remove fish from oil and drain on paper towels.

Note: For extra crispy beer batter, substitute FryCrisp™ instead of white flour. By the way, FryCrisp™ also makes wonderfull onion rings! For really thick batter, coat the Walleye pieces with dry flour before applying the batter.
---
Removing the Lateral Line and Spike Bones From a Walleye Fillet

To begin the process of removing the lateral line that contains the row of tiny 'spike bones", use your fillet knife to make a small cut about 1/8 inch on each side of the visible lateral line and at least an inch long. Don't cut too close to the line or you'll have trouble getting the two halves to separate easily.

Preparing to "Un-Zip" the Lateral and Spike Bones

After making the cuts, it's simple to grasp the top and bottom half sections of the fillet and pull them apart. You'll see the lateral line that contains the spike bones separate itself from the fillet as you "un-zip" the fillet.

The Finished Walleye Fillet

After you've "un-zipped" the fillet, you'll have two completely bone free sections. The thin strip that you've removed from the center contains the small spike bones and is discarded.

Removing this lateral line, especially on larger fish also helps to reduce any contaminants that may be contained in this fatty tissue. Minnesota, like most states, provides frequently updated information about Mercury and other contaminants in the "Lake Finder" section of the Minnesota DNR website.
---