- Sold - 2012 Lund Alaskan 20 Foot Tiller Model. - Sold -
Put into service in mid August 2012, the entire rig is Essentially new. 2012 90 HP Mercury OptiMax Tiller with Mercury's Big Tiller. 2012 Shoreland'r Trailer, MinnKota Traxxis 80 pound thrust., tiller trolling motor, 2012 Humminbird 998C Color Graph GPS Combo, Wave Wackers, Air Pedestal and Premium Seat upgrades. All Batteries, Splash Guards and accessories are Rigged, Ready and Fully Trained To Catch Fish! Available immediately or hold until spripng with deposit. Click on images or text links for larger views.
You've already seen what I have to say about the Lund Alaskan and by now you know that I as far as I'm concerned, this is the ultimate fishing rig on the market anywhere. This boat is tough enough to handle the chop on any big lake in in the midwest, but it will float on some of the smallest lakes I can find. This one has only been in service since mid-June so it's one of the best values you'll ever find. This rig has helped me put thousands of fish into my customers hands! It's ready to go, fully rigged and All you have to do is click here for more information or call me at 218-246-2375.
Ready for immediate delivery. $22,000.00 Need more pictures? Just ask and I'll get them to you ASAP.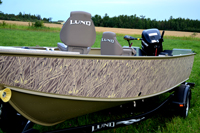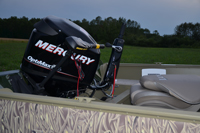 2012 Lund Alaskan 20 ft Tiller
Jeff sundin posted 1/20/2011
Email or Call 218-246-2375