For Sale — Available Immediately — 2016 Lund 208 ProV GL Tiller, Mercury Verado 200 HP "Big Tiller"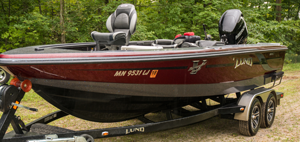 2016 Lund 208 Pro V GL Tiller, 2016 Mercury Verado 200 HP "Big Tiller", Lund 2016 Dual Axle Bunk Trailer.
This boat provides the ultimate ride in an open tiller fishing boat. You've wanted one for a long time, but you thought it would be way too expensive for you; not anymore!
It's time for me to make room for a new rig and that means that you can cash in on big savings by picking up this rigged, ready and fully trained in luxurious fishing boat.
If you're reading this page, then you probably more details, so Click Here for full rig rundown >> Lund 208 ProV GL Tiller For Sale
---
Guided Fishing Trips — Gift Certificates
Wouldn't you just love to get a gift like this yourself? A full service guided fishing trip in Northern Minnesota on some of the best fishing lakes that the midwest has to offer. Some of your favorite people would love the gift of a guided fishing trip too! Gift Certificates are a great way to treat your friends and family to the fishing experience they've always wanted.
Gift certificates are valid for three years, so there's plenty of time to get a date that you really want. Just select your trip and payment options and we'll mail the certificate.
Fishing Seminars, In-Store Presentations and Guest Appearances
With 35 years as a full-time fishing professional, veteran fishing guide Jeff Sundin has picked up a few tricks about fishing. Use the knowledge he's gained to help reach more customers with hands-on product demonstrations, in-store appearances, fishing seminars and ..." Learn More >> Fishing Seminars, Presentations and Guest Appearances
Jeff Sundin is a full time, professional fishing guide, outdoor writer and photographer. Book Jeff for guided fishing trips, for fishing seminars, fishing promotions and media events. Click here >> learn more about Jeff Sundin.
"The Early Bird Fishing Guide" Jeff Sundin - Fishing Blue Books, LLC 715 Byington Ave, LaPrairie, MN 55744 218-245-9858
Email copyright©2021 Fishing Blue Books, LLC All Rights Reserved - last revised 05-14-2021