Lund Alaskan For Sale Updated Information March 17, 2019
2013 Lund Alaskan, 2000 Tiller, Black
2013 90 HP Mercury OptiMax Tiller with Mercury's Big Tiller.
Shoreland'r Trailer Single Axle With Brakes
MinnKota Traxxis 80 pound thrust., tiller trolling motor
2017 Humminbird Helix 10 Side Imaging, Down Imaging, I Color Graph GPS Combo
MinnKota 3 Bank Automatic Battery Charger
Wave Wackers, Splash Guards
Premium Seats (3) and Air Ride Pedestal Upgrades.
All Accessories, Batteries, Charger, Splash Guards, Bait Tank are Rigged, Ready and Fully Trained To Catch Fish!

---

Engine Scanned on March 15, 2019 by Ray's Marine >> View Engine Scan Image
New Image Added March 17, 2019 >> Interior Full Length Overhead View
New Image Added March 17, 2019 >> Interior Humminbird Helix 10 View
New Image Added March 17, 2019 >> Exterior Starboard Bow View
New Image Added March 17, 2019 >> Exterior Port Bow View
New Image Added March 17, 2019 >> Exterior Stern OptMax View
Available for immediate pickup or you can hold and store it here until spring with deposit. Click on images or text links for larger views.

You've probably already seen what I have to say about the Lund Alaskan (Click Here To Read Past Reviews) and by now you know that I as far as I'm concerned, this is the ultimate "Working Angler's" fishing rig on the market anywhere.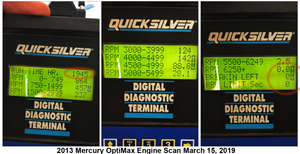 This boat is tough enough to handle the chop on any big lake in in the midwest, but it will also float off the trailer into shallow water on some of the smallest lakes I can find.
For me it's like having a fishing version of a 4 wheel drive truck.
This rig has been around the block more than a few times and it's helped me put thousands of fish into my customers hands!
It's definitely not in "like new" condition, but it is in good working order and will serve you well. It's fully rigged and ready for immediate pickup and best of all, it's inexpensive.
All you have to do is >> click here to contact me for more information . $14,999.00 Need more pictures? Just ask and I'll get them to you ASAP.
---
Guided Fishing Trips — Gift Certificates
Wouldn't you just love to get a gift like this yourself? A full service guided fishing trip in Northern Minnesota on some of the best fishing lakes that the midwest has to offer. Some of your favorite people would love the gift of a guided fishing trip too! Gift Certificates are a great way to treat your friends and family to the fishing experience they've always wanted.
Gift certificates are valid for three years, so there's plenty of time to get a date that you really want. Just select your trip and payment options and we'll mail the certificate.
Fishing Seminars, In-Store Presentations and Guest Appearances
With 35 years as a full-time fishing professional, veteran fishing guide Jeff Sundin has picked up a few tricks about fishing. Use the knowledge he's gained to help reach more customers with hands-on product demonstrations, in-store appearances, fishing seminars and ..." Learn More >> Fishing Seminars, Presentations and Guest Appearances
Jeff Sundin is a full time, professional fishing guide, outdoor writer and photographer. Book Jeff for guided fishing trips, for fishing seminars, fishing promotions and media events. Click here >> learn more about Jeff Sundin.
"The Early Bird Fishing Guide" Jeff Sundin - Fishing Blue Books, LLC 715 Byington Ave, LaPrairie, MN 55744 218-245-9858
Email copyright©2019 Fishing Blue Books, LLC All Rights Reserved - last revised 3-17-2019