---
Ice Fishing Video
View Current Feature
---
More Recent Fishing Reports Library
---


Link to Facebook Fishing Reports Page
---
Book A Guided Fishing Trip With Jeff Sundin
---
Public Notices
---
Fishing Report - Current, Reliable Northern Minnesota Fishing Reports for Leech Lake, Lake Winnie, Cass Lake, Red Lake, Vermilion, Lake of the Woods, Bowstring and more MN Lakes

Ice Fishing Report March 9, 2014 Jeff Sundin - "Now That Was A Blast!" - This winter, uphill battles have been common. In fact, I'm so used to them that I'm afraid I'd be disappointed if there wasn't a struggle to work through.
My latest adventure, installing a new computer system has taken on more than a few detours. They say that I needed it to replace the perfectly good , but now outdated XP version that I had before. It's true, I did need a new one, I think? But it's taking a few days for this critter to get the idea that I'm going to win.
So if you notice that the reports a little intermittent, this week, don't be surprised. At the moment, I'm spending some time learning how to control these new gizmos and gadgets than I AM Writing.
Just think, when I have all of this power harnessed, I'll be able to come up with all sorts of creative ways to get you to waste a few minutes of your day! If YOU KNOW what I ... :)!!


(3/9) From Wired2Fish: Denali Noirwood Series Rods . "Denali Rods has built several lines of bass fishing rods at every price point. The Jadewood rods offer anglers value and performance at the $99 price point. The new Kovert Series gives the angler a small-diameter blank with stylish modern sleek looks and sensitive blanks at the $149 price point. The Rosewood line of rods was designed by the pros and offers a wide variety of application specific rods at the $229 price point while their top of the line Noirwood offers the best blanks and materials on the market at the flagship price of $369.
Scott Estes, President of Denali Rods, wanted to give Wired2fish readers a chance to win one of their top-of-the-line Noirwood Series Rods(N842MS 7′ Med Spinning Rod – MSRP $369). "We know not every angler can afford a Noirwood, but we also know that giving die-hard anglers who read Wired2fish the chance to win a..." >> Denali Noirwood Series Rods . (3/18)


(3/9) "Cub Reporter, Staff #003 "Pondering the perplexities of modernizing the mechanisms and organizing the ... " :)!!

Ice Fishing Report March 7, 2014 Jeff Sundin - "Now That Was A Blast!" - This winter, ice fishing has consumed most of my time for nearly 3 months. Just at the time when you would think that a touch of boredom could set in, WHAM! Here comes a whole new perspective on ice fishing, hand delivered.
As a reasonably experienced fisherman, I am sometimes asked to entertain outdoor writers when they visit the Grand Rapids area. That's what I was doing over the past few days, when a writers conference, organized by Visit Grand Rapids arrived in town.
Appearing to be a fairly routine fishing day, Tuesday began with me jamming 3 guys who I'd just met into the crowded seats of my old jalopy snow plowing truck. Heading for the lake, the conversation was typical, where we'd be going, what we'd be doing and stuff like that. Little did I know that the 3 men whose knees were squished up against the beat up seats were about to become lifetime friends, at least I hope so.
David Brown, an outdoor writer from Tampa Florida has covered every kind of fishing there is. He had been everywhere from grandpas farm pond to the Amazon River. Everywhere that is, except for ice fishing. That's right, this would be his first time on the ice, his first fish through the ice, his first look at everything ice fishing.
How could I go wrong? For him, everything we did, anything we talked about, even the most mundane detail was new information. For me, every time anything happened, it was like a special occasion. Because I was seeing from a newcomers point of view, it became a lot more interesting, a lot more fun!
Jeff Schluter, VP of The St. Croix Rod company, a co-sponsor of the event was one of my VIPs. He could not have been easier to work for if he tried. We didn't talk a lot about business, we just fished and when the chance came along, snapped a few pictures. Watching the crew in action seemed to be more than enough reward for Jeff. It was like fishing with an old pal, no worries, no problems, we just enjoyed the gift of a really nice day on the lake.
Then there's Greg Wilczynski; I'm still trying to figure out how I could learn so much, so fast from one man. Greg was introduced to me as the developer/designer of Ice Fishing Rods for St. Croix. That job alone would have made any conversation more than interesting enough for me. But it didn't take too long to figure out that the depth of Greg's knowledge about ice fishing was gonna influence my thinking forever.
I'll bet that most of you are going to be as surprised as I was to learn that the United States of America has an Olympic style ice fishing team. Yes, we do and Greg is their coach. The ice fishing team competes all around the world and they do things a little bit differently than we do.
Maybe you'd like to try it sometime? No power augers allowed, oh and no electronics either and by the way, that cozy portable shelter? Leave that home too, you won't be needing it because you're not allowed to drag it onto the ice either.
Then there's the strategy; Who gets to fish in which sector and who has their flag near which hole and what happens if the Russian team dumps in some of their genetically engineered "poison bloodworms" to kill the hole? I KNOW ... it sounds like espionage but I am not kidding.
There's not enough space on this page to say everything that I learned from Greg but I will tease you with one tidbit. After ice fishing for 45 years, maybe longer, I just learned how to control a spring bobber. I know you laughed at that but I'm not kidding. I didn't say that I learned how to use one, I said how to control one. How to find the right one, and tune it to make it work the way it is intended.
Later, I will share that and it wouldn't surprise me if you see Greg's name attached to some other brilliant tips and tricks too. But for now, why don't you just log on for an official tour at their website >> US Ice Fishing Team .
There's a lot more to say, but I need to save some space for the rest of the report, so tomorrow I'll tell a little bit more about or fishing trip on day 2 too.
All I can do is say that I'm lucky to live here, a place that provides fodder for interesting fish stories. Thank you also to the folks at Visit Grand Rapids for hosting the event and to the Grand Poobah, Tom Neustrom for pairing me with these 3 wonderful new friends.


(3/7) Friday 3-7-14 Roads On Bowstring Lake are open again, Erin at Geiger's Trails End Resort writes; "After a hard day of plowing, we have the roads open again, sort of.
If the wind doesn't blow too hard, we'll be okay, if it does, it may not matter because there's a full scale meltdown in store for us nxt week.
So you might as well come join us and enjoy the work that we've done to keep the system going. Drill a few holes, catch a few fish and enjoy these last few days on the good ice " - Erin and Bill Charlton, Trails End Resort .


(3/7) Gus Sheker, Gus' Place Resort on Ball Club Lake; "Despite resisting spending money on snow removal equipment this late in the winter, the only way to reopen my lake road after the last 2 ground blizzards was buy a bigger snow plow.
Was it worth it? I am still working on it, but I have more than 50% of my old road reclaimed from the storm and should have most all of it by the weekend.
Other than the deep snow on the lake the conditions are pretty good. Thick ice and not much slush (yet).
For the anglers who have been going out on sleds the fishing has been very, very good for Perch. The bigger female fish are coming back up the hill into shallow water and my customers are reporting limits, although they are sorting through them for the bigger fish.
Crappie too, have been coming alive again, but the bite is off and on and not all day long. The mornings have been the best for crappie with whole minnows on swim-style jigs.
This coming week's forecast is for a warm up and although that usually means more slush it also means more comfortable days out on the lake, the fish school and move shallow. I will update as conditions change." - Gus Sheker Gus' Place Resort .


(3/7) On Lake Winnibigoshish, Ryan Peterson dropped a quick note about the Kids Perch Jerk Fishing Derby. Location of the event is Denny's Resort on Lake Winnibigoshish. This event will be held on Saturday March 8th, 2014 at 9:00 AM. It's a fun event, the weather will be nice and there are lots of great prizes for the kids. Get more details from ... >> Ryan Peterson's Guiding .


(3/6) A Guide To Bass Fishing Reels, by Jason Sealock begins with; "Wading through the sea of fishing reels on the market, we realized there might be a need for a guide for bass fishing reels to understand the basic differences and what to look for in a good bass fishing reel.
A fishing reel gives you a great advantage in fishing for bass. Sure you can tie a string to the end of a long stick and catch fish with earthworms on a hook. But you'll be extremely limited. The reel gives you the ability to hold many yards of line in a compact space but then be able to launch a lure a greater distance and make that lure come alive with retrieves and reeling.
The reel paired with a rod serves two purposes. First, it allows you to get a bait close to the bass without the angler having to get too close and spook the fish. Second, it lets you cover more water on a single cast of a bait. When you turn the handle, you retrieve the line and your bait is now able to entice fish the entire ...Read Full Article >> A Guide To Bass Fishing Reels .


(3/5) On Bowstring Lake, Bowstring Shores Resort, Darv Oelke says; "We do have access to the lake. Snowmobiles and ATV's. Perch bite is getting better every day. In front of cowbay in 16 to 20 foot of water. Crappies still biting in 20 to 26 feet on the north end and perch point. Both on a crappie minnow or small Swedish pimple. Have not seen any vehicle traffic besides on plowed roads." - Darv, Bowstring Shores Resort 218-832-3101.

Ice Fishing Report March 4, 2014 Jeff Sundin - "Everybody's Working For The Weekend!" - Don't look now, but the weather forecast is trying to tell us something. Warmer lows and hotter highs are heading this way.
As luck would have it, we have a crew, half the size of the Admirals Fleet in town right now and we're heading out onto the ice for the next few days. Fishing reports will be flowing like crazy, just in time to help get you geared up for the weekend.
Writers, fishing pro's and manufacturers of well known fishing gear are all teaming up to catch some fish, take some pictures and swap stories.
Luckily, the weather is lending a helping arm too and it promises to be perfect conditions for the next few days. I Know that you'll be hearing a lot about the Visit Grand Rapids, sponsorred event as the weeks unfold.


(3/4) Leech Lake Perch Fishing is always on the radar screen during late winter. So far though, it's off to a slow start, at least on the east side of the lake. That according to a couple of my fishing buddies who were there yesterday.
Using a track equipped ATV, they covered a lot of territory, drilled tons of holes and came back with little to show for their efforts.
In Portage Bay, snowmobiles or track machines will get you anywhere you want to go. But travel by vehicle in Portage Bay is currently out of the question.
Conditions on the west side are better. The plowed road at Pine Point is good, so are the roads in Walker Bay. Like the east side though, the spring Perch bonanza has not yet begun.


(3/4) Leech Lake Area Lakes, Gary Roerick Says; "It's time for Sunfish, Crappies and Jumbo Perch. If you are willing to challenge the cold and wind, now is a great time to scout and harvest those shallow water perch, slab crappies, or those hefty bluegills. For this time of year, I like to use a small portable fish shelter that you can pull around by hand and this will allow you to be mobile so you can continue moving to different areas until you find that sweet spot.
While out chasing perch and panfish this past week, I continue to find the ice thickness in the 24" to 38" range. Walker Bay of Leech Lake is in the 30" to 38" category and some of the smaller area lakes are in the 24" to 28" range.
As promised last week, here are a few of the statistics from our 35th Annual International Eelpout Festival: The largest eelpout was 11.98 pounds. The individual tonnage award was 45 pounds. The team tonnage award was at 438.85 pounds. There was a total of 340 eelpout caught for a combined weight of 1,134.86 pounds. The total number of pout caught this year was down significantly from last year. Despite all of the wind and frigid temperatures that occurred this year, it appeared that most everyone had a grand time!
We are nearing the final days that you can have your ice fishing shelters on area lakes. The line that separates the State of Minnesota in our area is Highways 34 and 200. All shelters south of this line must be off the lake before midnight on March 3rd. Shelters north of this line must be removed by midnight March 17th. Please refer to the 2014 Minnesota Fishing Regulations booklet for complete details.
Another small change that the MN DNR did again this year is changed the date that you are required to purchase your new fishing license. If you plan to ice fish you are required to have a new angling license effective March 1st of this year.
Feel free to check out our website at http://roericks.webs.com to see some of the latest photos and/or give me a call at 218-760-8266 to discuss your late season perch and/or panfish party!
When panfishing, remember, be mobile, travel light, and you will have some great fishing stories and fresh fillets to share with your family and friends! From my perspective, the best panfishing each winter season occurs in late March and April of each year! - Here's to future fresh fillets! Cheers!" - Gary Roerick Roerick Fish House Rentals .



Lake of the Woods Late Winter Walleye Fishing - Gearing up for late winter Walleye fishing on Lake of the Woods is going to be a lot easier if you watch this video.
Jon Thelen took me on an adventure, treating me to an on the ice seminar about how to find 'em. I learned a lot and I know that you will too! Click here and then select show #1454 Midwest Outdoors Lake of the Woods Late Winter Walleyes .

(3/4) A email comment from the Fishing Reports Minnesota Page says; "Hey not sure if you guys heard yet but pelican lake is absolutely dead.
DNR missed the no limit by about a week. Last Sunday had the best crappie fishing of my life out there. Went out yesterday and dead fish were coming up through holes everywhere. Whatever was alive wasn't biting and moving very slow."
A) Not know exactly which Pelican lake we were talking about, I forwarded the question to MN DNR Fisheries and here's what I learned; "This (Pelican Lake) is a designated wildlife lake near the Montrose Minnesota Fish management area.
Management on this lake is somewhat controversial right now because it is scheduled to be drawn down and managed for ducks. This has historically been a very important duck lake in that area. Lake size has increased dramatically from when I worked down there, and is now over 3,000 acre (due to increased runoff from tiling farm practices) .
As the lake acreage increased you get very dramatic response from the fish population because the newly flooded landscape is extremely productive initially and then stabilizes at a lower production level. Similar to newly flooded southern reservoirs for bass. Fishing has been excellent on this lake the last few years, and thus the controversy on what it should be managed for.
So…. This lake is winterkilling on it's own this winter (draw down is not happening yet) . DO levels were less than 1 ppm o Friday when DNR opened it up to unlimited fishing. People were still catching fish mid week, but I suspect it will continue to go downhill. My understanding is there are a variety of fish species now in the lake with a wide variety of tolerance for low Disolved Oxygen levels."
For further details, contact the DNR Area Supervisor at Montrose, Joe Stewig (763) 675-3301).


(3/4) An email from Dustin Bauman asks; "Jeff, I am going to be making a trip up to northern Minnesota this weekend and was hoping you could point me in the right direction. First will a ice auger extension be required. Last year we fished on little Cutfoot and did pretty well. Has that continued. We will be staying at Williams narrow is there any other place you would try. I appreciate any help you can provide. I read your reports daily and find them greatly beneficial. - Thanks A Lot
A) And Thank You Dustin - The easy answer first, we are all adding extensions to our augers right now. Some lakes have thicker ice than others, but for me, the power head is touching the surface almost everywhere I've gone. I would have yours available, if not already installed when you arrive.
The second answer depends on how you plan to travel on the ice. There are some excellent panfish bites going on, but most of them depend on snowmobiling or tracks.
Between now and Thursday, we'll be hearing a lot of stories about travel conditions and I would ask you to make a special point of reading the Thursday morning reports.


... And Did You Know that you can even post your own helpful hints to my fishing reports page on facebook? YES! You Can! You don't have to tell us your fishing secrets, just ask a question or go ahead and brag a little when you get a whopper! >>> Click Here >>> Fishing Reports Minnesota .


(3/3) Trapper Survives Life and Death Encounter With Moose!; "Glancing into the dark shadows, a large cow moose was spotted. The two made eye contact and as the stare down continued Newman noticed she had a calf with her and begin to back-track. About four steps into the retreat, Trigger noticed the animal as well and started barking. That's all it took.
Ears laid back, it was "game on" and the moose was on top of Donny before he knew what happened. Knocked down, face first, into the deep snow, the assault begin.
Luckily Newman had a back-pack on, which was full of trapping bait. Almost a foot thick, packed with meat, it acted as a cushion, taking the brunt of six to seven deadly ... " >> Read Greg's Full Report .


(3/3) Minneapolis Star & Tribune Reports; Biologist Able to Remove Zebra Mussels - A New York biologist has invented a safe way to remove zebra mussels with minimal to no effect on other species in a fishery. Daniel P. Molloy, a 66-year-old emeritus biologist at the New York State Museum in Albany has developed environmentally safe control agents capable of removing unwanted organisms in our fisheries, namely invasive species including the dreaded zebra mussel. Learn More >> Biologist Removes Zebra Mussels .


(3/3) On Lake of the Woods, Border View Lodge, Mike Kinsella wrote; "Anglers with electronics are marking many fish, getting them to bite seems to be the issue. We are still seeing many Tulibee. There is no report of a hot jig or lure that has been better than others. It seems that one angler can get something to work well while others are better off using their own techniques and equipment rather than trying to duplicate others.
Most of the houses are around 30 to 31 feet of water. We are still fishing in multiple locations with mixed reports of both spots.
The forecast shows temps to get into the 20's this week. It would be a nice break. " 1-800-776-3474 Border View Lodge .
---






More ways to connect! Sign up to receive the Free "Insider Newsletter". Don't forget, you can always catch up with Jeff Sundin on the radio program too! Listen every Thursday at 6:20 AM and get additional fishing reports and information. KAXE 91.7 FM Grand Rapids - 105.3 FM Bemidji - 89.9 FM Brainerd . Want even more? Get HANDS ON Fishing Tips. Book your own Guided Fishing Trip !
---

Ice Fishing Report March 2, 2014 Jeff Sundin - "Whatd'yagottadotogetawarmup Around Here? " - Holy Frozen Fish Sticks! It's the second day of March and still -24 degrees right outside my window. Fear not, if you're thinking about doing some late winter ice fishing, you are in luck. There will be plenty of ice.
In fact, one of the more popular posts on the facebook page was about the availability of ice auger extenstions. For me, the extension hasn't been needed so far, but it's getting close. For ice fishermen who need to drill from inside a wheel house, I think and auger extension is going to be required for the next few weeks.
On Saturday, I spent my day on a marathon computer project. In fact I just now realized that I really didn't even snoop around for any fresh news. I did remember to do one thing though, I logged onto the internet and picked up my 2014 Minnesota Fishing License .
Recently, I posted comments to the Fishing Reports Minnesota facebook page about renewing our fishing licenses and adding the Walleye Stamp. After reading some of the replies, I feel compelled to make an observation.

"The Less One Knows, The More Firmly One Believes"

.
Anyway, YES, believe it or not, your 2013 license really did expire on Friday. And NO, buying the $5.00 Walleye stamp is not wasted money, not at all. In fact, I've been lucky enough to stumble into more than a few good Walleyes on lakes that are completely dependent on stocking. In fact, last summer on Pokegama, (one of those stocked lakes), it probably took your average Walleye fishermen an hour, maybe less to get $5.00 worth of fantastic fishing. Click the copy of my license and see for yourself,

I AM ALL IN!

(3/2) A question from Troy Torma; "Hello Jeff. I am considering making a long weekend trip to the Deer River area on March 14-17.
I was wondering how much snow is currently on the lakes? How is travel for a four wheel drive suv? I'm guessing there are some roads on some of the bigger lakes, but I'm not sure how good the travel is. Also will we need an extension on our auger to get through the ice.
I would be traveling about 10 hours for the trip so any advice and information on the conditions would be a huge help. Thanks".
A) Troy, unless we have a really sudden melt followed by a hard freeze, I don't think that you'll be able to drive off road. At least not on the vast majority of the Itasca area lakes.
Snow cover varies from lake to lake, but drifts of 1 to 2 feet are common, especially on the south and east shorelines of larger lakes. The prevailing winds have been from the northwest and that has forced the snow toward the southeast.
The snow is packed fairly hard, making travel ideal for snowmobiles and track machines. But causing problems for rental operators attempting to maintain plowed roads.
Right now, I know for sure, that there are good road systems on the west side of Lake Winnibigoshish along with west sides of Leech Lake, Cass Lake and Bowstring. Access to all four of those lakes will almost certainly remain good through the time of your visit.
Ice is getting thick and I will be needing to add an extension to my auger almost any day now. Again, ice conditions vary, but an auger extension is one of those tools that comes in handy, sooner or later. You might as well plan on needing it and if you don't, you'll still be glad that you were prepared.
During March, two weeks is a long time and conditions will likely change. But based on current weather and ice conditions, I'd say that you will almost certainly be able to find several good fishing lakes with driving access.
Scrolling through this, along with the Febraury fishing reports will lead you to some very good operators who can assist you in finding a great fishing spot. starting with the next several postings.


(3/2) On Bowstring Lake, Erin at Geiger's Trails End Resort; "Just passing a little note from the Northwest side of Bowstring.
The season is still in force, we are still Hot and Heavy with the Crappie bite. The Anglers coming off our lake are still reporting limits of fish. Let's not forget that there are some giant sized Jumbo Perch out there, too. There is reports of some slush out there on the East side of the Lake, be careful around there. The wind is high, but we are keeping up with the new monster of a Machine we bought, our Snowdogg Plow. Thanks to Dan Martin Snowplow Sales out of Grand Rapids, MN for the great service!
Don't forget, Pizza, Pizza, Pizza! Selling like craz! $10 will get you pizza delivered right to your fish house!
We are still running our Ice Fisherman's Special for cabin rentals through March, naybe longer if this weather keeps up.
It's never too early to reserve your spot for next year's Ice House Care Package. The Summer season is right around the corner and there are a few Cabin weeks available. Call for details. Our Space is limited. So, First Come First Serve!
Guys, want to say thank-you to a special Lady in your life? Geiger's Trails End Resort is hosting a Woman's Retreat April 10-13. Call for details." - Erin and Bill Charlton, Trails End Resort .


(3/2) On Lake Winnibigoshish, Ryan Peterson told me yesterday that they are still battling slush on the southeast side of Winnie.
Conditions on the west side of the lake are much better though and they've relocated some of their fishing shelters in that direction.
Ryan reported yesterday that the Perch fishing has been good and that his rental customers are catching limits of Perch. According to the photos he sent, I'd say that the size of fish has been fairly good too. There are a lot of smaller fish, but for anglers who stick with it, sorting a limit of 10 inch or better fish is possible.
There are still a limited number of rentals available during March and you can get more information by contacting >> Ryan Peterson's Guiding .


(3/1) Gus Sheker, Gus' Place Resort on Ball Club Lake; "From The Land Of Endless Winter; The hits just keep coming, one storm and ground blizzard after another.
We are plowing hours of work into keeping a road on the lake. The road is open in the morning and closed in the afternoon by wind. The conditions have over whelmed the ability of the equipment I have.
I ordered a bigger snowplow and we will be heading out the first of next week with heavier stuff. I hope it works.
The good news is that the anglers who are getting out on snow mobiles or tracks are having good luck with Jumbo female Perch and guess what; The Crappies are biting!
The Perch bite is sustained throughout the day, but the Crappie are spotty. Use live whole Fat Head minnows for both. The perch are tight to the bottom and the crappie are suspended in 15 feet.
On our part of the lake we haven't had any reports of slush and there are plenty of good fishing days ahead." - Gus Sheker Gus' Place Resort .


(3/1) On Cass Lake, Perch Fishermen anxious to fish in some fresh territory can team up with Chad Benson . After spending the winter with his Walleye fishing customers on Upper Red Lake, Chad has all of the house off the big pond and says; "I have migrated south from Upper Red with a few of my houses to the north end Of Cass Lake for some late ice perch fishing action. The ice conditions are very good with 30-36 inches of ice & no slush/water issues. It seems like the lakes that had the worst slush & flooding problems early in the season now have some of the best ice conditions now. Most of the snow was soaked up with the all the early ice flooding, so there actually isn't that much snow left on the ice. Off road travel is still difficult with the hard drifted snow, but plowing roads has been no problem. There is no pressure ridge this year either, so I plan on cutting a road down to Cedar Island soon. There should be some good fishing down there since practically no one has fished it all winter & it is some of the best perch fishing every year during the open water season.
Right now the most consistent bite has been in the 7-10 ft range on the tops & edges of the bars. We have been catching pretty good numbers of 8-12 inch perch in our current location with a few walleyes & pike harassing the perch anglers as well. When the perch are active jigging spoons with a minnow head have been working well. Best colors seem to be Gold, Yellow, Orange, Chartreuse. When they are not as active slip bobber set ups & rattle reels have been working well. "
Editors Note: Cass Lake is a darn good Perch fishery and nobody knows it better than Chad does. If I was you, I'd try getting myself onto his schedule befroe he gets booked solid. Contact >> Chad Benson , Chads Rentals or call 218-556-0823 .


(3/1) On Pokegama Lake, and most other Grand Rapids area lakes travel is still possible. But the most efficient way to get to your fishing spots is with snowmobiles or UTV/ATVs with track systems. On the big lakes like Winnie or Bowstring go to the resorts and use their plowed roads. But check with them first as winds will close these roads quickly.
Perch fishing has been offering families and friends a good "action" bite and the perch are reaching the transition stage of moving from deep-water soft spots to shallow water structure in the 10-15' depths. Look for ... >> Read full Grand Rapids Fishing Report .


(3/1) From Wired2Fish: Bluewater LED Cyberlite Giveaway . "Some anglers seem to always be in the dark. Both literally and figuratively. Gearing up with Bluewater LED Cyberlite takes darkness out of the equation.
The Cyberlite is great for tow vehicles, the boat, or even a golf cart or ATV. 720 Lumens and only uses one amp of power. They are compact, tough, water and weather resistant and come with all the mounting hardware. A waterproof switch allows you to have them on when you want them and off the rest of the time. They are perfect for use on a dark ramp or at your local fishing hole in a night tournament. Bluewater LED wants to give 4 readers a Cyberlite of their very own. Just click here for your chance to win a >> Bluewater LED Cyberlite Giveaway . (3/11) .
THE CAT CAME BACK and She's Purring Like A Kitten! Do you remember my note about needing a snowmobile repair man who "Had The Knack"? Well Guess What? He was living right under my nose, about a mile away from my house, I'd seen his place a hundred times, I just never knew what it was.
Let me introduce you to Chad Schumacher. Chad is one of those guys, the quintessential jack of all trades. His business, Northland Salvage and Service provides Snowmobile and ATV repair. Chad is "Invasive Species Certified" and also provides dock-boat lift service along with a host of other services.
When I called Chad and asked if he could help, he was ready willing and able. I dropped my sled off, he looked it over and just a few days later, she's back home and running like a top.
Judging by the back log at service departments of Minnesota's snowmobile dealers everywhere, I'd be willing to bet that some of you need a guy with "The Knack" right now. If I'm right, then here's the guy you need; Chad Schumacher, Northland Salvage and Service. 218-256-9691 or Email.
All of our Fishing Reports are saved in the library >> Click here for Ice Fishing Report February 2014 OR >> View Entire Fish Reports Library Here .
| | |
| --- | --- |
| Did you know that the Thursday Morning Program is available for a week after the air date? Yes, if you miss the live show, just click here and select the 6:00 hour on Thursday. Scroll in to about 6:20 AM and you're back in business! | |
---
And Do You Know that you can even post your own helpful hints to my fishing reports page on facebook? YES! You Can! You don't have to tell us your secrets, just go ahead and brag a little when you get a whopper! >>> Click Here >>> Fishing Reports Minnesota .
"Jeff Sundin is a full time, professional fishing guide, outdoor writer and photographer. Jeff is available for for fishing seminars, fishing promotions and media events. Click here to read more fishing articles and fishing reports.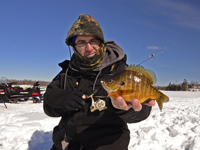 David Brown had been everywhere from grandpas farm pond to the Amazon River. Everywhere that is, except for ice fishing. That's right, this would be his first time on the ice, his first fish through the ice, his first look at everything ice fishing. click and read about >> David Brown, Tight Line Communiations .
Don't count 'em? Oh don't be silly, of course you can count the ... Lucky Number for March 9, 2014 ... :)!!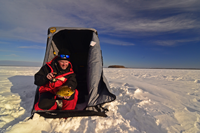 The fish were just cooperative enough on Wednesday's outing to provide fodder for the camera crew. Thanks especially to Dave, our leading producer, the pressure was off, even allowing me some spare time to open my own camera box and enjoy the beautiful day!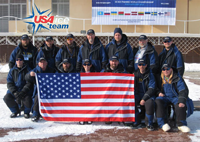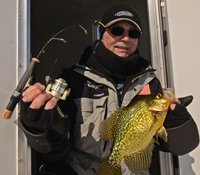 A picture is worth 1000 words right? So then all I'm gonna need is 1000 more pictures to tell the story. Greg Wilczynski, coach of the US Ice Fishing Team has more than a little information about ice fishing. Check Out >> US Ice Fishing Team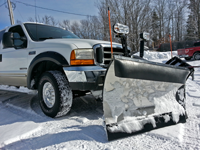 Getting "Plowed" took on a whol;e new meaning at Gus' Place Resort. The only way to reopen my lake road after the last 2 ground blizzards was buy a bigger snow plow, so here ya go! Gus' Place Resort is back on track for the late winter bite!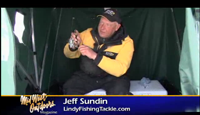 Gearing up for late winter Walleye fishing on Lake of the Woods is going to be a lot easier if you watch this video. Jon Thelen took me on an adventure, treating me to an on the ice seminar about how to find 'em. I learned a lot and I know that you will too! Click here and then select show #1454 Midwest Outdoors Lake of the Woods Late Winter Walleyes .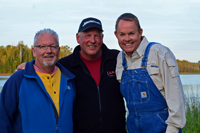 HEY! Mike! How the heck will you be able to Buzz back up here for fishing if you're laying around in the hospital? You Know It's only a couple of weeks until spring, so I hope a fast recovery awaits. Hurry up and get some rest!!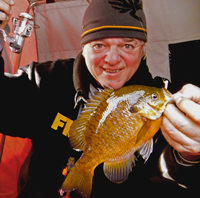 Photo courtesy Nik Dimich: Look for panfish on mid-sized lakes to be in and out of the weed lines with patches of soft bottom in them. On smaller and larger lakes, look for fish to be sliding into deeper water basins to feed on bugs and other forage that attract hungry fish." >> Read Full Report .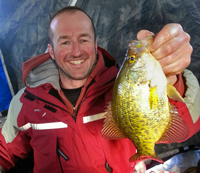 Photo courtesy Zach Dagel: Who took Mike Plackner on a trip to Bowstring Lake and found that the "Crappie Hole" is still producing.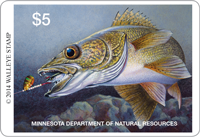 Walleye fishermen, while you're picking up your new fishing license, please say YES to the MN Walleye Stamp.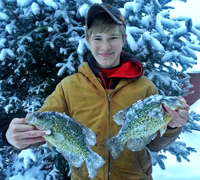 Photo courtesy Gus' Place Resort:The good news is that the anglers who are getting out on snow mobiles or tracks are having good luck with Jumbo female Perch and guess what; The Crappies are biting!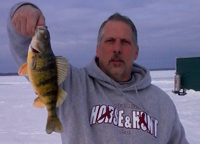 Courtesy Chad Benson: On Cass Lake, Perch Fishermen anxious to fish in some fresh territory can team up with Chad Benson. He's moved all of his rentals off of Red Lake and on to Cass Lake where the Jumbo Perch will be active soon. >> Chad benson .

View an episode of Lund Boats Ultimate Fishing Eperience . In this installment, Al Linder takes you on a tour of small, Minnesota lakes and teaches you how to pattern Bass.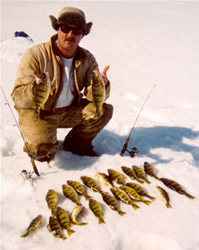 We took Craig Brown's advice and stopped right where he told us too. That turned out to be good advice. Get lake access and winter lodging information by calling Craig at McArdle's Resort 218-665-2212 .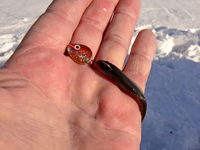 I used an 1/8 FooFlyer tipped with a whole minnow, a rather large profile for Perch fishing. But, this trick did help me pull out a higher percentage of the 10 inch size fish. >> learn more about Foo Flyer .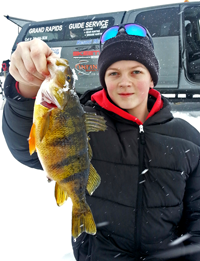 Photo (above) courtesy Zach Dagel Grand Rapids Guide Service Lake Winnibigosh Perch haven't gotten too much attention this winter, so Dylan Tjernagel thought he'd help bring them to the forefront of conversation.
Dylan did it by sending down a Lindy Ice Worm tipped with a Wax worm to bag this 14 incher.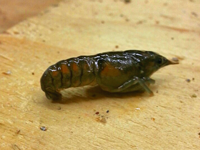 Feeding on small Crawfish is a favorite passtime for Perch. This one, discovered by Dagel in the fish cleaning shack is likely evidence that Perch will remain in the area for a while.