---
Ice Fishing Video
View Current Feature
---
More Recent Fishing Reports Library
---


Link to Facebook Fishing Reports Page
---
Book A Guided Fishing Trip With Jeff Sundin
---
Public Notices
---
Fishing Report - Current, Reliable Northern Minnesota Fishing Reports for Leech Lake, Lake Winnie, Cass Lake, Red Lake, Vermilion, Lake of the Woods, Bowstring and more MN Lakes

Fishing Report April 22, 2014 Jeff Sundin - You can kiss your ICE Good Bye! - On Monday, another warm, breezy day allowed me all of the time that I needed to get the boat cleaned out, dialed in and washed up!
Our rivers are open, but not the Walleye fishing season. Our lakes are covered with ice, but not enough for ice fishing. The taxes are done, the bills are paid and the paperwork is caught up (well almost). Sounds to me like perfect excuse for a vacation!!
Next stop? Someplace in the "Mount Rushmore State" where the Walleyes are biting! Springtime fishing in South Dakota has been on my bucket list for a long while and this year, I've got a perfect excuse to make the trip.
Reports will be updated as frequently as possible, depending on my access to the internet. But don't worry, I'll have lots of stories saved up by the time we connect again.
MinnKota "Rigged and Ready For Spring" - Features video tips from top fishing pros. Scott Glorvigen reveals tips about MinnKota's Talon and explains some of the best uses that he's discovered. Jimmy Bell talks about the importance of a fast, eliable on board charging system and Jason Halfen walks you through sing the I-Pilot system.
Click To Learn More >> Minnkota Rigged and Ready for Spring .

(4/22) From Wired2Fish: Oxygenator Pro Livewell System Giveaway "To anglers nothing is more important than caring for fish and keeping them healthy. Whether they are bass in the livewell for a big tournament or a big group of slab crappie destined for dinner, anglers do everything they can to keep them healthy. That is where T-H Marine comes in. T-H and W2F are offering 4 readers each a chance to win an Oxygenator Pro Livewell Flush Mount system and 1 bottle of G-Juice livewell treatment. Just click and enter >> Oxygenator Pro Livewell System Giveaway . (4/22) .


(4/22) Bemidji Lakes Area, Paul A. Nelson, Bemidji Area Lakes Guide Service says; "The ice fishing season is virtually done and anglers are waiting for open water. There may be a few lakes where anglers are still able to get on the ice, but chances are pretty good that anglers will be getting wet if they try to get on the lakes, at least near the shoreline.
Lakes in the Bemidji area are historically about 10 to 14 days later than Lake Minnetonka when it comes to ice-out. An unofficial drive by along the shore of Lake Minnetonka on Easter Sunday looked like the lake was pretty much ice-free.
This means lakes in the Bemidji area should be opening up early in May, which would leave almost two weeks for the walleyes to spawn and get ready to bite on the May !0 fishing opener.
Anglers have been busy getting their boats ready, with anglers changing spark plugs, putting in new lower unit grease, checking props for fishing line, charging batteries, adding fresh gas and oil and making whatever changes they have planned for the open water fishing season.
Anglers should also check their boat trailers, with the lights, the grease in the bearings, adding air to the tires and checking the condition of the winch strap, rollers and tires.
Anglers are also spending time switching tackle over from ice fishing to open water fishing, cleaning and organizing tackle boxes and putting fresh line on their fishing reels.
Once the lakes are open and anglers have their boats and tackle ready, it is a good idea to make a test run on the lakes, to be sure everything is in working order.
There are few disappointments that rival having the boat break down at the landing on the opener with dozens of other anglers impatiently waiting to put their boats in the water." - Paul A. Nelson, Bemidji Area Lakes Guide Service, panelson@paulbunyan.net - 218.759.2235 .


(4/22) "Cub Reporter, Staff #003-IHBFBB "Wishing the wishable, while fishing the ... ":)!!


(4/21) In The Ortonville Area, fishing reports from Big Stone Lake over the weekend were inspiring. That's right, the Walleye Fishing Season already opened on the South Dakota/Minnesota border lake over the weekend. Lucky anglers were already out there to enjoy the great weather and decent fishing.
According to a facebook report that I borrowed from Artie's Bait Shop; "Fishing on Big Stone was fairly good for Saturday's Walleye opener! We had several reports of 3-10 fish and one of 30-40 fish.
The average size of the fish was 15-19 inches. The water temp was 44 degrees by the end of the day and the walleyes were in 3-8 feet of water.
The primary area of the best reports was from Hartford Beach and north. Jig and a minnow was the preferred presentation. The males were milting, but not super aggressive and not running tight to shore yet. I expect the bite will only to get better as the males will become even more aggressive in the shallow water as the spawn progresses." - Artie's Bait Shop, (320) 839-2480 .
---






More ways to connect! Sign up to receive the Free "Insider Newsletter". Don't forget, you can always catch up with Jeff Sundin on the radio program too! Listen every Thursday at 6:20 AM and get additional fishing reports and information. KAXE 91.7 FM Grand Rapids - 105.3 FM Bemidji - 89.9 FM Brainerd . Want even more? Get HANDS ON Fishing Tips. Book your own Guided Fishing Trip !
---

(april 2014) Ultimate Fishing Experience; "Check out our brand new TV series: The Ultimate Fishing Experience. Each week, follow experienced Lund guides and pros on their fishing adventures throughout the lakes and rivers of North America while educating viewers on items such as rigging, fishing techniques, electronics and more.
In this episode, boat control techniques that will help you put more fish in the boat this summer. Drifting for Waleye with Tony Roach, back trolling for deep weedline Crappies with Dave Csanda. Alex Kessler shows how to troll crankbaits for big Walleyes and James Lindner holds tight on deep weedline bass. Click to view >> This Week's Fishing Video >> Better Fishing Through Boat Control .
All of our Fishing Reports are saved in the library >> Click here for Ice Fishing Report April 2014 << OR >> March 2014 << OR >> View Entire Fish Reports Library Here .
| | |
| --- | --- |
| Did you know that the Thursday Morning Program is available for a week after the air date? Yes, if you miss the live show, just click here and select the 6:00 hour on Thursday. Scroll in to about 6:20 AM and you're back in business! | |
---
And Do You Know that you can even post your own helpful hints to my fishing reports page on facebook? YES! You Can! You don't have to tell us your secrets, just go ahead and brag a little when you get a whopper! >>> Click Here >>> Fishing Reports Minnesota .
"Jeff Sundin is a full time, professional fishing guide, outdoor writer and photographer. Jeff is available for for fishing seminars, fishing promotions and media events. Click here to read more fishing articles and fishing reports.

Rivers are open, but not the fishing season. Lakes are covered with ice, but not enough for fishing. The taxes are done, the bills are paid and the paperwork is caught up (almost). Sounds like perfect excuse to head for South Dakota.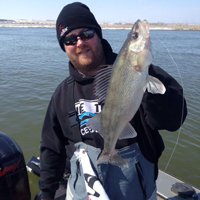 Photo Courtesy Greg Clusiau: Border Walleye Action was good for Walleye expert Ray Welle.
Welle recently enjoyed good fishing on the Minnesota/Dakotas border waters. >> Read Report .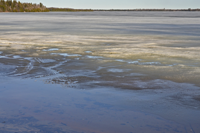 Spreading good news isn't as easy as you think! But if you're one of the lucky ones who reads this report, forget about the reports of where the ice is and start lookingat the ones about here it isn't. Then follow my lead and get your boat ready to go! We only have a few weeks!
Luckily, there is NO TIME LIMIT to answer this simple essay question. April 22, 2014 ... :)!! click

Photo courtesy Brian Castellano: My oldest daughter Savanna and I hit the ice today,catching up on a fishing trip that was long over due.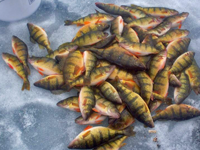 Photo courtesy Al Murphy: Leech Lake Perch fishing was productive for his group last weekend. According to Murphy, ice conditions were good and anglers with time on their hands could probably fish this weekend too.

Hosts Ryan Dechaine and Jeremy Smith show how using a smaller boat and the right techniques for fishing small rivers, pays off big time in terms of catching tons of summer Smalmouth along with some bonus Walleyes on the river where having the right tool for the right job is the key to success.