Find Minnesota Fishing Reports on Facebook
---
Advertisers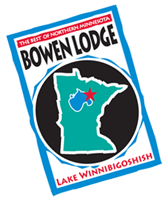 Read The Bowen Lodge
Lake Winnie and Cutfoot Sioux Fishing Report








Fishing Report August 31, 2014

- Crappie Fishing Border to Border!

It wasn't exactly a surprise, he had already figured out that somebody was keeping his surprise birthday gift under wraps and dragged the information out. But if you ask me, Saturday was still a darn good day to be Andrew Higgns. Especially in light of his answer to Question #1) "What do you want to fish for today?" A) Anything that's biting, Crappies, Sunfish, Walleyes ... I like 'em all.
That was a good answer and it helped make my day almost as easy as any work day can be.
With surface temperatures trending downward and the days getting shorter, early fall patterns are taking hold. For my money, multi-Species fishing never gets any better than it will be for the next couple of weeks. Oh I KNOW, there are going to be some bumps along the trail, but right now, opportunity outweighs disadvantage by a ton.
Crappie patterns continue to be stable and the Crappie locations that I mentioned yesterday remain solid.
On Saturday the surface temperature held at 69 degrees for most of the day, pushing slightly upward during the late afternoon. The skies were mostly cloudy and during the morning, a gentle breeze allowed my boat to drift at a perfect .7 MPH.
Our first visit to the Sunfish hole came too early in the morning. When we arrived on the spot, there were some active Crappies there, but the Bluegills that we'd found a couple of days ago were gone.
I was almost certain that this was a timing related problem. So instead of poking around trying to wait them out, we packed up and headed toward the Crappie hole instead; that was smart.
When we arrived at the inside corner that I mentioned yesterday, the Crappies were stacked up and waiting for us. They were in 20 feet of water at the edge of the sharp breakline and they were ready to eat, so we fed them.
Fishing vertically using 1/16 ounce Lindy Jig tipped with a small minnow did the best work. But some of the fish were taken by using a cut piece of night crawler instead.
During early fall, I like to have some worms down there just in case part of the school consists of Bluegills. When the fish are mixed, worms will catch some of each species, while the minnows are likely to attract only the Crappies.
As usual, I'm up against the clock this morning so here's the condensed version of our afternoon. After we had enough Crappies to satisfy the 3 man limit for my crew, we switched to Walleye fishing. That wasn't fast action, but we managed 7 keepers and 3 slot fish before the wind died and left the lake flat. Jigs and night crawlers were all we used and when I could locate fish, they did bite.
After the lake went flat, our return trip to the Bluegill hole went a lot smoother than the morning trip, for a while.
The sunfish were most active during the time that the sun was threatening to peek out of the clouds and the surface of the lake was calm. Somewhere around 4:30, the clouds got heavy, the breeze picked up and the action slowed way down. I guess the dark water, combined with the overcast skies must of caused Sunfish to turn off. It's likely the reason why it was slow during the early morning too. Anyway, for now, the Bluegills are more active when it's sunny.
For today, we're going to pick up where we left off yesterday so if you see us out there, be sure to honk your horn!!


(8/31) Fish ED from Lake of the Woods; "This week, Fish Ed Host Jon Thelen travels to Lake of the Woods for late summer Walleyes.
Little Joe Spinners have been putting fish in the boat for a long time and this episode proves that they're still working their magic. Tune in for this special, final video of the 2014 open water fishing season. Click >> Lake of the Woods Late Summer Walleye .

| | |
| --- | --- |
| | Wired2Fish "Gene Larew salt impregnated lures have been catching fish for years. Since the early days of Salt Craws they have added a myriad of new shapes that are proven tournament winners and big fish catchers. Most recently the Biffle Bug has become a go-to bait for serious anglers. Here's your chance to win some. Click >> Gene Larew Giveaway . |

Fishing Report August 30, 2014 - Crappie Fishing Border to Border!
You've heard the expression "go with the flow". Well reaching from one end of Minnesota to the other and beyond, the flow is going wild with Crappies!
In my corner of the world, Crappies have been active on every lake I've fished this week; that's a total of 5 lakes, all with A+ test scores.
On Friday, fishing near the Starr Bar and Grill, I tried 3 well known spots and all of them produced Crappies. These fish, like all of the Crappies we've caught this week were holding in classic, late summer locations. This is a solid Gold pattern to watch for no matter where your favorite Crappie Lake is located.
The secret is to locate deeper holes close to shore. These inside corners, steep breaks where deep water comes closest to the shoreline are magnets for early fall Crappies.
The precise water depth isn't the key, that will vary depending on the structure and makeup of your lake. In fact, look below, I snipped out sections of the chart from 3 real spots from three real lakes that we fished this week. The depths were different, but the structures are very similar.
| | | |
| --- | --- | --- |
| | | |
| Crappie Hole #1: The fish were located in 12 to 16 feet of water on the inside corner where the steep drop off met the tapering shallow flat. | Crappie Hole #2: The fish were located in 24 to 26 feet of water on the inside corner where the steeper drop off met the tapering shallow flat. | Crappie Hole #3: The fish were located in 18 to 22 feet of water on the inside corner where the steeper drop off met the tapering shallow flat. |

(8/30) From The Iron Range, Greg Clusiau wrote; "Fishing was so good that I found myself going home with a limit of 10 nice slabs during the early afternoon. How nice it was to be back home around 5:00 pm.
A couple days later, I was heading north again to fish with Jeremy Taschuk, also of "the fort." This was a Friday afternoon, where I'd meet up with the Taschuk family around 3:00 pm and drive up to their cabin on Rainy Lake for the evening walleye bite. Here too, it was a ..." Learn More >> Read Greg Clusiau's Full Report .


(8/27) Here's a fresh report, hot off the press from Bowstring Lake, Trails End Resort;"Walleye, Perch and Crappie continue to strike. From what we've been seeing, almost everyone on the lake is catching fish.
On Tuesday, one of our friends was on the lake and found that trolling with spinners tipped with night crawlers was a great way to locate fish on the weed edges.
There was a mix of Crappies, Walleyes and some Perch. As usual, there were some Pike mixed in as well, but they were not overbearing.
For anglers who want to get in on the best Walleye action, it's better to explore the weed edges in water depths of 5 to 8 feet until you begin contacting Walleyes. They have been more concentrated than the Crappies, so once you have them pinned down, stay close to the area.
For Crappies, main lake areas where the weeds are located adjacent to slightly deeper water seem to be best. Back bays and shallow weeds on the flats are not producing as well.
Watch your chart for areas where deeper water swings the closest into the shoreline. Even what appear to be subtle changes make a big difference to these schooling fish and during early fall, these inside corners are the first areas to attract staging Crappies.
If you want to forget about mixed bag style fishing and isolate only Crappies, then use the spinners to find them, but switch to small jigs to concentrate on catching them.
On Tuesday, a 1/16 ounce, chartreuse green Lindy Whatsit Jig was tearing the Crappies up. The best way to fish these jigs is to cast them into the weeds, let them fall and then retrieve them while you repeatedly pop the rod tip. Giving these jigs a tight hop-pop-hop action gets the fish's attention and produces plenty of strikes.
With Labor Day weekend on its way, this could be a great last minute fishing opportunity for you and we still have some room available. Get in touch with us to see what we have open for the weekend. >> Geiger's Trails End Reosrt .
August 26, 2014

- Cutfoot Sioux Can Make Your Day!

"On Lake Winnibigoshish, whitecaps can sometimes lead to a change of plan; like it did yesterday for our guests Mike and Atcha Nolan.
Planning their fishing trip around catching Walleyes and maybe, if they'd get lucky, a trophy Musky for the wall, their fishing guide had ideas about fishing on the big lake. Nobody can change the weather though, and knowing that rolling out on to the big water would be out of the question, Cutfoot Sioux would be expected to ... read >> Lake Winnie Fishing Report

(8/26) From The Iron Range, Greg Clusiau wrote; "I glanced over to see him gently taking all slack out of the fishing line and setting the hook with ease. Another pot-bellied bluegill made it's way to the surface where it was admired for a few seconds before being released.
Panfish are a way of life for Peterson who has successfully fished for them all the way from Minnesota to Louisiana and back. Liend and I would be enjoying another day on the water with the panfish master who invited us down to ..." Learn More >> Read Greg Clusiau's Full Report .


(8/26) I sent out an insiders email about some last minute, open fishing dates on Sunday morning. All 4 of the available dates are now filled.
Thank you very much for reading and thank you for your support! I really do appreciate it more than I can ever say! OH and by the way ...

!!


(8/25) From The Grand Rapids Area Jeff Sundin says; "Spinner fishing our way to a cooler full of Panfish works great during the warm water period of late summer. During mid-summer, when the weather is stable and surface temperatures hit their peak, the metabolism of these "warm water fish" is running so fast that they feed almost constantly. This is the time of the season when Panfish, Bass and even Walleye have the largest strike zone of the summer.
Bass fishermen talk about "the strike zone" more than most other anglers. But the concept is not unique to Bass or Bass fishing. It's simply a term that describes how far a fish will move to ..." read >> Grand Rapids Area Fishing Report


(8/25) From Bowstring Lake, Trails End Resort;"Walleye, Perch and Crappie continue to strike. From what we've been seeing, fishing is generally better for anglers who don't follow the crowds.
There's already been so much said about finding Crappies on the rock pile that we believe it's been picked over by now. Foqr anglers who want to get in on the best action, it's better to explore the weed edges in water depths of 5 to 9 feet. Main lake areas where the weeds are located adjacent to the deeper water seem to be best. Back bays and shallow weeds on the flats are not producing as well.
For all of you facebook fans, be sure to check out our recent video >> Bowstring Lake Fishing" >> Geiger's Trails End Reosrt .


(8/25) From Lake of the Woods, Mike Kinsela, Border View Lodge; "We just wrapped up our "Pay it Forward" 2014 weekend, and there was a great time had by all! Thank you, to all who have or are serving, for all that you do! Friendships were made and fish were caught; what a great weekend!
We are still doing some bait fishing with spinners; although, the down rigging has started to pick up so many of us have switched to that. We have been north of Garden Island and fishing over by Archies as well.
The beginning of this week shows that the winds are going to be strong, so we will be fishing south using spinners just outside the Light House Gap.
The week ahead looks great with temperatures in the mid 70's. Rain in the forecast but not until next Sunday; hopefully the weather stays as predicted!" - 1-800-776-3474 Border View Lodge .


(8/24) From the Marcell Area, Frontier Sports, Paul Larson said; "Fishing slowed down dramatically last weekend. What with the rain showers, thunder storms and the cold front that ensued, all taken together, this made for tough fishing conditions. Water temperatures dived down to 72 degrees, when the week before it was 79 degrees. Sunday was a bust but on Monday, with a lot of effort, I was able to take a few 12 inch Crappies and a few Walleye in the 16 inch range out for breakfast. Most of these fish were suspended over depths of 15 to twenty feet off the deep weed edges and hit the small LIVE TARGET crank bait I was trolling. As one might expect, the thunder storms on Sunday produced a plethora of Rock Bass. One was just short of 1.5 pounds, so no state record yet, but I still think the area lakes are capable of producing a fish larger than the record. Besides, I recently learned the world record is only 3 pounds and I believe that with steel will and determination, it can be done! Both Smallmouth and Largemouth Bass continue to beat up on LIVE TARGET frogs and Scum frogs, these two lures still being the hot ticket. Large Sunfish are now being caught in several of the better pan fish lakes in the area and Pike continue to smash swim baits and cranks along the weed edges and they can also be found suspended over deeper water ten to fifteen feet down. They seemingly have become more aggressive with the cooler water temperatures. The Bait and Tackle departments are fully stocked and the staff can help you select the right lure or bait for whatever species you are going to fish for as well as area lake information. Be sure to drop by on your way out to the lake! Thunder storms and more rain is in the forecast for this weekend but it's all a part of this thing we call fishing and I'll be out there anyway and hopefully you will be too!"
Frontier Sports features a complete and fully stocked Sporting Goods department and Bait Shop, Gas, Grocery, Deli and Gift Shop. Frontier Sports is an authorized LIVE TARGET and SAVAGE GEAR dealer. Frontier Sports 219-832-3901 or Email .

(8/23) On Lake Winnibigoshish, Joe Thompson, Four Seasons Resort says; "This week, northern fishing rules the day. It is traditionally a week that we have mostly pike fishermen. Most of them were fishing with sucker minnows. Some cast big baits, as well. They struggled early in the week, trying all of their "normal" spots. True to form, they kept moving and found the best areas. They ended the week with their normal bang. Several fish 32-36" were caught. Most of them were released to fight another day. The fish they are taking home are in the 24-28" range. Jim Woodard from Dakota, MN caught a beautiful 36" northern today.
Not much to report on the perch and walleye front, as everyone was fishing for pike. We will have more to report next week, as we have more diverse fishermen. But the fishing was good for Northerns. I look for good fishing to continue in the coming weeks. Our Labor Day special starts tomorrow. Our fall special begins on Labor Day. Check our availability and give us a call. Fall fishing is some of the best of the year." >> Four Seasons Resort .


A video that was recently produced by the Wisconsin Manufacturers Commerce honors Mercury Marine for their 2013 Manufacturer of the Year Award. The intersting perspective speaks to the growth of the company and sheds light on changes in their philosophy about engine design and performance over the past 75 years. It's well worth taking 5 minutes to watch the video >> Mercury Marine 75 Years
Remember the report about catching Largemouth Bass by "Dead-Sticking" YUM Dingers?
Well I linked up a video that does a really nice job of explaining how to do it. In fact, the video portrays what we were doing almost perfectly. Click here to see the video >> How to Dead Stick the YUM Dingers .
---







More ways to connect! Sign up to receive the Free "Insider Newsletter". Don't forget, you can always catch up with Jeff Sundin on the radio program too! Listen every Thursday at 6:20 AM and get additional fishing reports and information. KAXE 91.7 FM Grand Rapids - 105.3 FM Bemidji - 89.9 FM Brainerd . Want even more? Get HANDS ON Fishing Tips. Book your own Guided Fishing Trip !
---
All of our Fishing Reports are saved in the library >> Click here for July 2014 << OR >> View Entire Fish Reports Library Here .
| | |
| --- | --- |
| Did you know that the Thursday Morning Program is available for a week after the air date? Yes, if you miss the live show, just click here and select the 6:00 hour on Thursday. Scroll in to about 6:20 AM and you're back in business! | |
---
And Do You Know that you can even post your own helpful hints to my fishing reports page on facebook? YES! You Can! You don't have to tell us your secrets, just go ahead and brag a little when you get a whopper! >>> Click Here >>> Fishing Reports Minnesota .
Today August 31, 2014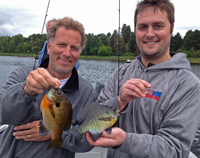 Birthday Boy Andrew Higgins (right) and his dad Matt Higgins showing off a father-son Bluegill double. A 1/16 ounce Lindy Jig tipped with cut pieces of night crawler is all we needed.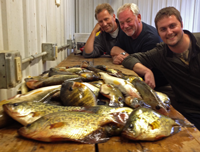 Catch of the day; a mixed bag ofd Crappie, Walleye and Bluegills. M..M..M ...
I Love it when my crew is satisfied with the outcome! ... :)!!

---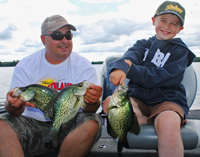 Photo courtesy Greg Clusiau: North of the border, Tom and Daxx Batuik display nice Crappies from the Ontario side of the Rainy Lake region. >> Read Report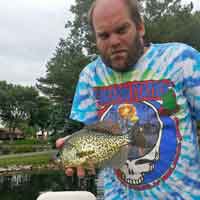 Photo courtesy Chris Andresen: 300 miles South of where the Batuiks were fishing. Crappies were hitting in the Mankato area on Friday too!
---

HEY! This little birdy gave me some advice for today; "Troll Softly and Carry A Big Stick!"

Little Joe Spinners have been putting fish in the boat for a long time and this episode proves that they're still working their magic.
---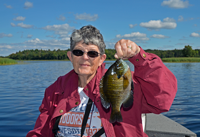 Sunfish provided the giggle factor that we'd been looking for in the afternoon. Atcha Nolan (above) shows off some of her better work while Mike (below) said: "A really good guide would have come to this spot first". :)!!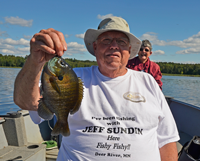 Key depth for Sunfish ranged between 10 and 12 feet along the edge of the drop into deeper water. They were located on the breakline, but toward the shallow water, not the deep.
---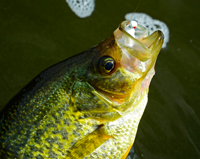 Early fall Crappie fishing is my favorite! Shallow? Yes. Deep? Yes. In Between? Yes? Spinners? Yes. Jigs? Yes. Oh and did I mention, this is my favorite time to ... :)!!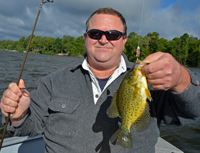 Mr. & Mrs. Boyd Penn got into the Crappies big time this Tuesday on Bowstring Lake. Trolling the weed edges with Lindy Spinners (above) was the best way to locate fish.
Once located, catching 'em fast was a job for Lindy's 1/16 ounce Whatsit Jig. Best colors Chartreuse Green, White and Brown/Orange.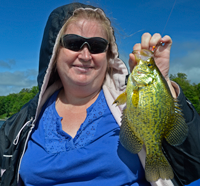 ---
August 26, 2014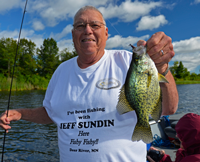 Photo Bowen Lodge: When the whitecaps are rolling on the big lake, Little Cutfoot Sioux Crappies provide both action and quality! Click for >> Cutfoot Sioux Fishing Report .

Little Joe Spinners have been putting fish in the boat for a long time and this episode proves that they're still working their magic.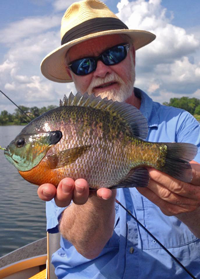 Courtesy Greg Clusiau: "Seasonal transition from summer to fall provides anglers with a fantastic opportunity for Panfish. Read >> Greg Clusiau Fishing Report

---
August 25, 2014
---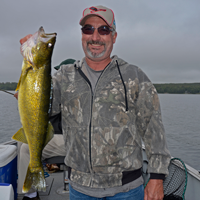 Weed edges produced a mixed bag including this nice pokegama Lake Walleye that fell for Charlie's spinner while we were on a mission for action.

---
---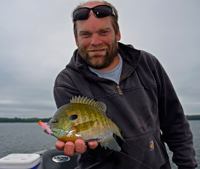 Sunfish patterns have been the same on many of the Grand Rapids area lakes. Recently, we've fished Pokegama, Wabana and Trout Lake. First find the fish by trolling the weeds with spinners. Once you catch a good one, mark the spot and then ... read >> Grand Rapids Fishing Report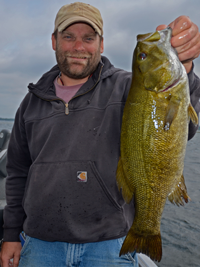 Oh and by the way, trolling Lindy Spinners on the weedline does offer up some sweet surprises along the way too.

---

There's been a lot of changes over the 75 Years that Mercury has been producing Marine engines.
---