Advertisers




---
---


Find Minnesota Fishing Reports on Facebook
---
---

Fishing Report October 20, 2014

- Pulling Out All The Stops At The Cast and Blast Weekend

It's the wee hours of morning and the boys from North Carolina are already on their way home from their 1st Annual "Cast 'N' Blast" weekend.
Thanks to the efforts of Zach Dagel, Grand Rapids Guide Service and Erin Charlton of Trails End Resort, the crew was comfortable and well cared for.
Zach guided the crew through the Chippewa National Forest in search of Ruffed Grouse and Woodcock. Even though bird populations are nowhere near their peak, good dogs and Zach's expert guidance did pay off. In fact, the number of birds that these boys found was surprising to me. Especially in light of recent reports, indicating poor hunting that I'd heard from friends.
Zach's decision to include me as the 2nd guide on the trip worked out fairly well too. While Zach took half of the crew hunting, I did my best to entertain the other half of them in the fishing boat.
Except for that very rare case of the EGO iustus non facere virus that infected I and my crew this Saturday, the fishing was good and weather was fabulous. OH! That's right, I promised an update about that virus yesterday (fishing report October 19). Well okee dokee, here ya' go then ... :)!!
Many of you will be happy to know that the prescription for breezier conditions arrived right on schedule. As a precaution, the breeze was administered in a heavier dosage than required, ensuring that the effects of the virus were long gone by the time we dropped our first lures in the water".
The Crappie fishing on Sunday morning started a little bit slowly, but it quickly ramped up as the morning chill wore off. By the time we made the proper adjustments, you could have even called it a good action bite.
The only one problem that I needed to solve was that the fish wanted ... read >> Fishing Report October 20
| | |
| --- | --- |
| | The Veritas 2.0 features enhanced Spiral Carbon Core Blanks, increased break strength and Titanium frame guides with Zirconium inserts.. Lightweight, yet durable, the Veritas 2.0 adds split grips and racheted reel seats for great balance too ... Enter >> Abu Garcia Veritas Rod Giveaway (10/28) |

(10/18) Pokegama Lake Fall Walleye Fishing - Pat Bradley wrote; "
Jeff, I noticed you don't walleye fish Pokegama in October and was wondering why? I do and it seems like my walleye fishing stops from late September til first ice. Any thoughts about where they go and how to fish them during this time?
A) Pat, you're right, while I do make it over to Pokegama a few times every fall, I do not spend a lot of time over there.
That isn't because I don't like fishing there in the fall, it's because most of my fall fishing customers are looking for some fish to eat. The emphasis on catching "eaters" during daylight hours forces me to follow the patterns on the larger, "Walleye factory" lakes like Leech and Winnibigoshish.
I think you're right too about a shift in their location on Pokegama during the fall too and as soon as I can get some time to think this over, I'll add some more comments. Do me a favor and watch the reports during mid week and I'll expand on it for you.


(10/16) From The Marcell Area, Frontier Sports, Paul Larson said; "It looks as though many of the area lakes have turned over. The water temperatures on the big deep lake I primarily fish ranged between 48 to51 degrees. I was marking fish in 24 to30 feet of water that I assume were Walleyes. A few tentative bites but no solid hook ups left any conclusion a best guess. Pike on the other hand, were more than willing to smash my crankbaits. I wasn't fishing the oversized numbers I usually use when fishing for big fall Pike, but they accommodated me anyway. These fish ranged in size from 26 to28 inches, not whoppers but great for breakfast! Crappies are still biting in the deep holes on the bigger, deeper lakes. Wind was a major factor last weekend and boat control was an issue. This coming weekend looks like it will be a milder version of last weekend only in reverse. The bait shop is fully stocked and a new shipment of SAVAGE GEAR Musky lures has just arrived. We also have received a new shipment of ammo and hunting accessories so we're all stocked and ready to provide whatever you need for what promises to be a great fall weekend."
Frontier Sports features a complete and fully stocked Sporting Goods department and Bait Shop, Gas, Grocery, Deli and Gift Shop. Frontier Sports is an authorized LIVE TARGET and SAVAGE GEAR dealer. Frontier Sports 219-832-3901 or Email .


(10/14) From The Iron Range, Greg Clusiau - Great Fall Fishing ...
"... I'm making it happen out there and have been rewarded with some very nice crappie catches.
The overall best bait for me this season has been a heavier "FireBall" jig tipped with a minnow. When fishing, I'll have a variety of rods ready to go, sporting "FireBalls" of different weights and colors. This makes things a lot easier when determining just what the fish want, especially when it's windy like it has been. A favorite color often changes with the lake. Last weekend, for example, it was... ">> Read Greg Clusiau's Full Report .


(10/13) Leech Lake Angler Experience Survey - Rich Davis wrote; "Thank you for the input. I edited my survey introduction as you suggested, I did not revise any of the survey questions, as I didn't think the questions themselves were necessarily leading the reader into answer." - Thank You again, Rich Davis.
A) Rich, Yes, I agree and here's the link to the revised ... >> Leech Lake Walleye Angler Survey .


(10/13) From Lake of the Woods, Mike Kinsela, Border View Lodge; "The 5th annual chili bowl tournament was a success with fun had by all. We were lucky enough to see sunshine Saturday which made a great day on the river. Congratulations to the top 5 placing teams! We also had a repeat winner for the first time in the tournament. Congratulations to Scott Thompson and Ryan Christiansen for winning two years in a row. Mark your calendars for the 6th annual chili bowl tournament October 10th 2015.
Fishing has been great up north by Garden Island. The river fishing seems to be a morning bite. The wind hasn't died down enough leaving muddy waters in the gap. Once you get past the mud line fishing is decent in 25ft of water outside the Light house Gap.
Just a heads up if you are planning on coming up soon, starting October 20th there will be a short detour on highway 172 coming out to border view lodge.
The weather forecasted for this next week is looking great! Lots of sunshine no rain with winds dropping below 10mph. Bring warm clothes for the mornings as the lows will be in the low 40's however highs will be in the 60's which we will take this time of year!" - 1-800-776-3474 Border View Lodge .
---







More ways to connect! Sign up to receive the Free "Insider Newsletter". Don't forget, you can always catch up with Jeff Sundin on the radio program too! Listen every Thursday at 6:20 AM and get additional fishing reports and information. KAXE 91.7 FM Grand Rapids - 105.3 FM Bemidji - 89.9 FM Brainerd . Want even more? Get HANDS ON Fishing Tips. Book your own Guided Fishing Trip !
---
All of our Fishing Reports are saved in the library. Click and view >> Archived Fishing Reports Library Here .
---
Today October 20, 2014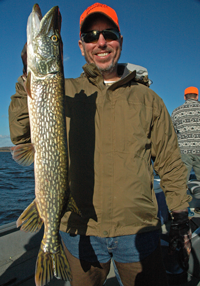 An hour spent searching for Pike paid off, especially for Jeff Deming who Used a 1/4 ounce Lindy Jig rigged up on a 17 lb fluorcarbon leader for protection. Pike were located in 18 to 20 feet of water at the base of the breakline near areas where we'd found Crappies.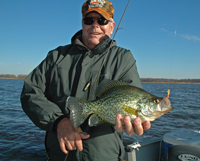 Jim Naylor provides evidence of his undisputable title; "King of the Crappie Hole". Even in the shallower water, breezy conditions called for heavier weights and the Ice Worms were the perfect solution.
---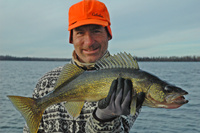 Luckily, John's resistance to the EGO iustus non facere virus was higher, allowing him to fight off the effects and produce several Walleye.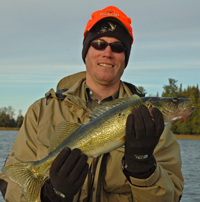 Zach, who started out strong in the morning, eventually succumb to a mild case of the virus. But not before producing some fish for our larder.

---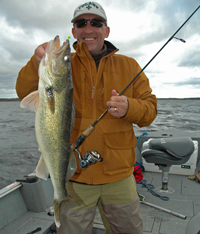 Tim Vaughn shows off the result of an expertly placed jig and minnow. Not bad work for someone who'd never caught a Walleye, wouldn't you say? ... :)!!
---
---