Advertisers





---
---


Find Minnesota Fishing Reports on Facebook
---
---

Field Report November 23, 2014

- Ice Fishing Season Is Open

Can you imagine? After making a prediction that there would be somebody, somewhere, ice fishing before Thanksgiving, I was actually worried that I wouldn't be able to produce any evidence.
That was sure a waste of brain power, because there are already reports about anxious anglers fishing all over the state.
Upper Red Lake is getting the lion's share of the press right now and on Saturday, great weather and 10 inches of solid ice combined to produce numerous reports of good fishing.
Walleyes were active in water depths of 6 to 9 feet on shoreline breaks. Typical early season presentations like jigging spoons were productive, but there was a lot of chatter about dead sticking providing more action, especially for quality size fish.
One of my favorite ways to set up for early season Walleyes is to use a jigging rod in one hole while I watch another rod that I have rigged up with a large Frostee Spoon tipped with a dorsal hooked live minnow.
For me, lightly hooking the minnow parallel to the dorsal fin provides the best results. The Frostee rides vertically, making it easily visible to the fish. The minnow rides horizontally and looks very natural. The kind of minnow that you choose depends on how much movement you want to show the fish. A Shiner for instance will sit almost motionless, while a lively Rainbow Chub moves a lot, especially when it's approached by a fish.
I know that everyone has their favorites, but on Red Lake, there are two lures that I have really had good with.
I believe that last year, using Foo Flyers and Slick Jigs allowed me to catch a few more fish than I caught using the more traditional jigging spoons. Not that the spoons won't produce, they do. But there's a certain time, especially during the early season when the Red Lake Walleyes are aggressive. The larger profile and added movement helps call in the curious fish, and once they're on the move, they strike.
To get maximum performance from either of these lures, they need to be dressed with either a whole minnow or with an artificial tail. It's the trailering tail that allows me to make these baits move out, away from my hole where they can help attract fish from further distances.
Look here, this how I rig the Foo Flyer and the Slick Jig when I'm fishing with whole minnows. You can set them up with a variety of artificial tails too, but I typically use live bait with these jigs because either one of them has the ability to perform as a dead stick lure too.
In the Grand Rapids Area, anglers have been slower to get out on the ice, I think largely because they've been distracted by the Deer Hunting season.
There are a few folks sniffing around though and soon, some of the ice fishermen are going to drill some holes.
Further west, Crappie and Walleye fishermen are already fishing on the shallower, early freezing prairie type lakes near Alexadria. Reports have been good for both Walleye and Crappie.

Humminbird® Introduces New HELIX™ Fishfinder Family

Compact units pack a huge punch, offer anglers widescreen color display and pro features at an equally attractive price point.
EUFAULA, AL. (November 21, 2014) – Continuing with the trend of offering anglers more features at a compelling value, Humminbird® is proud to announce the launch of HELIX™, a family of compact-format fishfinders that feature a best-in-class, widescreen color display and powerful, professional-grade features.
For years, many anglers have been fishing in a box, limited to fish- and structure-viewing on a screen that doesn't fully capture the breadth of the underwater landscape – landscape being the operative word. Hence, Humminbird's recent shift to a 5-inch diagonal... read more >> Humminbird Announces Helix .


On Lake Winnibigoshish (11/22) John Seekon, The Pines Resort sent some photos of the ice on Big Winnie where he says; "Winnie has been frozen up for over a week now and there are reports of 5 to 7 inches of ice near shore. I talked to a local gentleman today who was headed out from the birches landing."
John is hustling right now, getting plow trucks and fishhouses ready for the upcoming ice fishing season. Contact The Pines Resort for lodging and ice shelter rentals on Lake Winnibigoshish .
---
There are just some reels that get noticed. Whether at ICAST or standing at the dock, anglers want to touch and cast reels with the best features. The Daiwa Tatula 100 is one of those reels.
The Daiwa Tatula 100 reel added advanced features like the T-Wing Casting System for longer and more fluid casting, 8 Bearings for smooth operation, a 90 mm handle with over-sized grips for more power. We're giving 4 winners a chance to get one for free!
Enter >> Diawa Tatula Reel Giveaway (12/2)


(11/22) YOU KNOW that Multi-Tasking is my middle name. That's why I had to chuckle about the title that Jeff Samsel chose for this recent artlice about getting ready for early season, multi-species ice fishing.
"Crappies here," Jeff Sundin told me as he began drilling holes 100 yards or so from where we'd just caught bluegills. From atop the ice, everything looked the same. I knew Sundin knew what was beneath us, though, so I upsized my offering and tipped it with a minnow head, and it wasn't long before I was pulling a ..." Read Article >> Multi-Tasking Perch Bluegill and Crappie .


(11/20) Lake Winnibigoshish Walleye Protected Slot Limit Change
The proposed rule that will change the protected slot size for Walleyes on Lake Winnie has passed the legislative process and nowawaits the signature of the DNR comissioner Tom Landwher.
Under the new rule, the bag limit remains at 6 fish and the protected slot will be 18 to 23 inches. That means that anglers will be allowed to posess 6 Walleye up to 18 inches long, unless they catch and choose to keep one fish over 23 inches. In that case a fisherman would be allowed 5 fish under 18 inches and 1 fish over 23 inches.


(11/20) Win A Custom Made "Wheel House" and Ice Fish In Style!
The Dassel-Cokato, MN Future Farmers of America is raffling off a Pile Of Prizes including the 1st place prize, a custom made fish house valued at over $10,000.00. It was made by the late Richard Sawatzke of Howard Lake, MN and it's got everything you'll need to fish in style this winter.
The goal is to raise funding so that a small group of FFA Ambassadors can make a trip to South Africa in August of 2015.
Helping out came naturally for me because I have a huge soft spot for the Dassel-Cokato area. That's because this is where I learned how to catch my first fish, bag my first Duck and walk through the corn fields for Pheasants.
Learning how to fish and hunt, along with other assorted shenanigans that I got myself into, made my Grandmother's little Green cabin on Big Swan Lake, the developmental epicenter for my love of the outdoors.
"Agriculture is of huge importance to our area fishermen and women" said Katherine Meredith, alumni member. I agree and as an outdoorsman, I can't think of anything smarter than bulding good relationships with our "Future Farmers". You know, the ones who are going to decide whether or not our grandkids will get to hunt or not.

Do me a favor and lend them a hand and pick up a raffle ticket for $10.00. There's a good chance that you might just be trailering that custom made ice shack onto the lake after the drawing this December 8, 2014.
Ticket sales end on November 30, 2014 and for your convenience, tickets can be delivered by mail. The drawing will be held on December 8, 2014 at the Dassel-Cokato School, Ag department, 8:00 PM
Tickets Available Here
>>

Dassel Cokato FFA Ice Shelter Raffle

(11/20) Upper Red Lake walleye regulations more restrictive this winter season
The Minnesota DNR announced more restrictive regulations for Walleye angling during the upcoming winter season.
"More restrictive walleye regulations are not an indication of any biological problems with the walleye population on Upper Red Lake," said Gary Barnard, Bemidji area fisheries supervisor. "The current walleye fishery is in excellent shape, but the great fishing has attracted considerably more angling pressure, which resulted in walleye harvest exceeding the safe harvest range for the first time since walleye angling reopened in 2006."
Effective Dec. 1, anglers can only keep three walleye, and the possession limit is also three. Anglers must immediately release all walleye from 17- to 26-inches. Only one walleye in possession may be longer than 26 inches. Read Full Story >> Upper Red Lake Walleye Regulations .


(11/19) Mary Beth wrote; "We read your fishing report daily! LOVE IT! Q) Does the Mississippi freeze over to ice fish on? We recently bought a home on the River (in the Bemidji area); and we were wondering about fishing conditions there. And/or if you could direct me to sites that would give more information on fishing that area.
A) Mary Beth, you are located very close to some fantastic lakes for ice fishing and I think that you will enjoy much greater success if you focus on fishing the lakes, rather than that particular stretch of river.
Since I don't know exactly where you're located, I can't rule out the prospect that you would find some good fishing on the river, near your home. In order for your plan to come together though ... Read More >> Mississippi River Fishing
Helping your fellow ice fishermen and women stay abreast of the ice conditions in your area is good for everyone and it's easier than you think!
Fishing Reports Minnesota is the Facebook counterpart to this page and it's open to the public.
Be like me, become a duly deputized "Cub Reporter" and post your own pics and comments. It's good for fishing! Click >>

(11/18) By now you've already read that it's too late to be the first one out on the ice and as you'll see in the following story by Greg Clusiau, Walleye fishermen are already hoofing it onto Red Lake.
By this weekend, ooportunities will be numerous and it looks like maybe, just maybe, the weather will cooperate a little bit too. Wouldn't a beautiful day on the ice just be lovely?


(11/18) From The Iron Range, Greg Clusiau wrote; "A few daring souls have already made the trip up to Upper Red Lake for a crack at some first-ice walleyes. They made it out, experiencing 4" of ice, and found poor fishing, which really surprised me. A recent study found plenty of walleyes waiting to be caught and it looks to be another banner year of fishing on Upper Red Lake. As a matter-of-fact, I'm thinking of abandoning the last weekend of deer season for some ..." Read More >> Read Greg Clusiau's Field Report .

(11/16) Gus' Place Resort, Ball Club Lake; - Pre-season ice fishing report; "The last couple of weeks we have been hosting deer hunters hunting in the Chippewa national forest. After the preoccupation with hunting and as the hunters fill their tags we will soon be thinking about ice fishing.
Although Ball Club Lake most likely has several weeks before we will be ice fishing, recent cold weather has given the ice fishing a good start. Nearby small, shallow lakes are freezing over, but Ball Club Lake is quite deep and we have ice around the shoreline only.
I expect walkout fishing mid-December to around Christmas and even sooner on the South end of the lake.
As in past recent years we will renting ice fishing "day" houses available for both angling and spearing and of course cabin rentals never close here at Gus' Place.
The day houses will not go out till we have around 16 inches of ice, usually after Christmas.
If you haven't done so; this is an excellent time to get out your winter gear, make sure you can find everything and fire up that auger. The last head ach you need is an auger that won't start on your first trip out on the ice.
Call us anytime for ice conditions, prices and of course reservations" - Gus Sheker, Gus' Place Resort ( 1-888-246-8520 )


(11/16) Mike Collins checked back in with a comment and question; "By dawns light I have open water patches directly in front of my cabin on the Northeast side of Bowstring Lake. Otherwise lake appears to be mostly iced over. To change the subject ...
I would like to try Sturgeon fishing next year any recommendations? - Mike Collins
A) For aspiring Sturgeon fishermen in Northern Minnesota, the Rainy River is the most productive destination. The spring spawning run is in itself, a very popular destination for fishermen during April and early May.
The fishing is not complicated; A medium heavy rod like a Musky bucktail rod, a flippin stick or even a heavy action Bass casting rod will do the trick. The rigs are set up a lot like Lindy Rigs using a heavy sinker and a short Snell with a 2/0 Salmon Egg hook. The bait most often used is live night Crawlers.
Productive areas are typically the edges of deep water holes. The shallower flats found immediately adjacent to these holes are usually reliable and the fish range everywhere from Baudette to International Falls.
Earlier this spring, there was a very good article about some Sturgeon fishermen who were using side imaging to spot the fish, then positioning upstream to try and catch it. More like hunting than fishing, the system seemed interesting to me and could be a lot of fun.
NOTE: I will see about finding that article myself, but if somebody remembers the one I'm thinking of, please do us a favor and give us a heads up about where to find it.
November 15, 2014

"On the first run through, one dude drills, while the other follows with a sonar, dipping the transducer in each new hole. Sonar guy keeps driller guy on target with depth, as he also checks for fish with a portable unit. When he sees something that looks like a good fish, sonar guy might also trace an "F" or "BF" (big fish) in the snow, which assures they'll X-mark-the-spot with a tip-up next run through. At the end of a bait set run, each fisherman ..." Read Story >> Progressive Tip-Up Tactics On Ice
---
This Saturday 10:30 on Fox Sports North Fish Ed TV Features Ice Fishing Devils Lake Perch and Northern Minnesota Crappies

Be sure to tune in, you won't want to miss this one! First, North Dakota for walleye action on Devils Lake and then back to Northern Minnesota for winter crappie action.
Fish Ed TV helps anglers of any skill level catch more fish. Not only does host Jon Thelen show anglers exactly how to maximize techniques and tactics, but viewers also get ... Read Story >> Fish Ed TV on Fox Sports North

Fishing Report October 29, 2014 - "Catching Up With Fishing News"
I'd be surprised if there was much boat traffic on the Itasca area lakes this Tuesday. It was rainy, breezy and many of the day's high temperatures began with the number 3. That helped take the sting out missing my boat on my first O-Fish-All day off.
Just because I wasn't in the boat doesn't mean that I wasn't working though. Yesterday was the fall meeting of the Minnesota DNR Walleye Workshop and that's where I spent my day.
I learned a lot yesterday, but more importantly, I learned that I'm gonna be learning a lot more in the near future.
For me, the term bioenergetics hadn't even shown up on the radar screen. But that's not true about Tyler Ahrenstorff, DNR fisheries research biologist. Ahrenstorff and his team have been working on Lake Mille Lacs, learning more about "who's eating who" in that system and for me, some of the results weren't exactly what I expected to hear.
You see the big mystery about Lake Mille Lacs Lake and its declining Walleye population isn't that the fish are not spawning, they are and they're spawning in good numbers. The young fish survive well for the first year, showing up in good numbers during test netting. The real problem is that after that, somewhere between their 1st and 2nd year, they ... read >> Mille Lacs Lake Walleye Study


(10/29) Kevin Scott asks about Ice Fishing Line; "Hey Jeff, I have a question for you! I am re-spooling my "ice fishing" reels and what do you feel is the best fishing line out there for my panfish reels and also my walleye and perch reels? There are many options so hoping you can give your thoughts.
A) Kevin, I use and love Lindy's Ice Line. I have 2 lb test on my panfish rods and 5 lb test on my Walleye rods. I've suggested it to people before and sometimes they report that it can be tricky to find at local tackle shops. I checked Lindy's website and at the moment, they say that it's out of stock.
A very good alternative is to use a line produced by Silver Thread that they call "Silver Thread Trout". It's a copolymer line that resists being saturated by the water, making it much less likely to freeze up during the cold weather.
The Silver Thread is readily available online through the Lurenet website so here's a link to Silver Thread Trout fishing line.
Wired2fish Joins Scout Media - Oct. 29, 2014 — As you may have already noticed, wired2fish.com has made some BIG changes. We are excited to announce that Wired2fish has joined Scout Media, the leading sports and men's lifestyle destination.
The goals of Wired2fish have always been simple: Help anglers enjoy fishing more by providing the best freshwater fishing ... Visit us at our new home >> Wired2Fish
---







More ways to connect! Sign up to receive the Free "Insider Newsletter". Don't forget, you can always catch up with Jeff Sundin on the radio program too! Listen every Thursday at 6:20 AM and get additional fishing reports and information. KAXE 91.7 FM Grand Rapids - 105.3 FM Bemidji - 89.9 FM Brainerd . Want even more? Get HANDS ON Fishing Tips. Book your own Guided Fishing Trip !
---
All of our Fishing Reports are saved in the library. Click and view >> Archived Fishing Reports Library Here .
---
Today November 23, 2014

Upper Red Lake is synonymous with Early season Walleye fishing. Jon Thelen shares his system for tackling early ice white tails!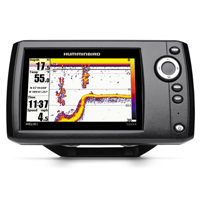 Humminbird® announces launch of HELIX™ family of compact format fishfinders that feature a best-in-class, widescreen color display and powerful, professional grade features. read more >> Helix FishFinders
---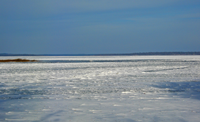 Photos courtesy The Pines Resort: Where the outlook for and early ice fishing season action on Lake Winnibigoshish is good.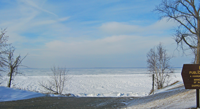 "Lake Winnie has been frozen up for over a week, with reports of 5 to 7 inches of ice near shore". Says John Seekon, The Pines Resort .

Even the deepest lakes are givining in to the Big Chill. The deep water portion of this Grand Rapids area lake skimmed over on Thursday.
---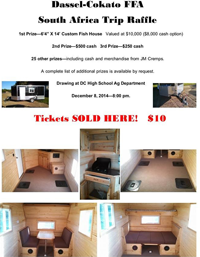 The Dassel Cokato FFA Raffle features the 1st place prize, a custom made fish house made by the late Richard Sawatzke of Howard Lake, MN. It's valued at over $10,000.00.
---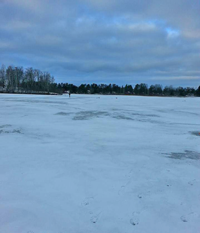 Photo courtesy Brenda Forster: Who heard from a friend on a Grand Rapids area lake this Tuesday. Ice was 4-1/2 inches and walking conditions were good.

Don't look for ice on Pokegama Lake, it's gonna be a quiet weekend there for ice fishermen and golfers alike.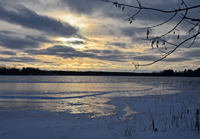 On Bass lake, the North end is freezing around the edges, but there's a large open water hole at mid lake. The South Bay of Bass is fully ice covered.

Parked for the winter.
---
Click on date to read saved
November 2014 Fish Reports
Sun
Mon
Tue
Wed
Thu
Fri
Sat
1
2
3
4
5
6
7
8
9
10
11
12
13
14
15
16
17
18
19
---

Jon Thelen reveals the secret about how he got into such fantastic Perch fishing during the 2013 ice fishing season. The Perch Talker is on the shelves now, watch this video and see why you need some.

Jeff Sundin shows you a slick trick that shows "How To Safely Remove Hooks" from deep in the mouth of a fish. Learning this trick is a must for dedicated ice anglers.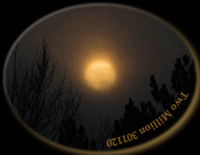 2,301,120 Lucky Number for November 17, 2014
---
November 16, 2014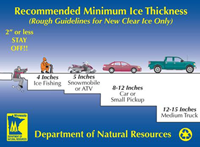 The Minnesota DNR advises 4 inches of ice will you there (and back) so don't push it. At the rate we're going, there will be dozens of lakes with ice thick enough for hoofing it to your honey hole by next weekend.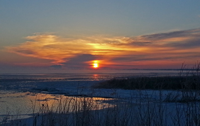 Photo courtesy Gus' Place Resort: Where it's dawning on Ball Club Lake fans that the ice fishing season is only a few weeks away.
---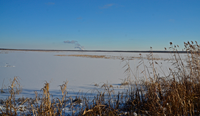 White Oak Lake, south of Deer River was frozen all the way across on Friday. Not enough to take a walk, but getting darn close.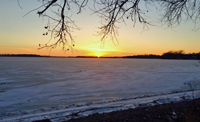 Photo Chris Andresen: At the other end of Minnesota, Lake Elysian was already frozen over on Friday too.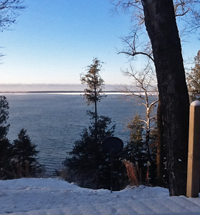 Photo Mike Collins: Bowstring Lake was freezing on Friday morning. It make be ice-covered already today, we'll know soon.

---
November 14, 2014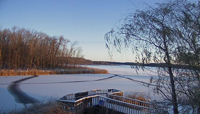 Photos courtesy Williams Narrows Resort Webcam: Ice covers the bay (First River) between Williams Narrows and Little Cutfoot Sioux.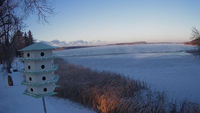 On Cutfoot Sioux, the view still shows open water over most of the lake. You can check conditions yourself by clicking >> Williams Narrows Webcams
---
---