---
Ice Fishing Video
View Current Feature
---
More Recent Fishing Reports Library
---


Link to Facebook Fishing Reports Page
---
Book A Guided Fishing Trip With Jeff Sundin
---
Public Notices
---
Fishing Report - Current, Reliable Northern Minnesota Fishing Reports for Leech Lake, Lake Winnie, Cass Lake, Red Lake, Vermilion, Lake of the Woods, Bowstring and more MN Lakes

Ice Fishing Report April 16, 2014 Jeff Sundin - April, The Month For Count-Downs, Cramming and ... OH YES, Quizzes. In fact if I'm not mistaken there's a big one coming up in just a few days!
Knowing that there are so few Ice Fishermen looking for places to go, I feel a little bit silly writing ice fishing reports. But the truth is that there are still some devoted ice fishermen out there. So at least for he rest of this week, I'll do my best to keep the ice reports going.
I could use a hand though; Just between you and me, it's not really that much fun driving around the countryside all alone, looking at the ice on partially frozen lakes; So if you're one of the devoted ones, still out there fishing on the ice, please lend me a hand and snap a few pictures. In fact, I wish that you would try to be more like Al Murphy and consider yourselves "Duly Deputized, Fishrapper Cub Reporters". *Compensation and benefits to be reviewed on a semi-periodic, pro-rated basis.


(4/16) On Leech Lake, Al Murphy Wrote; - "We managed to get on the ice at Sucker Bay all weekend. There was six in our group, and we took home our limit of perch. Fished Friday afternoon, all day Saturday and all day Sunday. The wind and cold was brutal on Sunday, but we still managed a limit of perch. We drove a pick-up out from a private launch. There was some slush on the ice, but not too bad. I am sure you could still get out most places with an atv this coming weekend. We caught a lot of fish on jigging raps with a minnow head or without anything at all. Buckshots, Swedish pimples and Geminis also. Bright green or chartruesse seemed to be the best color for me." - Tight lines!


(4/16) In the Grand Rapids Area - Bluegill fishing remains good according Ice fishermen who reported in last night. I'm not sure if I have permission to say where and when specifically, but I can tell you that in my own travels, I've seen lots of ice fishermen spread around on 4 or 5 lakes, some large and some small.
Except for the areas lying near moving water, ice conditions continue to be good for ATV travel. On a couple of the smaller bays, hoofing it to your spot is also a good option.


(4/16) Question from Tammy Otto on our Facebook Page; "Does anyone know if Traverse Lake by Wheaton is open?
A) On Tuesday afternoon, DNR Area Fisheries Manager, Norm Haukos at Ortonville who said; "Traverse is pretty much Ice free. You can navigate from one end to the other."
So Tammy if you'e planning on heading over there, please be sure to send some pics!


By the way, YOU can drop by and Offer Your Two Cents Worth Too! Even post your own photos. >> fishing reports page on facebook. Click Here >> Fishing Reports Minnesota .


(4/16) Question from a reader who's heading toward Deer River and phoned in to ask about ice conditions on Lake Winnibigoshish.
A) According to reports, ice conditions on Winnibigoshis are still good, especially on the North end of the lake. There are some photos along with the most current information about Lake Winnie on Bowen Lodge's Website. Click here for >> Lake Winnibigoshish Ice Fishing Report .


(4/16) From Wired2Fish: Announces Spring Tackle Giveaway " Another fantastic assortment of fishing tackle is yours for the winning and all you need to do is click and enter >> Spring Tackle Giveaway . (4/22) .


(4/16) "Cub Reporter, Staff #003-IHBFBB "Spreading the spreadable and delivering the ... ":)!!


(4/15) Ultimate Fishing Experience; "The Ultimate Fishing Experience takes us for a float trip on the upper reaches of the Missiisspi River. On rivers, having the right tool for the right job is the key to success.
Hosts Ryan Dechaine and Jeremy Smith show how using a smaller boat and the right techniques for fishing small rivers, pays off big time in terms of catching tons of summertime fish on the river. Click to view >> This Week's Fishing Video > Fishing Small Rivers for Walleye and Smallmouth .


(4/15) By the way, remember back in March when I was curious about how I'd look in Lund's new 208 Pro V Tiller? Well, the idea is getting "curiouser and curiouser" around here and I wouldn't be too surprised when ...
In fact, some of my favorite viewing on W2F these days has been videos about the >> Latest Technologies and Gear For Rigging New Boats .


(4/14) From The Iron Range, Greg Clusiau; "Three trips were made to two different lakes last weekend and success was had. The ice, however, is getting soft and pulling away from shore so it looks like I just may be done with walking on the hard water for this season. Here's a brief summary of last weekend's adventure.
*Early bird gets the fish - We were on the water before the sun came up both days. Wearing headlamps, we never had to use them, as it was just light enough to see where we were going, as we walked out to the ... " >> Read Greg's Full Report .


(4/14) How To Select The Right Jigs - With the spring beakup forcing me to stay at home more, I've been going through my tackle boxes and checking supplies to see what I need to order for the summer.
You might recall reading last summer that I was really trying to do a lot more "Jig and Pig" fishing. It's a great way o catch larger fish and up here, the Big Pike really have a sweet tooth for 'em too. I had good luck using jigs last summer and ever since I started getting the hang of fishing with them, the tehnique has been sort of addicting to me.
I noticed yesterday that I am down to only 3 or 4 Bass Jigs left in my arsenal, but before I order more, I wanted to do some research about when and where to use the variety of shapes and sizes.
I did a little searching yesterday and came up with a good video about selecting Bass jigs andI figured that I might as well pass it along to you too. Check out >> Gary Klein Choosing The Right Jigs .
---






More ways to connect! Sign up to receive the Free "Insider Newsletter". Don't forget, you can always catch up with Jeff Sundin on the radio program too! Listen every Thursday at 6:20 AM and get additional fishing reports and information. KAXE 91.7 FM Grand Rapids - 105.3 FM Bemidji - 89.9 FM Brainerd . Want even more? Get HANDS ON Fishing Tips. Book your own Guided Fishing Trip !
---

Ice Fishing Report April 16, 2014 Jeff Sundin - Happy Day! April 15th ... and You Know what that means . - Half way to the month that just MAY be more like summer than winter, for a change.
Except for the Ham that I drug home and stuck in the fridge for dinner on Sunday, there isn't too much to remind me that Easter weekend is coming up. Monday's high temperature never reached above freezing and the Northwest wind reminded more of November and the beginning of winter, than the end of it.
I know that I said I was hanging up my ice fishing gear for the season. But with a forecast of sunny, calm and 31 degrees, I might not have any choice. This might just be the day to fight back by drilling some holes and catchin' a few fish. After I pay my taxes of course!
The fishing opener is only 25 days away though and I don't want to get caught off guard. So I'm still keeping one eye focused on getting the boat ready too.
If you are thinking about heading for the ice, I'd stick with lager lakes where the snow cover had already melted and drained away. Be on the lookout for old ice holes that have expanded in size from the draining water, stay away from the cuurent areas and you should still be able to find plenty of fishable territory that will support ATV travel.

Ice Fishing Report April 14, 2014 Jeff Sundin - A Watered Down Ice Report? No Not Today! - Overnight low temperatures in the mid-teens stiffened things up in the Deer River area. Ice fishermen who haven't had enough, are likely to find areas of fishable water for the rest of the week.
Conditions are better on some lakes than others though, so use caution when you're planning your trip. There are certain lakes that should be avoided altogether. A good rule of thumb to follow right now is that smaller lakes, especially those located in low lying areas have the poorest ice conditions. Heavy runoff from last weeks mega-meltdown had a greater influence on the shoreline areas of these small lakes. Some of them became heavily flooded, the ice is now "punky" from becoming saturated with bog stained water.
Also in poor condition are the lakes that have small rivers or numerous feeder creeks running through them. The fast rising water in these tributaries has already opened up more than a few spots. The problem on these lakes now is that you never know for sure where the ice is good and where it isn't. That makes these lakes a little too much of a crap shoot for me.


(4/14) Ultimate Fishing Experience; "Check out our brand new TV series: The Ultimate Fishing Experience. Each week, follow experienced Lund guides and pros on their fishing adventures throughout the lakes and rivers of North America while educating viewers on items such as rigging, fishing techniques, electronics and more.
In this episode, boat control techniques that will help you put more fish in the boat this summer. Drifting for Waleye with Tony Roach, back trolling for deep weedline Crappies with Dave Csanda. Alex Kessler shows how to troll crankbaits for big Walleyes and James Lindner holds tight on deep weedline bass. Click to view >> This Week's Fishing Video >> Better Fishing Through Boat Control .
April 14, 2014 - On Lake Winnibigoshish - There is still plenty of ice and it looks like travel by ATV will remain good for the rest of this week.
As long as certain areas are avoided, Perch, Panfish and Tulibee fishermen who travel by ATV should be able to travel freely around most of the lake.
As our photos show, curent access is available along the shoreline at Bowen's Flats. In fact most areas that have been protected from traffic and current are still accesible.
Perch continue to be active on Winnie and knowing that the larger pre-spawn fish typically move toward the shallows in Tamarack Bay, anglers should still have great fishing as the Perch feed their way into full scale pre-spawn mode.
Sunfish and Crappies continue to >> Read Lake Winnie Fishing Report

Ice Fishing Report April 13, 2014 Jeff Sundin - Ice Fishing Bonus Round For Minnesota Anglers? - Maybe not everywhere, but there's no doubt that at least some of the Itasca area lakes are going to retain solid, fishable ice for the rest of the week.
Most of the surface snow has melted now and drainage on the surface of lakes has left them high and dry. So the quick start toward ice out is shifting back into low gear.
If the forecast turns out to be accurate, below freezing temperatures combined with cloudy conditions will do little to encourage any more melting for the next few days. So it looks like there's going to be another weekend of ice fishing in our futures.
The exception will be on lakes where the ice has already been melted by moving water. River inlets, narrow spots between islands, drainage culverts ... any place where you find moving water. The meltdown has occurred already and these areas are already limits.
Areas where water drains from flooded low ground on the the ice have created more trouble spots too. The meltdown on these lakes may be limited to certain shorelines, but has already occurred, leaving patches of open water and shutting down acesses.


(4/13) Thank you to all of my friends at the Nashwauk Home and Sport Show! Who, by the way, were smiling on Saturday because attendance was up and everyone at the show was was in a great mood.
Thanks also to the Itasca County Sheriff's Department who stepped in to save the day, lining up some last minute supplies to help me do my seminars!
For me, that's a wrap on the seminar season. So now, I can take a few days to get caught up on paperwork and then plan some fun fishing. Someone said that there are Walleyes in South Dakota? Hmm.. no kiding huh? Maybe it's time to see for myself?


(4/13) On The Rainy River; With only two days remaining in the spring Rainy River Walleye season, it probably doesn't make a huge difference what todays report is. But just in case you were thinking about heading up there tomorrow ...
Local reports suggest that the Little Fork River is rising fast and is likely to break open soon. Typically, the sudden influx of debris filled water will turn the Walleye action off on the Rainy River.
For the moment, the river water is still manageable and it's still fairly clear too. The ice has receded several miles West of Frontier landing which is now open for boats of all sizes.
Walleye action has slowed down and anglers are reporting mixed results. As current speed increases, fishermen should move closer to the shoreline and fish shallow, gravel stretches. Spawning Walleyes are seeking out these well aerated areas and for them, it's all about the bottom content. As they move into "spawning mode", Walleyes will show up in water depths ranging from several feet, to just a few inches.
Don't be afraid to pictch jigs tipped with large minnows or articial tails all the way up to the edge of shore. Working the jig back toward the boat while allowing it to fall down the breakline can provide some fantastic Walleye fishing. Especially when the deep water bite tapers off and the action appears to be over. That simply means that these fish are moving out of "pre-spawn" territory and in to get more serious about spawning.
Typically, you can tell that this has occured when the percentage of small, male fish caught goes way up in comparrison to the larger females.

Ice Fishing Report April 11, 2014 Jeff Sundin - Last Call For Ice Fishing - Good news for anglers who have been sitting on the edge of their chair, hoping that ice conditions will allow one last weekend of fishing. Ice conditions remain favorable and providing that you can locate a good access point, ATV travel should be nearly ideal.
There are two safety concerns that should be in the forefront of any plans that you're making for the upcoming weekend.
1) Avoid current areas of any kind. River inlets, narrow spots between islands, drainage culverts ... any place where you suspect moving water. The meltdown has occurred so rapidly that these areas are opening up faster than usual. At the moment, it's possible to have main lake ice that's still 2 feet or thicker. The problem is that 200 yards away, there could be open water near an inlet or where there had been a lot of slush on the ice.
2) Keep your eyes peeled for areas where draining water is creating widened holes or cracks in the ice. Stepping into a 10 inch hole is bad enough, but stepping into an old ice hole that's enlarged even more from water drainage could be downright deadly! Again, the meltdown has occurred so rapidly that these areas are more numerous than usual.
April 11, 2014 - On Lake Winnibigoshish and Cutfoot Sioux - There is still plenty of ice for Perch, Panfish and Tulibee fishermen who travel by ATV.
As our photos show, curent areas and ice located at the access ramps now have open water nearby. But areas protected from traffic and current are still accesible, albeit not for too much longer.
Perch continue to be active, especially on the West side of Winnie and there are more large female fish moving toward the shallows as they feed their way into full scale pre-spawn mode.
Tulibee fishing has been excellent on Lake Winnie too. Deep water areas along the lake's main bar (Bena Bar) have been producing consistent number of fish. Best strategy for Tulibees is to set up near, but not on the steep breaks.
Sunfish & Crappie fishermen will find consistent action on ... >> Read Full Lake Winnie Fishing Report .

(4/11) On The Rainy River; An update from the Frontier Landing on Thursday. Fishermen were fishing open water in front of Frontier landing and there is open water downstream (West) of the ramp. The ramp was not open for large rigs as of Thursday afternoon, but small boats can be launched.
Typical of the "First Wave" of Walleye fishermen who fish the river after ice out, reports of good fishing are plentiful. So far, I haven't seen any photos of giant size fish, but there have been several in the 24 to 26 inch range. Anglers who are more interested in "eaters" are having no trouble getting fish for a meal.
The Littlefork River has not broken free so far and reports late yesterday were that water levels have now stabilized following the initial surge caused by runoff from melting snow.


(4/10) On The Rainy River; An update from late yesterday evening; Fishing boats were scattered along the river from Birchdale all the way downstream to within sight of the Frontier landing. The landing was not open yet, but the river water was making it's way toward the landing and there is speculation that it could be open some time today.


(4/10) While we're on the subject of river fishing. Here are a couple of tips about using side imaging to locate big fish on the river.
Harness the Power of Side Imaging to Locate Trophy Pre-Spawn Walleyes - By Dr. Jason Halfen
In early spring, anglers across the Walleye Belt turn their attention to rivers in pursuit of migratory pre-spawn walleyes. Many anglers are drawn to "community holes" near river-spanning dams that interrupt the upstream movement of fish. However, many unpressured fish can be found miles from these obstructions, lingering in areas that provide feeding opportunities as well as shelter from strong spring currents.
How can an angler find these fish, and enjoy the opportunity to target them with limited competition from others? Advanced sonar technologies can reveal the presence of unpressured walleyes and baitfish, and thus provide anglers with ... Read Full Story >> Side Imaging to Locate Trophy Pre-Spawn Walleyes .


(4/10) On The Rainy River; Ryan DeChaine shared a story about side imaging too. Sturgeon fishing on the river doesn't have to be hit and miss any more. Ryan and his fishing partners cruise the river using their side imaging to spot giant Sturgeon laying on the bottom. In Ryan's words; "They look like big logs laying near the bottom".
Once they spot a fish that piques their interest, they motor back upstream from the fish, anchor the boat and start fishing.
It's a really efficient system that allows anglers to catch a higher percentage of the fish that are located in a given stretch of water.

Ice Fishing Report April 9, 2014 Jeff Sundin - Rainy River Open For Business - On Tuesday, road crews were working fast to get the Birchdale Ramp open in time to greet the first open water at Birchdale. Anglers in small boats were already fishing the river and by today, the Birchdale ramp will like be packed full of rigs.
The early word is that Walleyes were biting. Fishing reports from the river will be trickling in today and if past history repeats, they should be fairly good.
From the Royal Dutchman Resort, Alyse Walton wrote; "I talked to a group that was here this past weekend and they reported good fishing. They caught plenty of fish for a fish fry and they even invited us too. The fish was so good!
They fished half a day Thursday, all day on Friday and Saturday. They said Saturday was the best day with catching about 30 fish. No monsters, but I believe they said the biggest one was 25 inches.


(4/7) Bemidji Lakes Area, Paul A. Nelson, Bemidji Area Lakes Guide Service says; "The late-ice fishing is definitely underway at this point in the Bemidji area. The spring meltdown is getting serious this week, with much warmer temperatures.
The fresh water running into the lakes will revitalize the shallows and allow the perch, crappies and sunfish to move shallow and do some serious feeding before the ice goes out on the lakes.
Perch are one of the first species to move shallow because they spawn almost immediately after ice-out. Huge schools of perch will roam the shallows to feed, looking for minnows, crayfish and anything else they can find to eat.
Perch like big flats because they offer more food options and more room to roam around while they search for food. Areas with rocks, standing weeds or chara covered bottom offer different opportunities to the perch and may concentrate the schools of perch on the flats.
Perch often start out on the edge of the flats close to deep water. When it gets closer to ice-out the perch will roam further and further from the deep edge of the flats as they search out the best feeding opportunities.
Sunfish also move to the weed flats on late-ice and will search out areas with standing weeds and also shallow mud. Sunfish will eat minnows, but their main food sources are usually insects, which hatch out of the mud.
Wild rice or lily pads are areas frequented by sunfish on late-ice because of the bottom types where the plants like to grow. Both sunfish and perch may go into extremely shallow water on late-ice, with anglers able to sight fish and see the fish moving through under their holes.
Crappies usually hold on the edges of structure and like deep reeds or areas with deep water close to shore. Crappies like to be able to retreat from the shallows quickly if they feel threatened by predators or if a cold front pushes them back out of the shallows." Email Paul Nelson - Bemidji Area Lakes Guide Service, - 218.759.2235 .


(4/7) From The Iron Range, Greg Clusiau; "Making a loop around the lake, we headed for one last stop before calling it a day. Following the gps coordinates, we ended up driving near a small group that was already there. Upon closer inspection, I realized it was my son-in-law and a bunch of his friends.
Walking over to say hello, I was shown a bucket full of nice crappies and big perch and was informed that they had bit very well and ... " >> Read Greg's Full Report .


(4/7) On Lake of the Woods, Border View Lodge, Mike Kinsella wrote; "The sun is shining and we are above freezing. Spring may have finally arrived! We have a lot of snow but looks to be melting quickly. The river is still frozen east of Birchdale. However with this forecast for this next week it may really help the river conditions. Keep an eye on river conditions if you are planning on coming up in April.
We are seeing a fair amount of portable houses headed out onto the lake. We do know people are catching fish but really have to work for them. Close to border just outside the gap has been decent with a morning and evening bite.
The next weeks temperatures are going to be in the mid 40's and we may even see 50's.- FISH ON!" 1-800-776-3474 Border View Lodge .


(4/6) From Mike Kosmer, a facebook friend gave me an update; "Started out with the trucks Thursday and Friday but by the time we came off things started getting pretty soft. We were on wheelers yesterday (Saturday) with no problems getting around.
The fishing on Thursday was slow, with only 6 9-10 inch perch. Friday was a better day. It took us until mid day to find good size fish that would eat. Found a ton of spots that had fish stacked up but they all had lock jaw.
Seems like you have to be right on the edge of the humps to find fish that will eat. To shallow or to deep is where the lookers are hanging out. 18 feet seemed to be the magic zone. We ended up with 40 still in that 10 inch range.
Yesterday was good too. Finding the a horizontal presentation works best. Managed to get bigger fish mixed with crappies. The bite is still soft but the size is going up. Managed to get 50 perch 9-13 inches and a dozen 11-12 inch crappies.
We get a half day today and then we are heading home. I am sure the bite will only get better as this week goes on. There are some nice days in the forecast that should turn the lookers into eaters!".


(4/6) On The Rainy River, "The spring thaw is hitting and the ice is melting fast. At this point, we already kow that a classic spring run is out of the question. But, with warm temperatures becoming more prevelant, there's no reason not to expect a short run of fishing on the Rainy.
According to local reports, the river is opening up at a rate of about 2 miles per day. At that pace, there will likely be open water at Birchdale by mid-week. Just for fun, I'll make a prediction that it's gonna be open by Wednesday.

Ice Fishing Report April 8, 2014 Jeff Sundin - Ice Conditions Decline Rapidly - On Bowstring Lake, the snow and ice cover was melting so fast on Monday that we literally watched the ice conditions deteriorate while we were fishing.
Our ATV ride out to our fishing hole was wet, but manageable. Small areas of slushy melted snow, some small areas of flooded ice and mostly dry surface ice. But as we fished, there were puddles of water growing wider and deeper. As the sun moved higher in the sky, we watched the forming of a lake on top of a lake.
Our trip back to the landing was a lot different. There were large pools of water ranging in depth from a few inches to well over a foot. By now, my snow sled was serving double duty as a boat.
We spotted several areas where the deep surface water was draining into ice holes and small cracks in the ice. I snapped a very short, 30 second video so you can see what it's like to be on the ice during a full scale meltdown. Click this link to watch >> Bowstring Lake Meltdown .
The underlying ice was still generally good, but it is deteriorating fast. Some of the holes that I drilled went into solid, dry ice. But the auger slipped like a hot knife into butter at others where the wet, slushy ice was already itching to turn back into water. Ice thickness varied too, ranging between 24 and 30 inches.
Getting off of the lake was a little tricky. In fact I got myself stuck two or three times as my ATV got high-centered on a chunk of ice at the ramp. We eventually manged to get out of there, but by today, the accesses are going to be even more sloppy. It won't be long before the landings become inaccessible.
From here on out, travel on the ice is going to require paying lots of attention to the path ahead of you. Those drain holes are going to widen, so are the cracks and these could pose serious problems for anyone who gets caught bu surprise. If you're determined to stretch the ice season out for a few more days, then be careful and please, if you spot dangerous conditions, let us know so that we can give folks a heads up.
Crappie Fishing was okay, but we missed out on both ends of a classic "Bowstring Low-Light Crappie Bite". By the time we arrived, there were already some anglers leaving the lake with their limits of Crappies that they caught during the early morning. By the time we started fishing, most of the fish had become lookers, not biters.
We left the lake somewhere around 6:00 PM, so we also missed out on the evening run of Crappies that probably would have started at sundown.
Perch fishing was our strong suit and that's what occupied our time between 11:00 and 4:00. We were fishing a soft bottom flat in about 23 - 24 feet of water. The fish were roaming the area, feeding on Bloodworms, their mouths and stomachs were packed with these small red Midge Larvae.
All of the Perch that I caught fell victim to a Glow Color Tungsten Toad tipped with a small red artificial tail. The tail has a round body and a fine, needle point tail.
Arne was using different a style of artificial bait, a Frostee jigging Spoon, but he too was using a red artificial tail and also caught fish. I'm guessing that the red artificial reminded the fish of the larvae that they were feeding on.
Typical of Bowstring Lake, the aggressive fish ride higher in the water column and most of the fish we caught were suspended 3 to 5 feet above the bottom. Occasionally, my humminbird would reveal a fish that rose from the bottom to grab my bait. But for reasons known only to the fish, attempting to catch these bottom hugging fish by going toe to toe at the bottom seldom accomplishes anything. Keep your bait 3 to 5 feet above the bottom and you will definitely have better results on this lake.
All of our Fishing Reports are saved in the library >> Click here for Ice Fishing Report April 2014 << OR >> March 2014 << OR >> View Entire Fish Reports Library Here .
| | |
| --- | --- |
| Did you know that the Thursday Morning Program is available for a week after the air date? Yes, if you miss the live show, just click here and select the 6:00 hour on Thursday. Scroll in to about 6:20 AM and you're back in business! | |
---
And Do You Know that you can even post your own helpful hints to my fishing reports page on facebook? YES! You Can! You don't have to tell us your secrets, just go ahead and brag a little when you get a whopper! >>> Click Here >>> Fishing Reports Minnesota .
"Jeff Sundin is a full time, professional fishing guide, outdoor writer and photographer. Jeff is available for for fishing seminars, fishing promotions and media events. Click here to read more fishing articles and fishing reports.

Hosts Ryan Dechaine and Jeremy Smith show how using a smaller boat and the right techniques for fishing small rivers, pays off big time in terms of catching tons of summer Smalmouth along with some bonus Walleyes on the river where having the right tool for the right job is the key to success.
... and floating new ideas about the ... Lucky Number for April 16, 2014 ... :)!!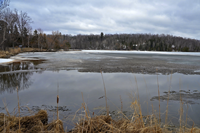 Avoid areas where drainage from low lying property has been melting ice along shorelines.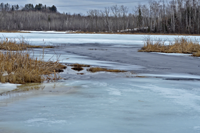 Narrows connecting one lake to another have enough current to melt the ice too. If you look close, there's another open hole at the far end of the bay.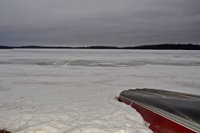 Photo Courtesy Bowen Lodge: On the other hand, in protected bays and areas free from drainage, ice is still good and promises to remain for a while. Read >> Bowen Lodge Fishing Report .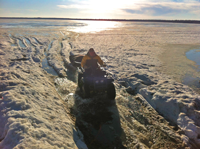 The spring meltdown continues. But in the Itasca Area of Northern Minnesota, ice fishermen will be able to squeak out one more weekend.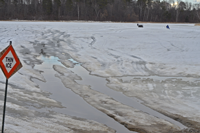 Photo Bowen Lodge: Curent areas and ice located at the access ramps now have open water nearby. But areas that are protected from traffic or current are still accesible, at least for this weekend. Click her for >> Lake Winnie and Cutfoot Sioux Ice Conditions .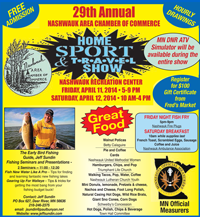 Bring your notebook and Join me tomorrow Saturday, April 12, 2014 at the Nashwauk Home, Sport and Travel Show. This year, 2 for 1 special! Learn how to fish new water like a pro! AND Gearing Up For Open Water Walleye!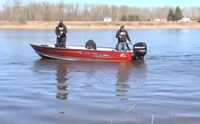 Be prepared for Walleye fishing on the river with a series of tips and techniques starting with this one >> Slipping The Current Breaks For Walleyes .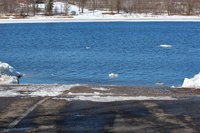 Photos courtesy Royal Dutchman Resort: Don't look now, BUT THE RAINY RIVER IS OPEN AT BIRCHDALE. Birchdale Ramp on the Rainy River was open for business on Tuesday afternoon.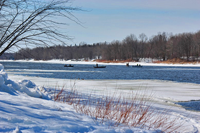 A handful of small boats were already fishing on the river and by today, there's going to be plenty of traffic on the river. See More >> Roayl Dutchman Resort .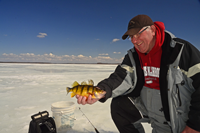 This Bowstring Lake Jumbo has been through a few battles before. She finally met her match though when she tried going toe-to-toe with the Ramrod of Fish Wrangling, Arne Danielson.

If this keeps up, there won't be any problem having ice out in time for the Walleye Fishing Opener. Here's a short video of the water draining into an ice hole on Monday at Bowstring Lake.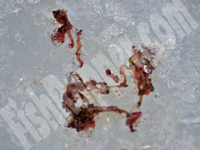 Perch were roaming the area, feeding on Bloodworms, their mouths and stomachs were packed with these small red Midge Larvae. Insects can hold fish in an area for days, even weeks.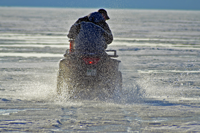 We were able to travel freely on the ice using ATV's, but it was plenty wet out there. There was still some truck traffic too, but the mix has shifted since Saturday.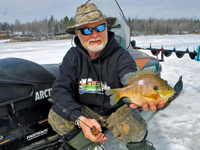 Late Ice Gill...Greg Clusiau posed just long enough for a quick photo before releasing this nice bluegill back in the hole. Read Greg's Full Fishing Report .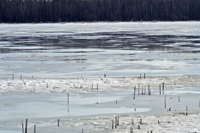 Snow cover is virtually gone. Slush and standing water are all that remains on the surface of most Itasca area lakes.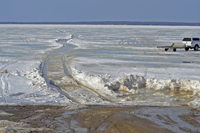 On Saturday afternoon, roads were still passable. But with warm temperatures becoming the norm, shoreline accesses will deteriorate quickly this week.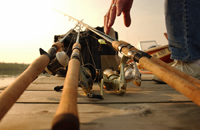 St. Croix Rods introduces Randy Hamilton to help expand St. Croix's Bass and Inshore rods lineup. Learn More >> St. Croix introduces Randy Hamilton .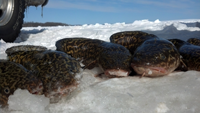 After a successful Eelpout fishing trip, Chad Benson looked up some recipes and cooked some up. Lots of anglers call it "Poor Man's Lobster" and like me, Chad decided that they are pretty darn good! By the way, did you know that the Burbot (Eelpout) is really a freshwater variety of Cod?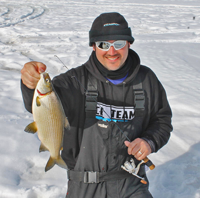 Photo courtesy Greg Clusiau: Blake Liend caught and released tulibee (cisco) like this one on last Sunday's outing. They fight like the dickens and smell to high heaven! They are, however, good to eat, especially smoked. >> Read Report .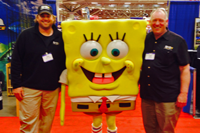 For Mike Christensen and Jeff Sundin, wrapping up the Sportshow with a smile was easy! Sunny Side Up and :)!!