Find Minnesota Fishing Reports on Facebook
---
Advertisers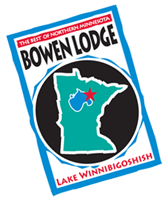 Read The Bowen Lodge
Lake Winnie and Cutfoot Sioux Fishing Report








Fishing Report July 25, 2014 -

Medicine for What Ails Ya'! Warm Water + Deep Weed Edges = Prescription for Mixed Bag Action Bite

Surface temperatures on most Itasca area lakes have moved into the 76 to 78 degree range. That's good news because it's these warmer temperatures that kick the multi-species action bite into high gear.
For me, this "action bite" is just what the doctor ordered to help fight off a case of the mid-summer doldrums. On Thursday, I got my first dosage and it was better than getting a sip of Granny's Rheumatis' Medicine!
We arrived at the lake to find 76 degrees on the surface. The skies were overcast and the water was calm. As we idled away from the landing, I worked on rigging up the rods with 3/16 ounce bullet weights and Gold Little Joe Spinners. I told my crew; "If this works, we're gonna have action all day long". It did and we did and even if a lot of the fish were small, working our way toward the eventual cooler full of keepers kept us busy for the whole day!
Sunfish, Rock Bass, Largemouth Bass and Walleye in that order, made up the mix on this day. However, the mix of fish depends entirely on what's available in the lake you choose to fish and it's easier than you think to find a lake where this system works.
If I was your fish doctor, writing a prescription for the ideal lake, it would read like this; "Any lake with deeper, clearer than average water and numerous stands of cabbage weeds." Taken once daily to relieve mid-summer doldrums.
We focused on points and inside corners that were adjacent to large weed flats. Whenever I found scattered cabbage weeds on the deep edges, I trolled right through the weeds. If the weeds were too thick though, like patches of Coontail or other dense weed growth, then I trolled as close as possible to the outside edges.
Trolling speed can be varied, but ideally it should be 1.1 to 1.3 MPH. Our #3 Gold Little Joe Spinners were tipped with half of a night crawler and yes, thanks to the Sunfish and Rock Bass, we were up to our elbows in worm dirt all of the time.
If I had wanted to cut down on the number of worms that were consumed, I could have tipped the single hooks with 3 to 4 inch plastic worms. Last year I had good results using a 4 inch Yum Dinger that I cut in half. They're Green Pumpkin color and have a Chartreuse Yellow tail and they worked wonderfully. The problem on Thursday was that I had forgotten to bring my goody bag of YUM stuff. I won't forget next time.
If you have kids, grand kids or just wanna be a kid for a day yourself, then you need to try this. You are going to catch a lot of "stupid stuff", but every once in a while, you'll be rewarded for weeding through the little fish. For us, the cooler wound up with 11 Walleyes ranging from 14 to 19 inches and 25 Sunfish in the 8-1/2 to 9 inch range.
Follow my advice and take the medicine, you'll wind up with a spectacular fish fry!


(7/25) From Lake of the Woods, Sportsman's Lodge; "Water levels may be up and down, but walleye fishing remains constant. Drifting and using spinners was the method of choice over the last week. Make your way to 22'-28' of water near Long Point or Zippel Bay or 12'-18' of water near Morris Point to Pine Island. Don't forget about trolling in the shallow waters of 10' or less as walleyes have been found there as well. Make sure you have plenty of jigs and spinners. Hammered gold is still the hot color, tip it with crawlers or leeches and you will be ready to go." - EMAIL Sportsman's Lodge .

(7/24) On Lake Winnibigoshish, Joe Thompson, Four Seasons Resort says; "The fishing on the West Side of Lake Winnie has been a lesson in patience. Like the old saying, "take the best player available", you have to do the same while fishing.
Northerns have definitely taken a giant leap forward on the size scale. We have had several fish over 30" caught the past few days. All the methods of fishing are working for these fish. The best has been on the secondary breakline on the outside edge of the deepest weeds. Trolling or casting, the fish seem to cooperate.
Perch fishing is still very good. You can't just go to one spot and catch all the "jumbos" you want like a few weeks ago. You will need to move around, picking up a few at each location.
Walleyes continue to be very elusive. The Humps seem to be the best spot to catch fish, but the winds this past week have made them very difficult to fish. I think the trollers coming in the next few weeks are going to do well. The fish are probably suspended eating perch minnows and shiners. That remains to be seen. With that being said, the fall looks like it will be our best time for the walleye fishermen.
Our Labor Day special is right around the corner, as well as our fall discount. Pick out a date and give us a call." >> Four Seasons Resort .


(7/24) Gus' Place Resort, Ball Club Lake; "Water levels remain high and stable with the surface temp @ 70 degrees.
Frequent rainfall has stained the water this summer to tea color.
Fishing remains good for Northerns, Perch and Walleye. Spoons and crank baits in 12 feet will produce a solid Northern bite throughout the day as well as an all-day Perch bite.
The Perch are still in shallow (6-8 feet) falling for minnows on bobbers and the Walleye have become widely dispersed from 12 to 30 feet.
The best bet for the Walleye is early & late in the day with leeches on jigs or Lindy rigs.
Crawlers are also taking Walleye. Keep your finger on the line and the bail open; a 5 count is about right.
There is still plenty of good fishing left this summer and we have a few cabins opening up in August." - Gus Sheker, Gus' Place Resort .


(7/24) Mustang Survival Life Vest Giveaway from Wired2Fish; "At one time or another we all relax about life vests when we are fun fishing or just taking a boat ride but it is crucial to wear it anytime the big engine is running, at a minimum. They are called "accidents" for a reason. Comfortable, secure, and dependable are prerequisites to good life vests in our book and we count on Mustang Survival here at Wired2fish for our life vest needs. Whether on the water for photo shoots, filming, or fishing tournaments we use a premium quality Mustang life vests.
We want to give Wired2fish readers a chance to win a Mustang inflatable life vest that can be worn anytime they are in a boat or around the water in our latest giveaway." Click to learn more and enter >> Mustang Survival Life Vest Giveaway . (7/24)


(7/24) From The Marcell Area, Frontier Sports, Paul Larson said; "According to the Frontier Sports Fisherman's Guide calendar, fish activity looked like it was going to be minimal to nonexistent for last weekend and the three or four days after. Unfortunately, this proved to be correct for most anglers that I've talked to. Dark, threatening skies of green, purple and even a weird brown purported thunder storms could appear at any time. This coupled with occasional heavy wind gusts shut the Walleye right down and the Crappie as well refused to bite. The only fish that took any notice of my lures were Rock Bass. I've seen this same scenario many times in weather like this. Unfortunately there is rumored to be an age old curse connected with this fish. THE CURSE of the DREADED RED EYE! According to legend, when you catch a Rock Bass, three fish that you want to catch are mysteriously subtracted from your total for the trip. Well, Sunday and Monday night, I caught so many Rock Bass, and that was all I caught, that if the curse is indeed true, I probably shouldn't go fishing for the rest of the year. It'd be a waste of time. They were so anxious to make me miserable; I even hooked several in the back! In the long run it really doesn't matter. Curse or no curse, this weekend you'll find me out dragging crank baits in my favorite spots trying to make up for last week. After all you can't catch fish, no matter what kind, if you don't go! Bass and Pike have been the mainstays of the fish being caught this week with Crappie starting to get on bite again after all the mischievous weather we've just been through. Walleye have been slow for a while. The tackle department and bait shop are fully stocked for the weekend which promises to be much better." Frontier Sports features a complete and fully stocked Sporting Goods department and Bait Shop, Gas, Grocery, Deli and Gift Shop. Frontier Sports is an authorized LIVE TARGET and SAVAGE GEAR dealer. Frontier Sports 219-832-3901 or Email .
"Trolling For Summer Crappie"
This week, Fish Ed host Jon Thelen shows you the easiest, most-efficient way to load the livewell with big crappies. His trolling tactic with Lindy River Rockers works on any lake near you, but is especially effective on lakes that see a lot of fishing pressure. His "high-speed" crankbait trolling method lets the whole family get in on the fun of putting together a summertime fish fry. click >> Trolling Summer Crappie

(7/23) From Bowstring Lake, Geiger's Trails End Resort; "The Northern have been hitting hard and furious. We even had some pull a few crappies out of the North end. The Walleye are sticking on the humps up here, but with the hot weather coming, I think they will be moving into the deep pretty soon. The Dog Days are coming late this year, but I expect them to show up anytime now and that means that solid fishing patterns for Crappie, Walleye and Pike will be emerging.
August can be a very good time for fishing on Bowstring Lake and we still have some cabins available. EMAIL US for current availability." - See you on the water". - Bill & Erin Charlton, Trails End Reosrt .

Fishing Report July 22, 2014 -

Mid-Summer Bass Patterns? Maybe.

I'm not too sure what to say about our fishing trip on Monday. We really weren't targeting any particular species; we just wanted to have a fun fishing day. We did do that, but it wasn't fast action that made it good, it was the end result.
There were so many variables in play yesterday that I never really felt like I got my arms around the true answer to reaching my goal.
Don't get me wrong, there were definitely some moments of greatness and if I only showed you the highlights, you'd probably think it was a darn good day. It was just one of those days where the fish came in one at a time. You know, at the end, I was surprised that I had a cooler of fish to clean. I just didn't remember getting that much action.
Maybe it was the calm seas? After a week of cool, windy weather that had encouraged fish to be active, maybe they needed a little breather.
Maybe it was the incoming storm? Sometimes a low pressure system can give the fish a case of lock jaw.
Maybe I guessed wrong about too many spots? If I had chosen a different location, in a different order, then maybe I'd have found a more aggressive bite.
OR MAYBE the fish just have so many options that they can pick and choose when, where and why they want to feed? If you ask me, that's the real answer, the one that lies deep at the heart of our question.
Here's why I think so; Monday was one of those days where everything we tried "Almost Worked". We never made a single stop that didn't produce a fish or two; there were some in the weeds, some out in deep water and there were even a few in the Mississippi River. Except for the very last stop of the day, there just wasn't any one spot that kept producing good results.
Here's a short list of what we did that worked. Fishing with Wacky Rigged Yum Dingers over the tops of the Cabbage weeds produced some good Largemouth Bass. Using the same worms rigged Texas Style on the Mississippi River also produced a few Bass, the fish that we hooked and the ones that we almost hooked were all good quality fish, they were scattered, not schooled up.
Thanks to what was a random sighting of a Walleye that followed my worm to the boat, we caught a few eating fish on the river too.
As soon as I saw the Walleye follow my lure, I asked the crew to re-rig for an experimental pass using Lindy Spinners. That experiment produced one nice Walleye and a couple of smaller, but soon to be tasty, Northern Pike.
I think that if we'd spent more time on this experiment, we'd have produced more fish. But the river water is still rather high and current flow is very fast. It was just a lot of work to hold the boat in proper position. Those, coupled with the now 90 degree air temperature made the idea of getting back onto the lake and into the breeze seem like a better idea. It was!
Back out on the lake, there was a nice breeze that cooled us and helped encourage a late inning rally.
Using Lindy Rigs tipped with Creek Chubs gave us a mixed bag of Walleye and Pike that helped us close out the day with a few grins. When I looked in the cooler, we had 4 nice Walleyes and a half dozen eating size Pike. That set the stage for the end of our day. The shoreline dinner of Blackened Northern Pike was the grand finale'; even if I do say so myself!
So there you go, my patented recipe for making a good day out of what seems to be almost nothing. Just keep futzing around, trying different approaches, finding fresh locations and voila, the story of another beautiful day written into the journal.


(7/22) From The Iron Range, Greg Clusiau wrote; "I clipped on a lipless rattle bait and began trolling the weed line for northern pike. Wow. I almost forgot how much fun that was, especially when using a braided line which telegraphs the strike to the tips of your toes! High winds and rollers really had these fish in an eating mood. I remember when I used to do this to liven up a ..." >> Read Greg's Full Report


(7/21) From Lake of the Woods, Mike Kinsela, Border View Lodge; "Multiple Big fish caught this week! What a great week full of sunshine! This week we mixed it up a little more on location instead of heading north all week a few days we stayed south fishing the west side and also drifting spinners just outside the Light House Gap. The days we were able to head north we were on both Little Oak and Sterran with both producing big fish. We are still getting a good jig bite so it has been a mix of jigging and spinners. We are just starting to test the down rigging which we will go to soon.
We are able to use some of our docks again so we hope for less wind and very little rain. This will help the water levels continue to decline. We are still a day by day basis on the docks with a brisk wind docks may be wet.
Temperatures are starting to finally warm up! However along with warm temps we get more chances of thunderstorms. This week will have lots of sunshine however we show chances of thunderstorm activity as well. Tuesday we have a good chance of rain. Friday and Saturday they forecast a chance of thunderstorms. The storms are scattered though so they may miss us all together!" - 1-800-776-3474 Border View Lodge .


(7/17) From The Marcell Area, Frontier Sports, Paul Larson said; "After an informal visit by the Polar Vortex last weekend, fishing has been gradually improving. Last weekend saw heavy rain, gusty wind and everything else in between. Some anglers were still able to eke out some nice catches of Walleye in spite of all that. I found the Walleye to have moved out to the 16 to 18 foot depths when the week before they were relating to the weeds more and were in depths ranging from 8 to 13 feet. I picked up a few using LIVE TARGET jointed Perch and Rainbow Smelt crank baits during the small break in the storm Monday night. Anglers have been reporting success using leeches and slip bobbers out from the weeds but have found very few fish on the humps so far this summer. Bass continue to be aggressively smashing jerk baits and plastics. The frog season is here and the LIVE TARGET Frog has been catching a lot of fish, just like it has done for the last two years. The Crappies are out in the weed beds now and good numbers of fish are being taken using small jigs and minnows or plastics. The Northland Thumper jig with a white Gulp! grub is really doing well. This summer it seems to be all about the weather. A more stable weather pattern seems to be in place with much warmer temperatures on the way, so you can wave goodbye to the Polar Vortex while pulling in that big Walleye this weekend and be sure to drop by when you're in the area!..." Frontier Sports features a complete and fully stocked Sporting Goods department and Bait Shop, Gas, Grocery, Deli and Gift Shop. Frontier Sports is an authorized LIVE TARGET and SAVAGE GEAR dealer. Frontier Sports 219-832-3901 or Email .


(7/15) Fish ED on Devils Lake; "This week, Fish Ed Host Jon Thelen travels to Devils Lake in search of mid-summer walleyes. Jon explains ho to fish the new Lil' Guy. Lindy's new hybrid trolling bait is more aggressive than a spinner, but can be trolled slower than a crankbait. It's perfect for the times when fish are in transitions from one feeding pattern to another. Click here to learn more about >> Fishing the Lil' Guy for mid-summer Walleyes .


(7/15) Ball Club Lake, Gus' Place Resort; "Very little has changed over the past week on Ball Club lake with lake levels, water temp and fishing patterns.
Fishing remains good for multi-species angling.
The one variable I have noticed over this past week has been the increase numbers of small Walleye (around 12 inches) being caught. I have been encouraging anglers to do their best to release these fish unharmed for at least another year.
If you want to have fun and a good meal at the end of the day, now is the time to get out your spoons and troll for Northerns, some afternoons they are practically jumping in the boat." - Gus Sheker, Gus' Place Resort .


(7/15) From Cutfoot Sioux and Lake Winnibigoshish, Eagle Nest Lodge; "It's a beautiful September day here! Crazy weather!!!
The lake isn't going down any...still a good foot high...and the rain keeps coming. I would think we would get a pattern change soon. And the wind!! So, most of our guests have been staying close and fishing Cutfoot. The crappie bite has really slowed down, but the northerns have been biting pretty well. No monsters, but plenty of fish. And we are starting to see more keeper walleyes in Cutfoot in 10-14 feet of water. They are using mostly leeches on a lindy rig. A few are still catching with a jig and minnow. We've seen a few mayflies, but not the big hatch." Take care, Bryan and Sue Harris, Email Eagle Nest Lodge .


(7/15) From Lake Winnibigoshish, John Seekon, The Pines Resort; "Anglers that are willing to shake some old habits and try new methods are finding eating size walleyes. Instead of trolling the same old crankbaits, success is being found on smaller crankbaits with a little more wobble in them. Trolling outside of the weeds in 16 to 20 feet has rewarded some anglers with more keeper sized walleyes.
For shallower walleyes spinners have been producing in the weeds at the depths of 8 to 14 feet. Try both crawlers and leeches, as it seems to change by the day. Northern pike are being caught on anything orange in 10 to 12 feet. Bigger perch are being caught on jigs and minnows in 12 to 15 feet on the weed edges." Email The Pines Resort .


(7/15) From The Iron Range, Greg Clusiau wrote; "I had caught some nice crappie and a bluegill or two but my partner was having trouble getting bit until he switched over to what I was using, a 1/16 oz. orange jighead tipped with a yellow twister tail. It made all the difference in the world. A note regarding jig weights: I'll use heavier jigs like a 1/16 oz. during the day when fish are deeper and often switch to a lighter weight 1/32 oz. as fish move up shallower toward evening.
How odd that working a similar bait through a school of fish would produce nothing but change color and wham! It happens all of the time.
One thing I should mention about the plastic tail is that it was ..." Learn More >> Read Greg Clusiau's Full Report .


(7/15) Lakemaster SmartStrike: 2014 Map Cards - Conduct searches for the best fishing locations in your lake with the new Humminbird® SmartStrike™ - map card now available in 9 editions that parallel the LakeMaster card coverage.
The intuitive, fish-finding power of smartstrike takes you straight to the action by showing you where the fish are biting at any given moment. This powerful software program contained on the SmartStrike map card allows anglers to utilize Humminbird LakeMaster® High-Definition map data* and extensive search algorithms to pattern and locate fish like never before.
Based on search parameters like fish species, season, time of day, and temperature, the SmartStrike engine searches depth ranges, type of structure, proximity, and more to quickly reveal and highlight the results on the lake map. learn more >> Lakemaster SmartStrike: 2014 Map Cards .

(7/14) On Lake Winnibigoshish, Joe Thompson, Four Seasons Resort says; "The fishing at Four Seasons has taken another turn. This week, our guests enjoyed something that happens once in a Blue Moon! We had a reliable crappie bite! The mouth of the river in the evening was where it was at. Guests were not coming in with limits, but the bite would happen between 8:30 and 9:00 pm and that was enough time for most boats to come in with about 10 nice crappies.
Perch continue to dominate our fishing success. Nice perch are being caught in most hard bottom areas where you find crayfish.
The walleye front is improving. The humps have been reliable using leeches and crawlers. Some fish have been caught on the main bars, as well. The calmer conditions have definitely helped the walleye fishermen. Most of the fish caught have been in the slot, but some keepers have been coming in.
Northern fishing has been steady. All normal methods of catching pike are working. Not alot of big fish so far, but many of the "good eating size" coming in. Have our expert fish cleaners de-bone your northerns for you. A mighty tasty meal, right there.
All in all, fishing has been very good if you are open minded about what you catch. The fall is still shaping up to be our best fishing of the year. Make your plans now to get in on the action!" >> Four Seasons Resort .
Minn Kota Goes Small with New i-Pilot Micro Remote.

RACINE, Wis. (July 2014) – Continuing its tradition of angler-minded thinking, Minn Kota® announces the newest i-Pilot® accessory, the Micro Remote. The remote can be seen at Minn Kota's ICAST booth, #1041, starting Wednesday, July 15.
The Micro Remote provides quick command of speed, steering, Spot-Lock, Advanced AutoPilot™ and prop on/off, all from a compact design. It is waterproof, floats and comes standard with a neck lanyard.
The Micro Remote is compatible with both i-Pilot and i-Pilot Link™ systems, and learn more ... >> I Pilot Micro Remote

(7/14) From Lake of the Woods, Mike Kinsela, Border View Lodge; "This week has been absolutely gorgeous with lots of sunshine and fish! The wind has not been too terrible. It started to pick up yesterday afternoon a little and into today. With the wind pick up today our boats headed west to Zipple Bay. The blowing wind puts our docks a little more under water. Each day is different when it comes to the water level and dock usage. Some are still usable and when needed we use the floating docks to keep dry feet.
We have gone north most of the week fishing Little Oak and Sterran. Little Oak has been great drifting spinners and jigging on Sterran has produced some big fish. The inconsistent weather causes some scattering with the fish so hopefully the weather steadies so they can school up more.
The forecast shows some rain the next couple days with sunshine coming our way Tuesday through the rest of the week. There is a slight chance of Thunderstorms towards the end of the week. Temperatures start out this week in the 70's but get close to 80 the end of the week!" - 1-800-776-3474 Border View Lodge .


(7/12) From the Grand Rapids Area, Reed Ylitalo wrote; "Yesterday was an experience of a lifetime for anyone. Especially a young professional hunting and fishing guide.
I took the opportunity to work with Gander Mountain and participate in the new guide series clothing wear and also some great new Gander Mountain products such as rod and reel combos.
We started out in Walker bay on Leech lake. The fish were there but would not eat. Fished there most of the day and then came back to a Grand Rapids area lake picking up nine Walleyes between 23 and 25 and half inches to finish a great shoot for the new Products.
The best baits were a A quarter ounce bullet sinker with a six-foot snell and a leech. The bottom was a edge of cabbage and rocks. Using electronics properly was huge stand top and hover over the big fish. I was finding most of the walleyes in 24 to 26 feet of water." - Reed Ylitalo, Wings and Walleyes Guide Service .
July 11, 2014

-

Cutfoot Sioux Mid-Summer Mixed Bag

The Huddlestons, Orlando Florida were here last week. New to the lake, they didn't have any pre-conceived ideas about where to fish. That turned out to work in their favor because of looking for fish where they were "supposed to be", they found them where they actually were instead.
They kept track of their catch during the week and recorded catching 7 species of fish and a total count of 220 fish. They caught ... >> Read Bowen Lodge Fishing Report

(continuing) Mike Bisping wrote; "On occasion, I fish a small 400 acre lake for walleyes in the Backus-Hackensack-Longville area.
As you might expect, the lake is stocked by the DNR and I find that a lot of the fish relate to the weedline in 10 to 15 feet of water once it gets established.
Typically, I experience the "summer peak" bite around the 4th of July give or take a week either way. During this time, the fishing is good, especially for larger fish. However, I struggle to find the walleyes before and after this time period.
Do they eventually head out to the feature-less main lake basin and follow schools of baitfish? Do they still relate to the weed line, but only bite sporadically due to the abundance of forage? Are they recovering from spawning and not biting earlier in the year? I have not been able to put the pieces of the puzzle totally together.
A) Read Reply >> Tactics for locating Walleyes in stocked lakes .
---







More ways to connect! Sign up to receive the Free "Insider Newsletter". Don't forget, you can always catch up with Jeff Sundin on the radio program too! Listen every Thursday at 6:20 AM and get additional fishing reports and information. KAXE 91.7 FM Grand Rapids - 105.3 FM Bemidji - 89.9 FM Brainerd . Want even more? Get HANDS ON Fishing Tips. Book your own Guided Fishing Trip !
---
All of our Fishing Reports are saved in the library >> Click here for July 2014 << OR >> View Entire Fish Reports Library Here .
| | |
| --- | --- |
| Did you know that the Thursday Morning Program is available for a week after the air date? Yes, if you miss the live show, just click here and select the 6:00 hour on Thursday. Scroll in to about 6:20 AM and you're back in business! | |
---
And Do You Know that you can even post your own helpful hints to my fishing reports page on facebook? YES! You Can! You don't have to tell us your secrets, just go ahead and brag a little when you get a whopper! >>> Click Here >>> Fishing Reports Minnesota .
Today July 25, 2014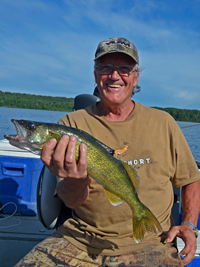 Trolling the weed edges with Little Joe spinners, is an adventure. You will catch a pile of panfish and you'll be rewarded with some really nice surprises like this solid weedline Walleye.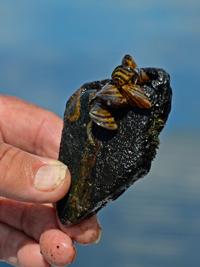 This was something we found on Sand Lake this Wednesday. Watch the report on Saturday for comments about that fishing trip.

---
July 24, 2014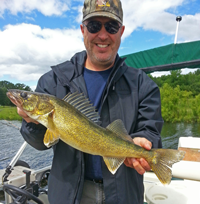 Photo courtesy Gus' Place Resort: "The best bet for the Walleye is early & late in the day with leeches on jigs or Lindy rigs. Crawlers are also taking Walleye."

This week, Fish Ed host Jon Thelen shows you the easiest, most-efficient way to load the livewell with big crappies. Get in on the fun of putting together a summertime fish fry. >> Tolling Summertime Crappie.
---
July 23, 2014

Photo courtesy Greg Clusiau: Dylan Kukkonen caught and released this 29" walleye while fishing on Grand Rapids Pokegama Lake >> Read Gregs Report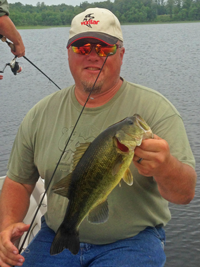 Photo courtesy Trails End Resort: Most folks don't think of Bowstring Lake as a Bass Lake, but Bill Charlton, Geiger's Trails End Resort knows that there's more where this one came from.
---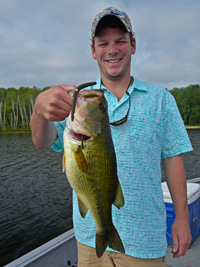 Largemouth Bass were scattered, but catchable. Wacky Rigged YumDingers fished over the Cabbage tops produced some nice fish.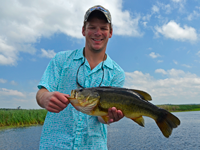 On the river, heavy current flow forced us to cut this trip short, but not before hooking into a few nice Bass. The 6 inch Yum Dingers rigged Texas style fished along the heavy grass line produced this nice example.
---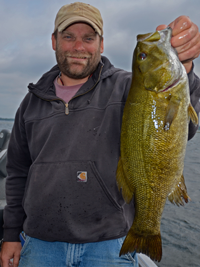 Big Fish, Big Bait; Chris Andresen shows off a hefty 20 inch smallmouth that fell for a 7 inch Creek Chub while he was in pursuit of Mr. Big!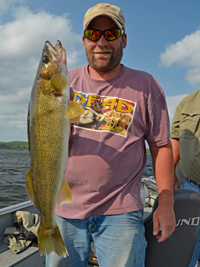 Another quality CPR Walleye. Lindy Rigging with Creek Chubs in the 5 to 7 inch range continues to be productive. Key depths have been 18 to 26 feet.
---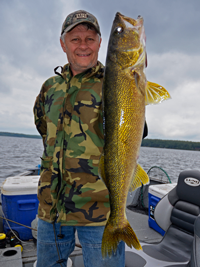 Ironically, Kevin Goebel's best fish was the first fish of the day. A solid 28-1/2 inch fish caught in 22 feet of water.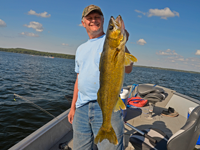 Sunshine became intense, breeze calmed and the weekend traffic kicked into high gear. When fish moved deeper, they became less aggressive, but still coax-able.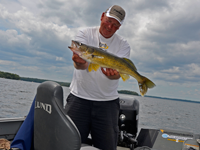 Lindy Rigs, combined with Redtail Chubs were best in the morning. By mid-day, night crawlers enticed more strikes than minnows.

---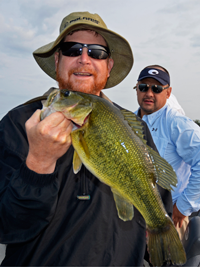 Rusty's Largemouth Bass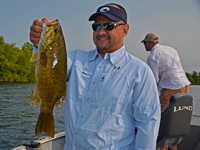 One of Jeff's better Smallmouth Bass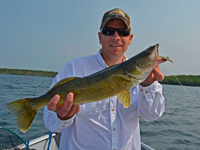 One of Michael's better Walleyes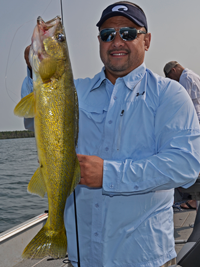 Jeff's best Walleye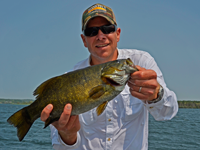 One of Michael's better Smallmouth Bass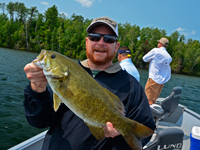 One of Rusty's better Smallmouth Bass

---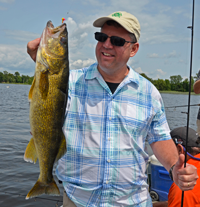 Meet my new best friend Buddy, who set the stage for our late innig rally by making the single best fishing decision of the summer. Oh and by the way, it was absolutely best use of a sinlge minnow too!

---

Humminbird's Autochart Live allows anglers to create custom countour maps of any body of water.
---
---