Find Minnesota Fishing Reports on Facebook
---
Advertisers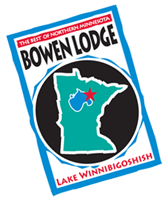 Read The Bowen Lodge
Lake Winnie and Cutfoot Sioux Fishing Report








Fishing Report September 18, 2014

- Disappearing Act? Or ...

... Maybe it's just a simple game of "Hide and go Seek"?
On Wednesday, I and "Mr.C" followed in our own footsteps by fishing together on yet another Beautiful Day.
In years past, most sightings of "Mr.C" include the image of his hood on the Red, "little kid going to kindergarten jacket" pulled up tight around his face to keep the wind and rain out. Apparently that doesn't happen anymore and these days, "Mr.C" seems to show up only for calm, sunny days.
Luckily, the effects of falling water temperatures and shorter days have helped convince some Walleyes that they can go still ahead and eat, even when conditions are not completely perfect. As usual, I had to learn something first and then make some adjustments before we could catch them. Here's a great example of a trap that you can avoid on your next fishing trip.
I admit it, I do the same thing that you do. I almost always try returning to the same fishing spots where we had "Good Luck" on a previous adventure. That's what I did yesterday; I headed for the same points that held fish on Tuesday. Yes, You Know what came next; "Well Mr.C, they were here yesterday; I guess we'll just have to figure out where they went".
Luckily, we didn't move too far or too fast, because these fish had only moved about 100 yards down the shoreline. Instead of staying on the tips of the points, they were tucked into the inside corners along the same weed edges.
The fishing was not fast and furious, but it was steady and there was never a time that I lost confidence about either finding more to catch or catching them.
Surface water was 59.6 degrees when we started the day and 60.6 degrees when we wrapped it up. At this point, an ideal scenario would include some warmer overnight temperatures to help forestall any more sudden drops in temperature. Just in case they keep falling though, it would be a good idea to plan on getting out there soon. I think that the next 3 weeks will be some of the best fishing of the entire 2014 season.
I know how fast 3 weeks will fly by, so take my advice and don't dilly dally, plan another trip before its too late!
| | |
| --- | --- |
| | There is nothing better than a blow up on a buzzbait fished on a grassline or the slam of a big fish while slow rolling a willow leaf spinnerbait around wood. Fall is a great time for both types of lures to shine. BOOYAH wants to give Wired2fish readers the opportunity to add a supply of spinnerbaits and buzzbaits to their tackle box. Just click >> BOOYAH spinnerbait giveaway . (9/23) |

(9/18) From Steve Sykes; "Hi Jeff, thanks for the press you gave me in your fishing report on September 15 . The boat is an Impact that I purchased last year, it's been a great boat and I love fishing out of it.
The crappie fishing was the best I have seen in a long time. The word seems to be out, I don't recall ever seeing so many boats out fishing for them. Even on Monday the lake was full.
Is it like that every year? How does the lake handle that much pressure?
The crappies did start to slow down in the "crappie hole" , I think they were just tired of getting fished so hard.
I found a hole (in a different area) that was between 25 and 28 feet deep and we caught a ton of crappies there and no one bothered us. We did a lot of catching and releasing them, what a blast.
The walleye fishing was pretty slow for us, we caught about 12 fish all in the slot. We graphed a ton of fish in front of Pigeon River on Winnie between 12 to 14 feet and managed to get a few of them to bite, they were all in the slot." Thanks for all your tips. - Steve Sykes
A)Thank You Steve, you answered part of your own question already. It is typical for Panfish on both Cutfoot and Little Cutfoot to receive a lot of fishing pressure in the fall. During the past couple of years though, a combination of factors have added even more pressure than usual.
The most obvious one is that the population of Crappies has really been strong. In 2013, there were thousands of fish in the 9-11 inch range and this year, the remaining population has achieved sizes ranging from 11 to 13 inches. That presents a very attractive opportunity and most folks, including me, have a hard time passing it up.
Here's the point that you already touched on when you said: "Walleye fishing was slow".
On a fishing trip, most folks, including me, want to find some fish to catch. There's a certain group of anglers who are targeting Walleyes (or some other species) and if they discover unfavorable conditions for catching them, turn to an alternative.
Fishing conditions on both Cutfoot and Winnie have been tricky this year. So fishermen who would typically be out doing something else have joined you in the pursuit of Crappies.
You asked; "How does the lake handle that much pressure?
A) Crappies are a resilient fish and their populations re-build quickly. Unfortunately though, what really control the fishing pressure are declines in population caused by fishing pressure.
Crappies have always been vulnerable to these "boom and bust cycles". They flourish, we find 'em, they decline, we move on and so on ... There aren't many back to back years of fantastic Crappie fishing on the same lake. One of these seasons, we will notice a decline as the populations are drawn down. Then the fishing pressure will disappear for a while and that will begin the next cycle.
I don't want to sound like I'm preaching. But please do me a favor and think about some important information regarding fishing in deep water.
Catching any freshwater fish (except Lake Trout) in deep water is extremely hard on them and the deeper you go, the worse it gets. Whenever I fish in water depths approaching 30 feet, I know that I am going to kill these fish and once I have reached a reasonable goal, I move on to another pursuit.
It's vital that we as fishermen learn more about the effects of Barotrauma on the fish that we think we are releasing. Many of them do not survive and we can help preserve some of these fish for next year by avoiding a few common mistakes.
I'm up against the clock right now, but I will re-touch on that subject as time allows.
Thanks for the report Steve and be sure to stay in touch!


(9/16) From The Iron Range, Greg Clusiau wrote; "Meeting up Friday afternoon at the family cabin on Rainy Lake, we had plenty of time to get in a little fishing before supper. Crappie were the target and we were more than delighted to find them in their fall locations.
Early the next morning found us boating across the bay for our first ever cast and blast get-together. Having talked about doing this for years, it just hadn't taken place. Now, here I was, gliding across the darkened waters of Rainy Lake with a shotgun and a big grin on my face. Also, the air... " >> Read Greg Clusiau's Full Report .

Deer River-Blackduck Team Win MWC Tournament on Cass Lake
Cass Lake, Minn.—Sept. 13, 2014: Consistency was the key for Minnesotans Jay Braaten and Dan Swenson, who put together a pair of equally solid baskets to claim top honors at the Cabela's Masters Walleye Circuit's Cass Lake qualifier September 12-13, 2014.
"It's really exciting," Swenson, of Deer River, said of the win seconds after topping the 80-team field in front of a roaring crowd gathered at Stony Point Resort. "This was a great day," beamed Braaten, of Blackduck. The event was Swenson's second Circuit competition, and Braaten's first. "It's a good way to start out on the MWC," he added.
After landing in fourth place on day one with a five-fish limit weighing 15 pounds, 9 ounces, Braaten and Swenson stormed the leaderboard with an identical day two weight for a 31-pound, 2-ounce total.
They relied on rigging creek chubs and redtails in 20 to 30 feet of water on ... Read Story >> MWC Walleye Tournament Cass Lake .

September 13, 2014

- Winnie Walleye, Cutfoot Panfish

"Jig and minnow combinations have now overtaken other, faster moving presentations. Walleyes are being located on shoreline points and weed edges. There a few anglers finding some fish on mid lake bars, but shoreline areas are getting the nod for being most productive. Key depths have been 10 to 14 feet and will vary from spot to spot. Don't fall into the trap of finding them at a certain depth on one spot and then expecting all of the spots to ... >> Cutfoot Sioux Fishing Report

(9/12) From Keith Eberhardt; "Coming in tomorrow. Will be picking up bait Saturday morning. What are the walleye and crappie biting on? I normally pick up night crawlers, leaches, shiners and crappies minnows. - Thanks, Keith Eberhardt
A) Keith, I don't think you'll find many leeches up here right now and I doubt that you'll need them. Until yesterday, we had been catching Walleyes on Lindy Spinners tipped with 1/2 night crawlers. But as I wrote in today's report, jig and minnow worked well on Thursday.
I know that you won't find any spot tails up here right now. But you can get Golden Shiners, Rainbows and Fatheads. For me, the Rainbows are a good option and that's what I'll be stocking up on for today.
Crappies are in the same patterns that I've written about over the past couple of weeks. Water depths of 18 to 22 feet are best on Big Cutfoot. Jigs tipped with minnows will work fine. So will a variety of small artificial tails. If you want to go with artificials, then I'd say use 1 inch size minnows or the ones with the needle type of tails.


(9/12) From Steve Sykes; "I plan on going up to Cutfoot this Saturday and fishing through Monday. Do you have any tips for catching walleyes and crappies.?
Last year when you took us out, the crappies were still in the weeds and we used Ripple Shads and did very well. Will these work vertical jigging if the crappies are deep? Any help would be appreciated. - Steve Sykes
A) Steve, most of your question is already answered in today's report except this.
I don't think you'll need to focus on the weeds as much this fall. There are relaible schools of fish on the sharp drops and inside corners. Jigs in the 1/16 to 1/8 ounce range tipped with small minnows are fine. The swim baits won't be required for these deep fish, but they could be useful this fall in Little Cutfoot where the fish have tended to be spread out horizontally along the shoreline breaks.
Slowly trolling and using a soft jig-swim-jig approach will be a good way to utilize those swim baits. Good Luck!


(9/11) From Tom Howell; "I was reading your report today, and you were talking about having a real tough day on the water. I know you have enormous experience as a guide, and I would be very interested in your perspective.
I've guided some, and I really felt bad and struggled with those days when nothing I did worked. I felt bad for my clients, and never really new how to apologize or explain why? What do you say, what do you do? Do you ever offer to take less money, etc. Thanks buddy, much appreciated! - Tom Howell
A) Well Tom, that's a really interesting question because there are so many variables. As it happens, on this particular day, I did not accept any money for the fishing trip. That's rare, very rare, but I have a personal policy about it and when I choose to exercise the option, I do it willingly. Luckily, almost all of the time, I do get paid for my work.
How I respond to hard days on the water depends a lot on what's happened to cause the disruption. Weather can throw some real curve balls at a fisherman and so can people. Remember Clint Eastwood's quote? "A man's gotta know his limitations."
If there's a reason that I know that it is going to be a tough day, I accept it and set the stage early for my customers. I try to give them a realistic expectation about how the day will go. Never bragging about how good it was yesterday, only focusing on how I think today will be. After I've done that, I do my level best to exceed whatever expectations they have. Promise a little and deliver a lot.
Luckily, most of the time, we find something really fun to do and there are seldom any apologies needed. But during those really hard days, while I'm working my way through, I've often said something like; "I am really sorry, I am working on it, I'm doing my best and sooner or later I will find you something to do".
For me, it seems like people know when you're trying and they know when you're not. Everybody has tough days sometimes, so they understand when they see you fighting an uphill battle. For whatever reason, the rougher the going gets, the harder I try! That's just the way I do it and for me, it works. - Sooner or later, there's always a happy ending, even when isn't a giant pail of fish!


(9/11) When Derek Johnson wrote his comments yesterday, he ended by asking; "Lastly any tips on getting oneself into your line of work? It's my dream.
I'm a sales rep by profession. I'm sure that networking with people, building client rapport and marketing is huge what else? - Keep up the great work" - Derek Johnson."
A) Well Derek, it's really not all that hard to get into guiding. If you have reasonably good gear, a suitable boat and a few extra bucks to spend on insurance, then you're a guide!
If you want to follow in my footsteps, then I'd suggest taking the same simple approach that I did 30 years ago. Before you quit your day job and start worrying about "Marketing" your guide business, take a year or two and start "being a guide". Offer to take friends, family and business acquaintances fishing. They will all offer to pick up the tab for bait and help with gas etc..
Even though you'll be operating without charging a lot of money for a trip, you'll be getting more, you'll get a valuable education. You'll be discovering whether you really like "being a guide" or not.
If you figure out that you really love people and really do want to be involved in an intensely competitive service business, then you can take it to the next level.
These days, $500 will take you a long way toward marketing the business and you will get some calls. Once you're on the water with paying customers, the whole business changes. It's no longer about your fishing, it's about their fishing. See to it that they enjoy themselves while they fish with you and you'll be successful. It's really that simple.
---







More ways to connect! Sign up to receive the Free "Insider Newsletter". Don't forget, you can always catch up with Jeff Sundin on the radio program too! Listen every Thursday at 6:20 AM and get additional fishing reports and information. KAXE 91.7 FM Grand Rapids - 105.3 FM Bemidji - 89.9 FM Brainerd . Want even more? Get HANDS ON Fishing Tips. Book your own Guided Fishing Trip !
---
All of our Fishing Reports are saved in the library >> Click here for July 2014 << OR >> View Entire Fish Reports Library Here .
| | |
| --- | --- |
| Did you know that the Thursday Morning Program is available for a week after the air date? Yes, if you miss the live show, just click here and select the 6:00 hour on Thursday. Scroll in to about 6:20 AM and you're back in business! | |
---
And Do You Know that you can even post your own helpful hints to my fishing reports page on facebook? YES! You Can! You don't have to tell us your secrets, just go ahead and brag a little when you get a whopper! >>> Click Here >>> Fishing Reports Minnesota .
Today September 18, 2014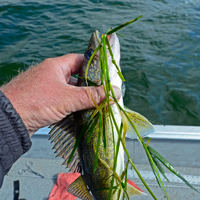 Walleyes were tucked into the inside corners nearby heavy weed cover where shadowy conditions provide security. They were catchable by rooting them out of the weedy cover.
---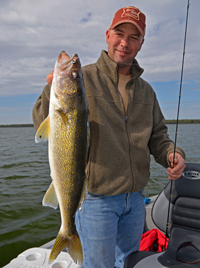 Mike Shepard captured the big fish title of the trip with this fatty, a 25-1/2 inch Walleye caught on Phil's Black 1/8 ounce Lindy Jig tipped with a large, lively chub.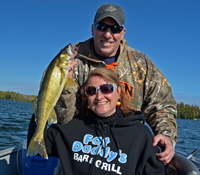 "DeLuscious Lori" allowing her personal attendant Phil Goettl to help display her 20+ inch Walleye. Weedlines with tapering points held the most fish on Tuesday.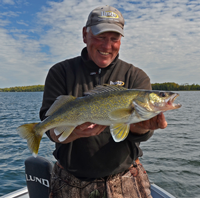 On Tuesday, Walleye were not primarily interested in rocks. The edges of heavier weed beds in 10 - 12 feet of water contained the most fish. When the wind blew, the fish roamed out where we could catch them. When it stopped, they retreated back into the cover.
---
September 16, 2014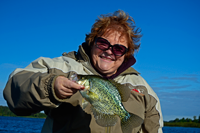 Day 1 of the annual VA Nurses Mecca to Bowen Lodge started off pretty Crappie on on Monday. Typically our leading producer, Joyce didn't let us down this time either.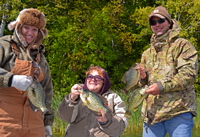 Not a bad performance by the morning crew. Mike and Joyce kept the Crappies coming in steady while Missy planned her attack in the form of a stunning, late inning rally. By the time we picked up the afternoon crew, these 3 were already filled out.
---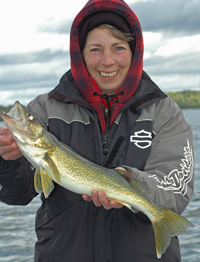 Cutfoot Sioux Walleye pattern has been stable and the rule of thumb is to KEEP ON TRYING, knowing that every so often, you'll be in the right spot at the right time.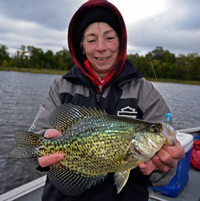 Thanks to a heads up from a pal, we found that the Crappies were indeed there and still active, holding in deeper water 28 to 30 feet.

---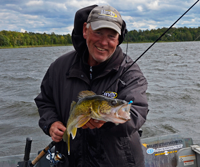 Jigging is synonymous with fall fishing on both Winnibigoshish and Cutfoot Sioux. So with 3 full days of confirmation, Sundin Says;
"By special proclamation of Cub Reporter, Staff #003 IHBFBB, The jig and minnow bite is officially on!"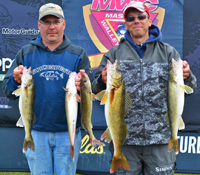 Photo Courtesy MWC: "Consistency was the key for Minnesotans Jay Braaten and Dan Swenson, who put together a pair of equally solid baskets to claim top honors at the Cabela's Masters Walleye Circuit's Cass Lake qualifier September 12-13, 2014". Read Story >> MWC Walleye Tournament Cass Lake .

---
---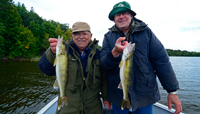 The homecoming for my oLd friend Paul Vitse was a good one! Paul and his brother Gary helped launch me into fall by catching the first limit of Jig and Minnow Walleyes since last June.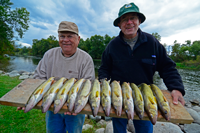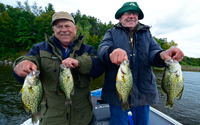 After putting on his own Crappie catching clinic, Paul helped lead his brother Gary into some good Crappie action too. An 1/8 ounce jig rigged under a Thill slip-float helped deliver the bait into the strike zone.

---
---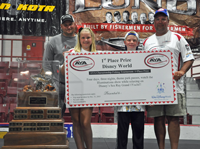 Photo couretsy AYA Lund: Angler Young Angler 2014 Championship Winners. Siblings Kylee and Tyler Rassmussen of Grand Rapids MN emerged victorious, winning a trip for four to Walt Disney World in Orlando, Florida. read story >> AYA Fishing Chamionship Winners .
---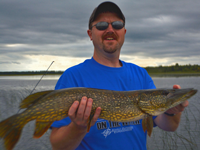 Photo Trails End Resort: Heroes on the Water event on Bowstring Lake was a great success. Russ Vernon wond the free weekend for 4 by catching this 30 inch Pike.
---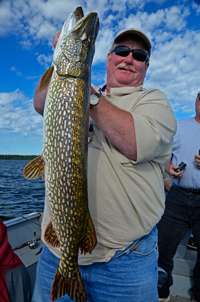 Whether it's because of the Full Moon or just good luck, you can't fish like these unless they're within reach. Right now, they are in the weeds and within reach. Trolling Lindy Spinners over the weeds in 10 to 12 feet of water produced this great Pike for Mike Reuff.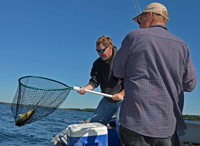 Walleyes numbered a dozen on Sunday; 5 of them were "keeper size" like this ideal 16 incher and the rest of them were protected slot fish. The payoff for having patience was slow, but steady action.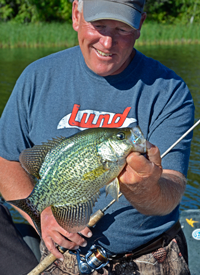 In Cutfoot Sioux, Crappie action in "pre-fall" locations is reliable. Located in 18 to 22 feet of water on sharp inside corners near shore, fish are holding in tight schools.
---
September 7, 2014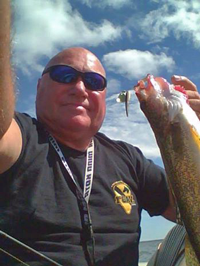 Photo courtesy Leroy Kramer who used this "selfie" to let me know that after we fished together, he followed my advice and rigged himself up with a Little Joe Spinner to prove the system. >> Read Report .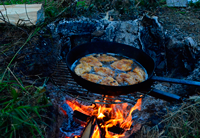 Once you try it, You'd Know! A "Non-Traditional" evening shore lunch featuring Bluegills could easily replace a traditional Walleye dinner.
Oh, but then you'd have too much fun catching and might forget to eat. Never Mind.

---

Mercury Marine has announced some new developments with their partnership with Navico and news about the Mercury Glass dash system. The system offers an all-in-one option for vessel monitoring and navigational information. Read Full Story >> Mercury Glass Dash System
---
September 5, 2014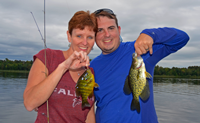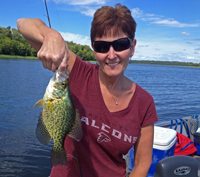 ---