---
News Release January 11, 2022 "Minnesotans fish free with kids January 15 thru 17, 2022"
"Take a Kid Ice Fishing Weekend is this Saturday, Jan. 15, 2022 through Monday, Jan. 17, 2022
During the weekend, Minnesota residents can go ice fishing for free if they are fishing with a child 15 years old or younger. Minnesotans 15 years old or younger don't need fishing licenses any time of the year.
"Ice fishing is lots of fun for kids and adults alike. There's nothing quite like making your way onto a frozen lake, drilling a hole through the ice and catching fish," said Benji Kohn, volunteer mentor program coordinator with the Minnesota Department of Natural Resources. "If you're interested in giving ice fishing a try, learning the basics is really doable. We have helpful information on our website to get you started."
Check the DNR's learn to ice fish page (dnr.state.mn.us/gofishing/learn-ice-fish.html) for more information about ice fishing.
Additionally, anyone interested in learning about ice fishing for panfish is invited to a free DNR webinar on Wednesday, Jan. 12, 2022 at noon. Scott Mackenthun, a DNR area fisheries supervisor, will discuss tips and techniques anglers can use to have fun catching sunfish, crappie and perch. Registration is required. More information, including how to register, is available on the DNR outdoor skills and stewardship page (dnr.state.mn.us/fishwildlife/outreach).
Ice conditions vary and there is no such thing as 100 percent safe ice. Always check local ice conditions before heading out to a lake or river. Visit the DNR ice safety page (mndnr.gov/icesafety) for ice safety guidelines."
---
News Release December 6, 2021 "NEW Minnesota Muskie Record Set On Lake Mille Lacs"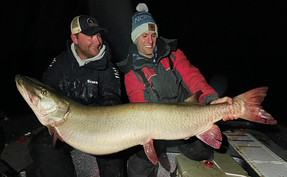 "An angler caught a muskellunge weighing 55 pounds, 14 ounces, from Mille Lacs Lake that the Minnesota Department of Natural Resources has certified as a weight-based state record. The previous record was a 54-pound muskie caught from Lake Winnibigoshish in 1957. Although news of the fish has spread quickly in the news and social media, a record is not official until the certification process is complete.
Nolan Sprengeler caught the muskie on Nov. 22, with friends Kevin Kray and Zack Skoglund. Their plan was to fish the afternoon until after moonrise, which was about 8 p.m. After some delay due to low water and frozen water at accesses, they eventually broke some ice to get Sprengeler's boat in the water after sunset.
"On our last spot of the evening at about 9 p.m., I felt a tap on the end of my line. I fought the fish to the boat and Kevin Kray netted it for me. The fish measured 57.75 inches by 29 inches," Sprengeler said. "After trying to revive the fish for about an hour we realized she wasn't going to make it. We made the decision to bring the fish in to get weighed on a certified scale."
Sprengeler brought the fish to be weighed on a certified scale with witnesses the next morning, had it identified at a DNR Fisheries office, and then dropped off his catch with a taxidermist.
The DNR announces new state records in news releases, on social media and on the DNR website. Find current records and guidelines for each type of state record at mndnr.gov/recordfish." 200
---
News Release November 3, 2021 "Lake Mille Lacs, Upper Red Lake Winter Walleye Regulations Announced"
"Ice anglers on Mille Lacs and Upper Red lakes can harvest walleye on both lakes this winter season.
A four-walleye bag limit, with only one walleye longer than 17 inches allowed, went into effect on Upper Red Lake on Monday, Nov. 1.
Effective Wednesday, Dec. 1, through Sunday, Feb. 27, 2022, winter anglers on Mille Lacs may keep one walleye between 21-23 inches or one fish longer than 28 inches.
The new regulation on Upper Red increases the possession limit from the three-fish limit that was in place during the 2020-2021 winter season and 2021 open water season, when mature walleye were lower in abundance. Results of this fall's walleye population assessment showed a wide range of sizes with an abundance of mature spawning walleye, which allowed the more generous bag limit while also creating conditions that are favorable for the survival of upcoming walleye year classes.
This is the sixth consecutive year of winter walleye harvest on Mille Lacs, where winter regulations are set after completion of the annual fall netting assessment. Results from 2021 showed that the walleye population has declined from recent years but remains above population lows seen from 2012 to 2016.
Mille Lacs Lake winter regulations also reduce the possession limit for cisco (tullibee) from 10 to five and forbid the harvest of burbot (eelpout).
The Minnesota Department of Natural Resource's website offers regulation Information on both lakes - Upper Red Lake and Mille Lacs Lake." 1103 200 300
---
News Release April 15, 2021 "Stream trout fishing opens statewide on April 17, 2021"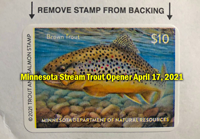 "Minnesota's popular warm weather stream trout season opens Saturday, April 17, 2021 with quality fishing opportunities in every region of the state. Brook trout and splake fishing also open April 17, 2021 on Lake Superior and its tributary streams.
Minnesota has some excellent trout fishing, and anglers help pay for trout habitat and access improvements with their fishing licenses and trout stamps. Anglers fishing on designated trout waters must have a trout stamp validation in addition to an angling license.

Use new DNR StreamFinder tool to find places to fish. Whether you're new to the sport or an experienced trout angler, the DNR has new information on Minnesota's trout streams and lakes available on its website.
Modeled after the DNR's popular LakeFinder tool, StreamFinder provides anglers with a description, species list, regulations and access information for trout streams throughout Minnesota. Anglers also will find helpful learning guides and fishing tips tailored to each of Minnesota's six trout fishing regions. More details: Go to the >> MN DNR Trout Fishing Page
---
Wired2Fish April 14, 2021 "How to Install a Fish Finder | Pro Tips and Tricks for All Models"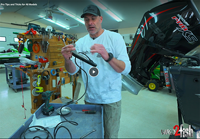 "Installing a fish finder is a manageable DIY job as long as you have a little know-how and some essential tools. And even if you're not up for the job, knowing what a proper installation looks like allows you to assess and troubleshoot your setup. Professional boat rigger Andy Kratochvil of Fishlectronics walks us through a detailed step-by-step fish finder installation covering everything from the initial unboxing and parts layout, transducer placement and mounting, to wiring up the head unit.
Although the featured graph is a Humminbird SOLIX, Andy's tips and tricks are aimed squarely at making your install smooth and technically correct regardless of your fish finder's make, model, new or used. He starts by ..." View Video and Learn More >> How to Install a Fish Finder | Pro Tips and Tricks for All Models
---
News Release March 24, 2021 "Early and late season walleye harvest to be allowed on Mille Lacs in 2021"
Early-season walleye anglers on Mille Lacs Lake will be able to keep one walleye 21-23 inches long or one longer than 28 inches. Summer will bring catch-and-release walleye fishing, with a mid-season closure, before the potential for a one-fish limit returns in the fall.
"Lower walleye harvest this winter is allowing us to offer some open-water walleye harvest this year," said Brad Parsons, fisheries section manager for the Minnesota Department of Natural Resources. "We're glad Mille Lacs anglers will have the chance to keep a walleye on opening weekend and Memorial Day weekend — two of the most popular times to fish during the year. We also hope to be able to allow some harvest this fall."
The one-fish walleye limit will be in place from Saturday, May 15, through Monday, May 31. Walleye fishing will be catch-and-release from Tuesday, June 1, through Wednesday, June 30. A two-week closure — implemented to reduce hooking mortality — will be in place from Thursday, July 1, through Thursday, July 15. Catch-and-release walleye fishing will resume on Friday, July 16, and continue through Wednesday, Sept. 15.
After opening weekend, fishing hours on Mille Lacs Lake will be 6 a.m. to 10 p.m. for all species. Beginning Saturday, June 5, muskellunge and northern pike anglers using artificial lures or sucker minnows longer than 8 inches can fish after 10 p.m.
The one-fish walleye limit is scheduled to resume Thursday, Sept. 16, through Tuesday, Nov. 30. During the late season, the DNR also will allow anglers to fish from 6 a.m. to midnight.
"Our projections strongly suggest that fall harvest can occur," Parsons said. "However, predicting fishing pressure, catch rates and weather involves some uncertainty so we want people to recognize that the fall harvest will depend on how much of the state's 2021 walleye allocation remains as we approach September. As always, we will monitor the factors that determine the state's walleye take throughout the open water season."
The state and the eight Chippewa bands that have treaty fishing rights agreed Mille Lacs could sustain a state harvest of up to 87,800 pounds of walleye this year, unchanged from 2020. During the 2020 season, state-licensed anglers took 66,748 pounds and tribal fishing took 33,113 pounds.
This year's winter walleye harvest was about 16,000 pounds, about half of what it was in 2020. Lower catch rates for anglers, combined with fewer people fishing, caused harvest to return to normal levels after a big spike last year. That drop in walleye take gave the DNR more flexibility to implement a one-fish limit during the early season and plan one for the late season.
Even with the drop in winter harvest, a two-week closure during what's normally one of the hottest times of the summer remains necessary to protect walleye. As water temperature increases, so does hooking mortality — the tendency for fish to die after being caught and released. Protecting walleye during this vulnerable period can allow for many weeks of harvest during cooler times of the year.
To help avoid incidental catch of walleye during the two-week closure, fishing for any species with certain kinds of bait will be restricted. Anglers targeting northern pike and muskellunge can use sucker minnows longer than 8 inches. But anglers targeting other fish may not use live, dead, preserved or parts of minnows, night crawlers, worms, leeches or crayfish.
"Our goal with these regulations is to meet the state's treaty obligations while also providing the best possible experience for anglers, recognizing that fishing and the anglers it brings are economically important to the Mille Lacs Lake area," Parsons said.
More information about fishing regulations on Mille Lacs Lake, ongoing DNR management and research, citizen engagement, and Mille Lacs-area recreation opportunities is available on the DNR website.
News Release March 3, 2021 New sunfish regulations in effect on nearly 100 waters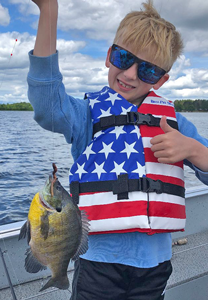 Sunfish anglers will need to closely check the 2021 Minnesota Fishing Regulations booklet and signs at water accesses for new sunfish limits that are now in effect on 94 waters.
The new regulations lower limits on specific waters as part of a Minnesota Department of Natural Resources initiative to protect and improve sunfish sizes. These changes are in response to angler-driven concerns over the declining sizes of sunfish in Minnesota.
"Robust public input and support helped us move forward with the Quality Sunfish Initiative. We had more than 3,700 comments and over 85% of them were in favor of trying to improve sunfish sizes," said Dave Weitzel, Grand Rapids area fisheries supervisor. "It's clear Minnesota anglers treasure sunfish and want to make sure we have lots of large sunfish in our lakes."
The new regulations only modify daily limits on the affected waterbodies. Anglers can only keep the prescribed number of fish per day from the water but can return the next day for another limit as long as they don't exceed the statewide inland water possession limit of 20 sunfish per angler.
The new sunfish regulations only include inland waters of Minnesota. Specifically, 44 waters will have a new daily limit of five sunfish, 31 will have a limit of 10 sunfish, 17 will have a limit of five sunfish and five crappie, and two will have a limit of 10 sunfish and five crappies.
In addition to the new waters, there are 57 waters that previously had reduced limits for sunfish and these regulations remain in effect.
"We've evaluated previous special sunfish regulations and found that reducing harvest can indeed produce large sunfish," Weitzel said. "Sunfish grow slowly—about an inch per year—so a large sunfish can be more than a decade old. It's critical to protect these large fish from excessive harvest because they aren't easily replaced."
Sunfish spawn in large nesting colonies during the spring and early summer. Parental male sunfish build and defend nests. Females will select a male, lay eggs, and leave the eggs for the male to protect and fan with his fins. These nest-building male sunfish play an important role in repopulation, with the largest sunfish often getting the best spawning sites.
When anglers keep the largest sunfish, the remaining small males don't need to compete with larger males to spawn. Once the larger males are gone, the smaller males devote less energy to growing. Instead, they devote energy to spawning at younger ages and smaller sizes.
Minnesota fishing regulations use sunfish as the generic name for bluegill, pumpkinseed, green sunfish, orange-spotted sunfish, longear, warmouth and their hybrids. More about sunfish biology and the Quality Sunfish Initiative is available on the DNR website.
Other new regulations
Other fishing regulation changes in the 2021 regulations book include new experimental regulations on Island Lake Reservoir near Duluth. On this lake, which has abundant but very small walleye, fisheries managers aim to increase the size of walleye by increasing the possession limit and applying a protective slot limit.
New experimental lake trout regulations also are being implemented in Yawkey, Sagamore, Pennington and Mahnomen lakes. These mine pit lakes in Cuyuna Country State Recreation Area have the potential to support naturally reproducing lake trout populations. Anglers there will be limited to harvesting one lake trout, which must be more than 20 inches, from each water.
Experimental regulations mean that the regulation is temporary. Fisheries managers must then evaluate the regulation to determine whether it had the intended effect, usually after 10 years.
The 2021 Minnesota fishing regulations are available online and anywhere Minnesota fishing licenses are sold. The new sunfish regulations are found in the special regulations that begin on page 38 of the booklet.
---
March 2020 Minnesota Fishing Regulations Include Notable Changes For Mississippi River Border Waters
Anglers will find a variety of changes in the 2020 Minnesota fishing regulations booklet, including new possession and length limits on the Minnesota-Wisconsin border waters of the Mississippi River. This is the first comprehensive update of regulations on the Mississippi River border waters in nearly 70 years.
The new border waters possession and length limits for most gamefish species went into effect March 1, and were developed based on decades of biological data, as well as substantial public input during 2018 and 2019.
"We've heard positive feedback about the changes from anglers who care a great deal about sustaining the high quality fish populations and the fishing opportunities on these Mississippi River border waters," said Kevin Stauffer, the Department of Natural Resources area fisheries supervisor in Lake City.
The new regulations for the Mississippi River border waters and Lake Pepin include lower possession limits, and changes to some length limits, for walleye and sauger, northern pike, channel and flathead catfish, shovelnose sturgeon, crappie, sunfish, yellow perch, and white and yellow bass.
The changes are proactive measures that will help both states manage the effects that changing river conditions, invasive species and increased angling effectiveness have on fish. Wisconsin has approved identical regulations that will go into effect April 1. Some examples include:
Walleye and sauger limit has decreased from 6 to 4.
Crappie, sunfish, and yellow perch limit has decreased from 25 to 15 each.
White and yellow bass limit has decreased from 25 to 10.

With the exception of minimum size limits for bass (14 inches) and walleye (15 inches) implemented in 1990, possession and size restrictions for gamefish on the Minnesota and Wisconsin border waters of the Mississippi River had been largely unchanged for the last seven decades.
The 17-26 inch protected slot limit for walleye has changed to a 20-24 inch protected slot with only one over 24 inches allowed, on the following Itasca County lakes: Moose, Split Hand, Swan and Trout.
The 40 inch minimum length limit for northern pike in Eighth, Ninth and Tenth Crow Wing lakes (Hubbard County) and Mitchell Lake (Crow Wing County) has changed to a 24-36 inch protected slot, with only one over 36 inches allowed and a possession limit of three.
The 26-44 inch protected slot limit for northern pike on Upper Red Lake has changed to a 30-40 inch protected slot, with only one over 40 inches allowed and a possession limit of three.
The catch and release regulations for largemouth bass on Turtle Lake (Ramsey County) have changed to a 14-20 inch protected slot, with only one over 20 inches allowed.
The 12-20 inch protected slot limit for smallmouth bass on Turtle Lake (Itasca County) has changed to a 14-20 inch protected slot, with only one over 20 inches allowed.
New special regulations
The possession limits for walleye on Green Lake (Kandiyohi County), Horseshoe and Minnewawa lakes (Aitkin County) have been reduced to three.
The possession limit for black crappie in Mound Lake (Todd County) has been reduced to five.

Special regulations for northern pike have been dropped on the following lakes: Ada (Cass County), Big (Beltrami County), Big Carnelian (Washington County), Elephant (St. Louis County), Elk (Clearwater County), Eunice (Becker County), Little Cascade (Cook County), Loon (Cook County), Maud (Becker County), Prairie (St. Louis County), Ten Mile (Cass County).
Special regulations for muskellunge on Elk Lake (Clearwater County) have been dropped.
The 17-26 inch protected slot limit for walleye on Deer, Battle and Pickerel lakes in Itasca County have been dropped.
The new 2020 Minnesota fishing regulations are available online and anywhere Minnesota fishing licenses are sold.
---
---
Northern Pike, The Quest For Quality - Jeff Sundin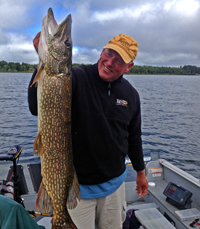 "Travel with almost any group of anglers in Northern Minnesota and you're bound to hear some pretty dicey comments that reflect poorly on the present state of Northern Pike fishing in the northland.
All too often, anglers encounter lakes that have enormous populations of stunted Pike where catching a "quality fish" could earn you a lifetime achievement award. Try to swim a lure through these legions of small Pike and it's easy to see how they would raise the ire of anyone hoping to attract the attention of more worthy combatants.
Snakes, scissors bills, slimes and a host of other even less flattering nicknames get thrown around on nearly every fishing trip.
But in my travels as a full time fishing guide, I have seen strange transformations occur whenever someone catches ..." Read >> The Quest For Quality Pike
---
Kids Can Posess Their Own Fish Limits In Minnesota
Q) When I'm fishing with kids, can they have their own limit of fish in addition to mine?
A) Nonresidents age 16 and older are required to have an appropriate fishing license while angling. Non residents under age 16 do not need a license if the parent or guardian is licensed. Children of an adult who has a Minnesota Nonresident Family License may possess their own limit of fish.
However, if the adult has only an Individual License or if the parents have a Husband and Wife License, then the child's fish are included in the adult's limit. Nonresidents under age 16 may purchase a nonresident youth license and possess their own limit of fish.

Minnesota Residents under age 16 may take fish without a license. The statute does not state explicitly that under age residents my possess their own limit of fish. But the legislators use of the phrase "take fish" implies that the kids are entitled to their own limit.
*See a complete, Printable PDF >> Minnesota Statutes 97A.451 License Requirements and Exemptions Relating To Age
---
Jeff Sundin is a full time, professional fishing guide, outdoor writer and photographer. Book Jeff for guided fishing trips, for fishing seminars, fishing promotions and media events. Click here >> learn more about Jeff Sundin.
"The Early Bird Fishing Guide" Jeff Sundin - Fishing Blue Books, LLC 715 Byington Ave, LaPrairie, MN 55744 218-245-9858
Email copyright©2021 Fishing Blue Books, LLC All Rights Reserved - last revised 01-10-2022