Picture what would happen to your waistline if you'd switch to a strictly T-bone and ice cream diet. If the smaller fish don't have the chance to grow into the larger categories or if the better foods aren't available, they get forced into feeding on the smaller forage species, moving constantly in an effort to get enough to eat. It's enough to keep them alive for a while, but after a few years, even the small Pike begin to die of "old age". This live fast, die fast cycle is literally akin to "eating themselves to death".
Another roadblock in the search for quality Northern Pike is this fishes tendency to be it's own worst enemy. At times, they're just too easy to catch! Large Pike feed heavily making them an easy target for hungry anglers who are in turn, all too happy to remove them from their favorite lake. Over time, these larger Pike are over-harvested and the remaining smaller pike compete heavily for food and never attain adequate size required to help move them into the next feeding stage. So even "good lakes" can become over-populated with these stunted Pike. In the end, all too many folks go away with the impression that Pike fishing is just a waste of time. It's a never-ending downward spiral and unfortunately, a lot of the trouble is our own fault.
You see, in most lakes, Pike are seated firmly at the top of the food chain, so it's only us (anglers) who have ever removed these larger fish. Because of their aggressive feeding habits, the very presence of these larger Pike could have helped to remove smaller fish from the system. In turn, that would help reduce competition for food and increase the likelihood of more Pike reaching desirable size.
From a fisherman's point of view, what needs to happen is that more anglers need to value and keep smaller fish for eating. At the same time, we (anglers) need to recognize the importance of returning medium size Pike to our lakes.
In a nutshell, the exact fish that most of us have found acceptable as "eating size fish", are the ones that need protection the most. Once these fish reach this critical stage, growth rates can be phenomenal and an angler who is willing to release a 5-pound fish today, could easily be trading for a chance to catch a 15 pounder in just a few years. In terms of the health of your favorite Pike fishery, it would probably be far better to remove lots of the smaller fish and some of the largest fish.
Over the past few years, I've been on a mission to get folks more interested in using the smaller Pike to satisfy the urge for a fish dinner. Most folks are easily converted to my way of thinking when they experience first hand, some of the really great dishes that can be made utilizing this plentiful supply. Creative management of the fishery should include higher bag limits of these smaller fish for folks who enjoy them. Protected slot sizes or reduced bag limits of the medium size Pike would help keep these fish in the system to grow and help control over-population.
Deserving at least a mention, the health of the forage base itself is an area we need to watch. A variety of water quality concerns and a period of warmer than usual fall spawning seasons have already affected populations of Tulibee in particular. There are already lakes in Minnesota's prime Northern Pike range where the cool water species like Tulibees are existing on the edge of the lakes ability to support them. So far, water quality hasn't shown up on the radar screen of most anglers, but if it affects the food chain, it's going to reach the average fisherman eventually.
It's kind of self-serving to say that we need more opportunities for quality Pike fishing. But, take a look at Minnesota fishing history and then check your map. Given the habitat, we should be among the top destinations in the world for great Pike fishing. Whether your interest is tourism, family sport fishing or food on the table, how can better fishing in Minnesota be bad?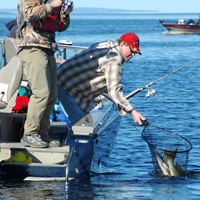 Many anglers love Northern Pike and where there are large fish present, fishing pressure can be intense.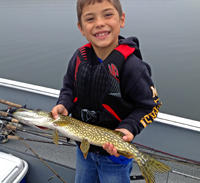 Lakes that produce large numbers of small Pike can be ideal for introducing kids to the sport of fishing.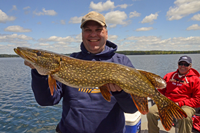 On lakes where Pike are protected, quality fish can still be caught.