Walleye anglers are still enjoying consistent fishing. I know it sounds like a broken record, but the fish just keep biting in the shallows and jig & minnow fishing is still the best and fastest way to key in on them. The extended shallow bite this season is probably the result of water temperatures that remain in the low to mid 60-degree range coupled with the abundance of fish from the 2001-year class.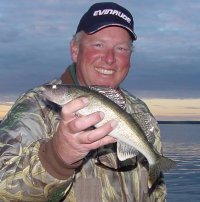 We're always showing you the big ones, but here's a look at one of the thousands of the "Class of 2001 Walleye" we've been catching. These "eaters" have put a smile on many a face this spring and early summer!
The wind has been another key to the good shallow water fishing. Because it's been rare to get stuck with a flat calm day this season, we've been able to drift and jig the shallows in a number of areas. During the few calm times we've had, we have been able to find enough fish in the deeper water to keep us busy while we waited for the wind to pick up. The average size of the fish on the main lake bars and humps has been larger than the schools of fish in the shallows, but there are signs of increased fish movement to the deeper structures and some insect hatches are beginning to occur. Once the bug hatches get going, the deeper, softer bottom areas will gather fish quickly.
Even though we continue to catch plenty of fish with the jig & minnow, I have been fishing with live bait rigs and leech a little bit each day. At the moment, leeches are coming on strong and most days we could get plenty of fish by using leeches for everyone. I've gotten a few reports that spinners and/or live bait rigs with crawlers are also producing some nice catches, but we haven't fished this way just yet.
As has been the case recently, the Walleye fishing on most of the better known Walleye lakes in 1000 Grand Lakes area are producing enough fish that you don't have to get boxed into one lake or one style. Do your research and you'll find at least 20 lakes with good to excellent potential and you'll find that there is a good bite on most of these lakes right now.
Bluegill anglers are in heaven at the moment as well. These fish have moved onto the spawning beds and are providing folks with some great action. Spawning areas are located in shallow, mixed sand, gravel and silt bottoms. The beds can be seen from some distance and it's best to sight fish by locating the beds and cast small jigs toward them. You can catch lots of the fish with a 1/32 or 1/16 ounce jig dressed with a 1-1/2 inch tube or twister tail in colors like black, brown or some of the darker greens. Be careful not to move in close enough to "spook" these fish.
Crappie fishing has been the highlight of the season for me so far. I can never remember more consistent or reliable action. Slowly but surely the spawning areas are becoming vacant and the Crappies are gathering in the deeper holes and weed beds near these spawning areas. Although we've still spotted some fish in bedding areas, these deeper fish are much more concentrated and have been willing biters. My favorite approach is to locate deep pockets of "Cabbage Weeds". Crappies can be caught in and near these weeds by fishing with either a slip bobber/jig/minnow or by fishing with a jig tied direct to your line and cast toward the weeds and lift drop retrieved slowly back to the boat. In calmer water or toward evening, this casting & retrieving approach is far better than the bobbers and will get you some amazing bonus fish. Depending on the lake you can catch Walleye, Bass, Pike and Bluegills in the same areas and you can come back with the true, mixed bag.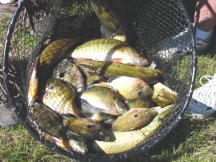 Here's a truly mixed bag. Sunfish, Pike, Bass Crappie and Walleye. All you have to do is jig the weed line. Work slow, Use light tackle and be prepared to be amazed.
A key to this type of fishing is to let the jig drop into the weeds, so you need to use light equipment that will handle 1/16 oz or even 1/32-oz jigs. A light rod like my 7 foot G.Loomis SR842 lets me cast the light baits and I can really "feel" the structure. I can't emphasize enough the importance of using a light, sensitive rod and light line. If your equipment is too heavy, you'll have trouble casting the light baits and feeling the structure.
Cast the jig into the outer edges of these weeds and let it begin to fall, if the jig hits weeds, drop your rod tip so the line goes slack, then sharply "pop" the tip of the rod upward and most of the time the jig will be free. Let the jig fall again and continue this type retrieve until you have fished it out of the cover. If you go too heavy on the jigs, they will plow into the weeds and you will have problems getting stuck. You could become frustrated and eventually give up before you realize how great this system really works.
Perch action is available in a variety of covers and situations. Some fish are using the shallow gravel bars where hatching Crawfish are available. Other Perch are being found in the deeper weed patches and are frequently mixed in with the Crappie and Walleye we've been catching and still other schools of Perch are located on the deeper points and main lake bars. This past week, we've discovered that a spinner and minnow is out producing all other methods we've tried. The spinners can be a number two Colorado or Indiana blade on about a four-foot leader. Fish through the areas at a steady pace.
Northern Pike fishing remains consistent and with the arrival of some larger fish has become more interesting. We're still catching tons of smaller pike on the jig & minnow combo's, but now we are seeing some big Pike too! Casting large spoons and Spinnerbaits are producing Pike of excellent quality and in numbers good enough to make a full day out of Northern Pike fishing. The big Pike turned on this week when they moved in to the shallow areas where Walleye have been feeding. We've found Walleye in the stomachs of some of the Pike we've cleaned and I presume that there were also Walleye in the larger fish we've been releasing. The big Pike location is fairly simple, stay with the first drop off from the shallow areas where Walleye, Perch or Crappie are plentiful and concentrate your efforts along the edge of this sallow drop off. Casting is my favorite, but trolling and bobbers rigged with a live sucker minnow will produce nice fish too.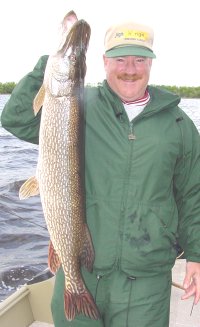 In deeper main lake areas where you find schools of Walleye or Tulibees, try using a special live bait rig that you can make yourself. Tie a 2/0 hook on to a five-foot leader made of 17 to 20 pound mono line. Fish the rig with a larger (6 to 8 inch) lively minnow. Creek Chubs, Red Tails, Suckers or even large Rainbow Chubs will all work. This rig is fished in the same manner that you'd fish a live bait rig for Walleye. In fact, you'll catch some nice Walleye fishing this method as well.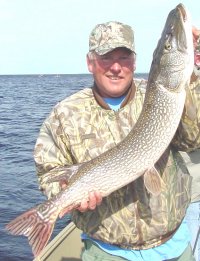 Bass fishing has escaped my attention so far this season, but the reports are good. I will try to focus on some of the key Bass information for next week's report.
Good Luck and please check back for updates.
The Early Bird-Jeff Sundin