---
---
Jeff Sundin Fishing Report August 18, 2017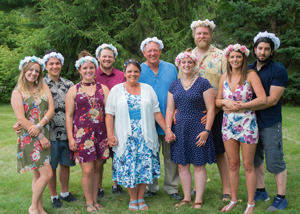 It's been a few days since I updated the reports and I'll bet you've wondered where I disappeared to this time.
Well, I was on a trip with a VIP guest of the highest magnitude; "The Hippie Chick". The two of us were about as far off the grid as we could get, we were on our honeymoon.
That's right, perfect alignment of the planets and stars pointed to August 12th as the ideal date for us to enter into matrimonial bliss, so we did and it was. The weather was perfect, the ceremony went off without a hitch and afterward, the family picnic was utterly heartwarming.
Now the "Hippie Chick", AKA Susan Sundin and I can ban boast endlessly about our collective family. Our 4 beautiful daughters along with their strapping young men who all bring us pride and joy! In the upcoming years, I'm sure that you'll be seeing lots more of all of them.
After the dust settled and we organized the organizable, we gathered up our fishing gear and headed toward Rainy Lake. We planned to relax, do a little sight-seeing and hopefully, do just enough fishing to help equalize a certain imbalance of fishing photos that appear within these pages.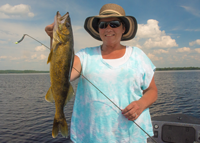 It had been a while since I'd been up there, so maybe I had lost touch or perhaps we just hit the timing right, but either way I was struck by how busy it was. Everywhere we stopped, there were folks stocking up on bait and supplies and when we arrived at the lodge, it was filled to capacity, the place was buzzing with activity.
Traffic on the lake was heavy too, particularly in the area closest to Fort Francis and International Falls. Naturally, the further we travelled, the less crowded the lake became, but anybody who wanted to fish completely by themselves would have to travel some considerable distance to do so. That said, it still was not that hard to find places to fish and it wasn't hard to locate fish on most spots either.
The spots that we fished were very typical mid-summer locations like reefs, sunken islands and deep water points. The key fishing depths ranged between 22 and 30 feet. Although we saw fish in deeper water, we tried to focus on shallower water to allow for safer releases.
Catching fish wasn't tricky, the old reliable Lindy Rig and an air injected night crawler was all we needed to get fish to strike.
It was obvious though that the spots which have been pressured the most, are the ones that produce the fewest number of desirable fish. Almost all of the most popular spots featured a mix a very small, 10 to 13 inch fish along with an occasional "slot-fish". Seeking out some of the lesser known spots was the key to finding a more desirable mix of sizes.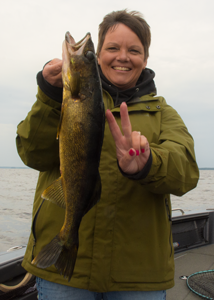 I seriously doubt whether I could have been creative enough to find the offbeat spots without using the Lakemaster "Woods/Rainy Chart".  There are small reefs and shoreline points that anglers drive right by on their way to the well-known honey holes and the chart helps call attention to them. After this trip, I can honestly say that the chart was the most important tool I had at my disposal. There's no doubt that this is why we enjoyed the fishing as much as we did.
Another pleasant departure from past trips to Rainy Lake was the apparent shift in the size structure, at least the sizes of the fish that we found.
My recollection from past trips was that catching large fish that were in the protected slot was easier than catching keeper size fish. On this trip though, catching 16 to 17 inch fish was much easier and we had to work harder at catching larger fish; the ones I was relying on to help solve the photo imbalance that I mentioned earlier. We were able to eat fish for dinner on Tuesday evening, then again for lunch on Wednesday and we still had 4 fish to bring home, despite being rained out on Thursday.
Luckily for me, the larger fish that did strike chose to attack the Hippie Chick's offerings. I'm not sure that we can call them "lunkers", but she definitely did catch some very good quality size fish and that allowed me to at least put a dent in the imbalance of fishing pictures on the website.
Don't worry that there aren't any photos of me holding up any big fat Walleyes; we definitely got the right pictures. Besides, I already had my best luck before we ever even left on the trip!
---
Jeff Sundin Fishing Report August 11, 2017 Fish Are "Where You Find Them"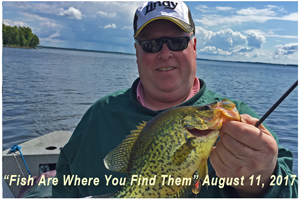 John Donicht wrote; I finally made it up to Winnie and after hearing all the terrible reports, I knew I would have my work cut for me and my friend. We worked hard and the presentation ended up being different than what I have read.
Spinners did not work. Couldn't find any on the mid lake humps. We ended up getting our best action in 10-15 feet of water in the sand and with no pesky perch.
Slow death hooks worked great. Took us awhile but ended up keeping 8 nice eaters in the 14-17 range."
First off, thank you John for the report, it is greatly appreciated!

When I read John's report, I was reminded about how difficult it can be to follow somebody else's "hot bite". It's happened to me a hundred times, somebody calls me and says; "we really got 'em on Thunderstorm Island yesterday, using leeches." After I hear the news, I get all geared up to go and get in on the action myself and when I arrive at Thuderstorm Island, nothing happens.
The thing about what John did that's admirable to me, is that he and his friend searched for and found their own fish. Despite having "heard" the fishing stories to the contrary, they stuck with the search until they uncovered a pattern that worked for them.
This doesn't mean that the other reports were wrong. As a matter of fact, I know for sure that there are folks catching Walleyes on mid-lake bars and I caught Walleyes using spinners on Winnie just last week.
The problem is that weather changes, fish move and we don't always follow the clues to the right spots to test our skills.
I wish I had a dollar for every customer who heard me say; "it's just a matter of time, sooner or later we'll find 'em." Folks far and wide have watched me painstakingly search for something to catch. Most of the time we do, sometimes we don't, but the search never ends; we always keep trying.
I wish that I had more time this morning so I could expand on these thoughts, but I don't. I do hope that your takeaway from these comments is that no matter what you've heard and no matter where you've heard it, your odds of finding fish remain better when you conduct the search yourself. Sooner or later, you will find the right spot and sooner or later, you will win.
Jeff Sundin Fishing Report August 10, 2017 Summertime Family Fishing Trip With The Hastings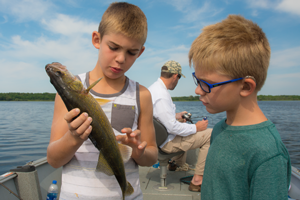 The Camp Hastings event, usually a big one, pulls together family and friends of the Hastings clan. Their family cabin on Deer Lake now entertains its 4th generation of family members and over the years, I've fished with most of 'em.
Thanks to the American way of life working its magic, getting all of the family schedules to sync up wasn't easy this summer. That meant this year's Camp Hastings event came and went without the usual fanfare, but some of us did at least enjoy a couple of days on the water together.
Ironically, the fishing was better than usual this year and the folks who did fish, found it to be fairly effortless. That's the way it goes sometimes.

Water temperatures remain very warm, ranging between 75 and 80 degrees throughout the area. That means that it's still prime time for trolling presentations and for the moment, I'm trolling even faster than usual.
Yes that's right, the standard trolling speed for spinners is typically 1.1 to 1.3 MPH, but these days 1.4 to 1.6 MPH has worked even better for me.
Fishing the shallow water weed edges remains a very good option, especially for mixed bag opportunity. The mix of species depends entirely on what's available in your lake, but if there are gamefish present, I think you can anticipate some action.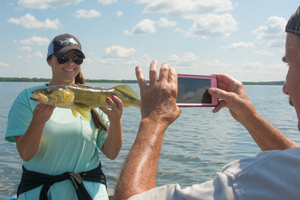 For me, trolling spinners through the weeds for Walleyes meant that Pike and Perch were almost constantly interrupting the flow. Because of the warm water, small fish have voracious appetites right now and the weed beds had become so busy that I actually opted out of fishing them for a few days. Instead, I've focused on mid-lake flats where fish populations are admittedly lower, but there's still enough action to keep us satisfied.
Besides allowing us to fish at a manageable pace, it's given us a whole lot more time to enjoy the fishing trip and catch up on family news too.
Fishing in water depths of 14 to 18 feet, bottom bouncers have been the best way to keep our spinners in fish catching range. Most of the time, 1-1/2 ounce weights have been ideal, but on some lakes, fish holding on deeper structures have forced me to switch to 2 ounce weights.
I'll be the first one to say that we did not fill our bag limits using this technique. But we did bag some better quality fish. In fact I had 10 people to feed and the 9 Walleyes we bagged on day 2, meant that the Camp Hasting family fish fry was easily accomplished. Some nice Perch and Pike, combined with Walleyes from day one provided plenty of fish to make the trip back to Oklahoma too.
While I was doing all that, I've been missing out on some very good Crappie fishing. It's not uncommon for Crappies to begin patrolling the weeds during late summer and by all accounts, they are doing it now and they are biting. As I have a trip that does not feature Walleye as the focal point, I will go back to the weeds and this time, I'll be looking for lakes with lots of Crappies in the mix.
You're probably wishing that I would just go ahead and name some lakes, but I honestly don't think that I need to. You already know which ones are good and the odds are very good that your favorite lake is productive right now. In fact, barring any major weather event, the weedline Crappie action should be good for the next several weeks.
Lake of the Woods, LOW Tourism August 8, 2017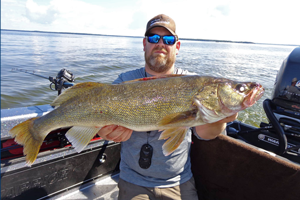 "If you like big walleyes, the bite is on. Spinners with crawlers and trolling crankbaits in 28-31 ft pulling numbers of fish and big fish. Deep mud (no man's land) and deep reefs producing. The winning team for the David A. Andersen Warrior Boats tournament had almost 45 lbs for 5 fish, a 9 pound average! Gold, glow and bright colors continue to be solid choices. Pike active, perch and smallmouth bite in many areas of the lake.
Anglers in the Rainy River finding some walleyes with morning/evening. Trolling cranks or pulling spinners producing the best. Smallmouth bass in good numbers along shoreline bridge embankments and feeder streams. Sturgeon fishing is on fire with a first time group boating 20 sturgeon in two days. Top three sturgeon were 53, 57 and 61 inches.
Up at the NW Angle, excellent fishing continues. In Minnesota, the bite has been on fire with trolling. Blue, chrome, clown or UV pink has worked great in 26-30'. White, orange or chrome spinners have been doing very well from Four Blocks to Garden Island. Up in Canada, jigging walleyes early morning and late afternoon has been the best, with orange, gold and yellow being the most productive, as has pulling spinners in 20-28' using orange along the reefs. Muskies have been very active with any fish being seen after bucktails and hard baits. Our guests boated 49" and 51.5" muskies this past week!!!" – Lake of the Woods Tourism, (800) 382-FISH

Lake of the Woods

,

Border View Lodge August 8, 2017

"Great weather, great fishing! Mixing in some drifting with crawler harness with some down rigging this past week has been incredible. The bait fishing is definitely slower and has the midday lull in action, so the plugs start to take over and keep the action going all day long.

The Walleye Master Guides have been covering areas of Little and Big Traverse Bays again this past week. Most of the action has been further from the mouth of the river, although there are schools of Walleye outside the Lighthouse Gap from 28-31 feet of water. The trend has been larger fish and schools are on the north side of the lake.

This week's forecast looks as great as the last couple of weeks. Light winds and sunshine with high's in the 70's and lows overnight in the 50's.

We still have some great opportunities for August with rate specials arriving on a Sunday, Monday or Tuesday. Our winter rates are published on our website, book early to get the best dates." - 1-800-776-3474 Border View Lodge .
Jeff Sundin Fishing Report August 7, 2017 "Summer Panfish Action; Acceleration Continues"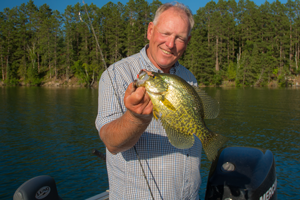 It wasn't very fair of me to leave you yesterday with that teaser about late summer Panfish patterns. I'm really sorry about that, but I'll try to make up for it now.
Water temperatures now range between 75-76 on deep, cool lakes and 81-83 degrees on shallow, dark water lakes. The deepest, coolest lakes are at their peak and very likely as warm as they will ever get for the rest of this summer.
Panfish metabolism is peaked right now too and they are very active. Unless you go out of your way to avoid them, you are going to catch some combination of Sunfish, Rock Bass, Crappie and Perch. In fact, I wrote a couple of weeks ago, wondering if a slower moving Walleye even stands a chance of finding your bait before it's snatched away by the more aggressive Panfish. On Sunday, if there were Walleyes nearby, they did not find our baits quickly enough.
On Sunday, we had another episode like that one; we spent the afternoon on the Iron Range, fishing on a clear water lake that usually features a good multi-species mix. Sunfish, Rock Bass and Crappie, in that order stole the show, leaving the livewell empty of Walleye, but filling the air with the sounds of us kids giggling.
Initially, we found a good school of fish by trolling the weed edges using Little Joe Spinners tipped with night crawlers cut in half. This presentation was a great way to find fish but small lakes feature small structures and fishing a 50 yard stretch of weeds by trolling back and forth becomes very inefficient. So as soon as I had a good idea about where the epicenter of the action was, I dropped in a marker and we re-rigged with lures we could use more precisely.
We started with 1/16 ounce Live Bait Jigs and tipped them with either a cut piece of night crawlers or with small size golden shiner. Rock Bass ate either one, Sunfish liked the worms, and they were aggressive, snapping up the small jigs eagerly. For Crappies though, neither of those offerings were ringing the bell, for them, action baits are definitely the name of the game.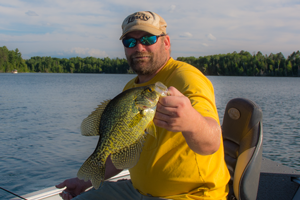 By adding a 3 inch shad-type action tail to the 1/16 ounce Live Bait Jig, Chris Andresen turned into a Crappie hooking machine. For a time, the plastic tail was the only lure that triggered Crappie strikes. It was unfortunate that I only had one of them in my boat and it was eventually discovered by a Northern Pike who took it home as a souvenir.
After that lure was gone, we continued catching other Panfish, but that temporarily ended the Crappie action until we went back to trolling spinners again.
I'm not sure that jig color made a difference because I didn't experiment much. In clear water, I usually tie on subdued colors, so we all had black jigs rigged up from the start. Obviously, the fish ate whatever we offered them on the black jigs, so we never tried any other colors.
My guess is that you will catch Sunfish on almost any one of your favorite presentations. If you add a wax worm, a small chunk of cut night crawler or a leech to your favorite jig, they will bite it. For Crappies, I will be stocking up on a wider array of action tails and I'll bring my small jig spinners too.
It didn't matter whether we caught Walleyes or not, we bagged 4 Crappies for a meal and tossed the rest back anyway. So if there was ever an evening run of Walleyes, we missed it by leaving the lake an hour before sunset. But during daylight hours, there was never any evidence of a Walleye striking any of our lures.
If I was going to fish there again and wanted to strictly target Walleye, I'd try to fish during early morning or else plan to stay until sunset.
---
Abu Garcia Revo Premier Reel Giveaway August 7, 2017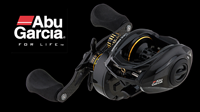 "Now in their 4th generation Revo from Abu Garcia has stood the test of time and the new Revo Gen 4 Premier will be another winner. Eleven total bearings for smooth castability, lightweight X2-Craftic frame, power stacked Carbon Matrix Drag and a low profile to fit even small hands make this Gen 4 a reel everyone would be proud to own. These are brand new and retail for $299.99 at Tackle Warehouse but aren't available until after September 21st so get in on this one for a chance to get one before your buddies." Enter >> Abu Garcia Revo Premier Reel Giveaway
---
Jeff Sundin Fishing Report August 6, 2017 "Panfish Stealing The Show"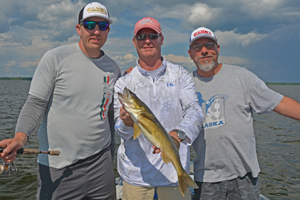 Walleye fishing throughout the greater Grand Rapids area has been fairly reliable over the past few days. On Saturday though, it was apparent that we're on the verge of that "Crappie time" of the year, the time when Panfish steal the limelight.
On Friday Erik Goettl, along with his fishing buddy Cody Olson satisfied the primary goal of this trip which was to share the adventure of David Gauman catching his first Walleye.  We'd gotten in on a fairly good mixed bag, action bite on Friday and that allowed me to meet the 2nd goal of serving David his first meal of fresh Walleye.
With those goals checked off of the list, we thought we'd try for some big fish on Saturday. The plan sounded great, especially for Erik because he'd been with me on "Big Fish Lake" before and that time we enjoyed one of those really good days.
Saturday was different though, the sky was bright blue, the warm surface water was like glass and Walleyes had evacuated the shallow weeds. I located some schools of fish; they were pinned tight to the bottom in 35-40 feet of water. Even if we could have caught them, releasing fish from those depths would have been impossible, so we didn't try to catch them.
What we found instead was a mixture of Sunfish, Largemouth Bass and along with a boat load of Rock Bass could have been kept busy all day long. In fact, we did take a break to gather 15 Sunfish for a meal, but the search for Mr. Big wasn't gonna end well here.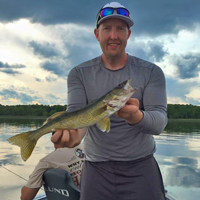 The clock was ticking, the sun was getting brighter and I was itching to swap fishing lakes. So we loaded up the boat, completed the necessary clean up and headed for a darker, stained water lake.
82 degrees was the surface temperature that greeted us at our next stop. The water looked like split pea soup, but despite its unpleasant appearance, the dark water helped cloak us from the fish and after some searching, allowed us to stage a mini-comeback.
There are Walleyes holding tight to the shallow weed edges in most of the area's shallow water lakes right now. The rule of thumb proved to be true here too, but they made me work to find them. I think we fished 3 spots before we caught the first Walleye, and even then most of our time was spent on the move. We'd stop, pick up 1 or 2 fish and then be forced to move again until we eventually landed one spot that offered some action.
The structure was a shallow weed flat that featured a sharp inside corner along the 6-1/2 foot breakline. The sharp turn in the weedline created a small trap, an ambush point for feeding fish and there were both Walleye and Pike taking advantage of it.
Little Joe Spinners trolled behind light weight bullet sinkers has become the standard late summer presentation and that worked on this spot too. We used 1/8 ounce sinkers and tipped the spinners with either crawlers or small minnows. We couldn't perceive any advantage of using one of these baits over the other, so we did continue to run a couple of each, just to have our bases covered.
Crappies, Sunfish and Perch are becoming increasingly active and your options are becoming more numerous by the day. I am up against the clock this morning, so I'll pick up on that theme again tomorrow, so tune in for an update.

Marcell Area - Edge of the Wilderness, Frontier Sports,

Paul Larson July 13, 2017

"The cold front that's blowing through today (Thursday) just might tip the scales in the Walleye anglers favor later in the week. Over cast skies and lower air and water temperatures will almost certainly have a positive effect.

For the last two weeks I've been marking Walleye and Crappie suspended in twenty to thirty feet of water, holding in and around small bait balls twelve to eighteen feet down. This situation is amenable to pulling small deep diving crankbaits like the LIVE TARGET Rainbow Smelt or Savage Gear Fat Vibe rattle bait. In addition, deep coon tail weeds have also been a good place to find Walleyes and Crappies too.

Trolling rattle baits over the top of coon tail weeds at a fairly fast clip (up to 3 mph) is very effective and the pattern of Walleyes holding in these weeds has started in earnest. Bass fishing has been phenomenal, particularly Smallmouth Bass with twenty inch fish not uncommon.

Top water lures and drop shot rigging have been the winning combination for big Smallies. Largemouth Bass that inhabit those areas in and around lily pads have been crushing LIVE TARGET frogs and even the Savage Gear Suicide Duck.

Pike and Musky fishing has been good as well. As a reminder, with the warming water temperatures, releasing a good sized fish can be stressful, stressful for you because you really want the fish to live and stressful for the fish because it can be very hard to revive a fish in overly warm water.

At this time of year and in these conditions, I'll only fish for big pike early in the morning when the water temps are a bit down, thereby making it a little easier on the fish you wish to release.

Temps and weather patterns for the rest of the week are expected to be pleasant and it looks like another great weekend to be out on the water. Have a Great Weekend Everyone!"

Frontier Sports features a complete and fully stocked Sporting Goods department and Bait Shop, Gas, Grocery, Deli and Gift Shop. Frontier Sports is an authorized LIVE TARGET and SAVAGE GEAR dealer. Frontier Sports 218-832-3901
Jeff Sundin Fishing Report August 3, 2017 Walleye Fishing On Lakes With Protected Slot Sizes; Are We Our Own Worst Enemies?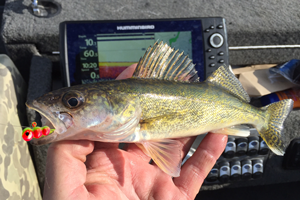 Nobody likes a lecture and I really hope that this doesn't sound like one, that's not what I want.
Thankfully, readers of these reports are really smart folks who come to gather information and then apply it to help them become better anglers. That's why I believe I can make my point without sounding preachy or over-bearing.
Anglers, me included, sometimes feel helpless when it comes to dealing with protected slot limits for Walleyes. There are certain days when it seems like we just can't win; this one's too big, that one's too small, this one's got the wrong I.D. bracelet; when will I ever get to eat one?
Luckily, most of us do eventually find some fish of the right size to gather for a meal. Sometimes we even get lucky and really get into 'em!
Like this summer, when we've found out about a handful of lakes that produced really strong year classes of fish a few years ago. Oodles of small fish showed up "out of nowhere" and suddenly the race is on to see who can be the first one to the lake's landing to gather the lion's share.
Last week I had the opportunity to fish with some good friends, folks that I've known for a long time. They tried to book dates with me first, but I didn't have enough available, so they fished with another guide earlier in the week.
Coincidentally, the circumstances of our scheduled fishing date happened to lead us back to the same lake that they'd fished with the other guy earlier in the week. Nobody was upset about it because the fishing was good the first time and we had every reason to believe it would be good this time too.
It wasn't long after we started fishing that one of them hooked and landed a small Walleye. I admired the young fish for a second, and then I told my crew that I'd be looking forward to seeing that fish again in a couple of years. After that, I casually flipped the small fish back into the lake.
That's when my crew mentioned that the other guy, a very prominent and quite popular fellow, would have kept that one; he had set the minimum size for a "keeper" at 13 inches. That seemed odd to me because under the circumstances, better size fish were certainly available and bagging 13 inch fish shouldn't have been necessary.
Don't get me wrong, in an emergency; I've eaten some 13 inch Walleyes too, what I'm saying is that this was no emergency. There were more than enough fish biting to allow the release of not only those 13 inchers, but all of the protected slot-fish too and even after that, still gather a respectable number of quality keepers to take home.
Understand that I AM NOT complaining about the capture of those small fish, that's not the point. Those fish were taken legally; they provided a fabulous meal and if that's what made everybody happy, then more power to 'em.
But let me try to explain what happens to the lake when anglers, all of us, decide to operate this way.
A strong year class of Walleye flies under the radar for a couple of years, they're so small and they're hiding in offbeat locations so nobody catches them. When the fish first appear to anglers, they are typically 12 to 13 inches and at first, it appears to be a gold mine!  These small fish are plentiful, aggressive and eager to feed. They dominate the action and it can be very easy to get "a limit" of fish, before you know it, it's time to go home.
But in cases like this, being in a hurry to "bag a limit" means that fish of better quality get left behind and are not harvested. Eventually, larger size fish reach the protected slot-size and become protected for many years. "Stacking" is the term they use when populations of "slot-fish" increase and they begin to take up more than their fair share of the lake's resources.
Populations of "slot-fish" build up to the point that they dominate the system. They become easy to catch, while both small fish and fish larger than the slot size become increasingly hard to find.
It's common these days to hear about "carrying capacity", the lake's ability to provide food, cover and space for all of the fish that want to live within her shores. Apparently, the lake can produce enough resources to support a finite number of fish measured in pounds, rather than numbers. For instance, if the lake has the ability to support 10 pounds of fish, it doesn't matter if it has one 10 pound fish or ten 1 pound fish, they represent the same value.
What that means for us is that we should strive for a bag that includes as many quality fish as possible. By allowing more small fish to occupy space in the lake, we actually help reduce the odds that protected slot fish will begin "stacking" and increase the liklihood of stronger populations of keeper size fish. From an angler's point of view, the ideal scenario would be to gather fish that are just on the verge of entering the slot, the closer they are the better.
If I'm fishing on a lake with a slot limit, I want to try and get legal fish that are as close to the protected slot size as possible. Even if it means going home with less than the limit, I'll set a standard that's as high as I believe possible to achieve. If we fall short of a limit, that's okay because having a few quality fish will still provide just as much fish for eating as those little guys would and it's better for the lake. Not to mention that the process of catching and releasing fish provides a lot of action and that's more fun.  
For me, the question boils down to whether it's more important to bag my limit than it is to be a good steward of the resource. If we all agreed to release those 13 inch fish now and allow them to grow for another season, then they would provide even more fun next year, after they've grown a few inches.
Naturally, there are times when it's not that easy and like I said, I've eaten a few 13 inch Walleyes in my day too. But when I'm fishing a good bite and it's easy to do better, why wouldn't I want to not only provide a more gratifying experience for my customers, but also serve the health of the fishery?
The takeaway, I hope, is that you see that we are not helpless. There are ways that we anglers can contribute and that we are not simply at the mercy of the powers that be.  
When fishing lakes with special regulations, there definitely is a strategy to selecting which fish we harvest. There are times when selecting a smaller number of better size fish, is far more productive than simply gathering the bag limit just because you can.
I allowed my mind-set to change about possessing a limit of fish; the numbers just don't add up. Being selective about the fish we harvest almost always works out better than being in a hurry to bag a limit. At the same time, striving to understand what's best for the lake not only allows me to provide a great experience for my customers, but also allows me contribute in a positive way that helps improve the odds of good fishing for the future.
Isn't that the definition of a win-win scenario?

Jeff Sundin EMAIL
Lake of the Woods, LOW Tourism August 1, 2017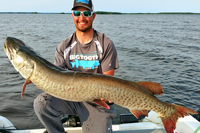 "Late summer fishing on Lake of the Woods is famous for walleyes, muskies, bass and pike and if the last week of July is any indication, August is going to be epic. Spinners with leeches, crawlers, or minnows in 17 feet and out to 30 strong for walleyes and saugers. Reefs doing well too. Gold, white, blue, and chrome/silver colored spinners and crankbaits putting fish in the coolers. Anglers doing well in "no man's land" out in the mud in 30 - 34' pulling crankbaits with leadcore with a lot of fish 24-30' being boated. Pike and smallies active around the lake.
Anglers in the Rainy River finding a few walleyes with the morning/evening being better than day bite. Trolling cranks or pulling spinners producing the best . Smallmouth bass scattered all over in the river by docks, structure, and feeder streams/back bays. Sturgeon fishing continues very good with many who target these beasts having good success.
Up at the NW Angle, fishing has remained excellent. Chrome and chartreuse spinners and blue or silver crankbaits have been producing the best off of Lunatic Island and Four Blocks Island or West of Little Oak Island in 28-32 ft. of water. On the Canadian side, jigging gold or purple tipped with either fat heads or shiners next to rock / mud transitions has been the most productive. Muskie fishing really picked up this week while casting bucktails over transitions of weeds and rocks. Algae Bloom is noticeable but hasn't affected muskie bite." Lake of the Woods Tourism, (800) 382-FISH

Lake of the Woods

,

Border View Lodge August 1, 2017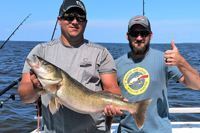 "Warm weather and light wind this past week produced some excellent angling! The Walleye Master Guides have been putting a variety of tactics in the water. The plug fishing has created the most action and many large Walleye. Bait fishing remained strong when the weather and wind cooperated. Most of the bait fishing this past week has been drifting with spinners using crawlers or leeches with a frozen Shiner. Captain Jason put Kyle Chan on a 32 ½ inch monster Walleye this past week!

The August Walleye forecast is excellent! We are the Walleye Capitol of the World; Lake of the Woods Minnesota is the place to be for Walleye any time of year. For August, we expect fish to be deeper and in the mud, there are large schools of Walleye in Big and Little Traverse Bays, some of the schools can stretch up to a mile and many of the fish are in the 18-20-inch ranges.

This is a great time to plan the summer wrap up trip with the family. Fishing is strong and school will come sooner than expected.

Great amounts of sunshine this past week with warm temps of highs in the 80's. The week ahead looks like another great one. We are seeing temps forecasted in the upper 70's with lows in the upper 50's overnight.

We still have some great opportunities for August with rate specials arriving on a Sunday, Monday or Tuesday." - 1-800-776-3474 Border View Lodge .
Comprehensive Underwater Side Imaging Video Teaches Everything! Top Rated Video!
Okay lets cut to the chase. If you've ever asked a question about using side imaging, how it works or why it works; then you need to watch this video. This is the most comprehensive turorial about using side imaging technology that I've ever seen.
Wired2Fish teamed up with Jeff "Kolo" Kolodzinski of Humminbird to create this detailed video about understanding how and why this technology works.
"The featured product is Humminbird's Helix-12, but the concepts will help you regardless fish finder manufacturer. Kolo breaks down how to read and interpret what side imaging, down imaging, and two-dimensional (2D) sonar are showing you, and how they can improve your fishing. We filmed real-time drone and underwater video of screen readouts to show you what rocks, weeds, fish, and bottom hardness changes look like on the screen, from the air, and below the water - seeing is believing." View Video >> Understanding Side Imaging Technologies
---
"Lund Boat For Sale; Help Jeff Sell The Boat and Receive Free Fishing Trip" Jeff Sundin, August 3, 2017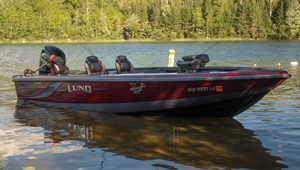 "Lund Boat, 2016 208 Pro V GL Tiller, 2016 Mercury Verado 200 HP "Big Tiller", Lund 2016 Dual Axle Bunk Trailer.
You've been ready for the ultimate ride in a tiller boat for a long time, but you thought it would be way too expensive for you; not anymore! It's time for me to make room for a new rig and that means that you can cash in on big savings by picking up this rigged, ready and fully trained in luxurious fishing boat.
If you're reading this page, then you already know that I like to keep things simple and it was true when I set up this boat, my setup is for maxium efficiency as a tiller rig. It is simple but effective, leaving you a platform with plenty of space to add your own ..." Learn More >> Lund Boat For Sale
---