No matter how well the weather held during September, the arrival of colder temperatures and the "Fall Turnover" is upon us. With temperatures falling into the low 20-degree range this past Tuesday night and combining with high winds on Wednesday, many of the shallower, wind swept lakes have surface temperatures falling into the low 50-degree range. The good news is that most of the larger, deeper lakes are still showing temps around 56 to 58 degrees which is just above what I consider to be still in the "good fishing" range.
The past week has been one of experimenting and traveling from lake to lake in search of the "hot ones" and although we did find some bright spots, scattered fish and sluggish fishing was what we found on many of the lakes we visited. You could say that this was the definition of the term "spotty" fishing. When we were in the right spot, we did well. But the search was often tedious and required lots of persistence.
Walleyes remain on the sluggish, but catchable list. Lakes to avoid are the ones with shallow, darker water. These are the ones that seemed to nose dive on the cold snap this week and the ones we visited were not producing well at all. The threshold or "magic number" for me seems to be about 55 degrees. Whether this is technically correct or not, it is the temperature that seems to trigger the big change on my favorite lakes.
Stick to lakes with deeper water and if possible, less direct exposure to high winds. On these lakes we found some Walleyes still relating to the deep weedlines and some fish relating to the steeper drop off areas in 20 to 35 feet of water. The night crawlers that we've been using for the past few weeks are starting to be less advantageous and even though they are still producing, we've been slowly shifting toward jig & minnow fishing during the week. Check the weedlines first because this is where we've located the most active fish. Then move to the deeper breaklines and work on the deeper fish. The river waters are running high and fast. A test run down the Mississippi revealed cloudy water with lot's of weedy debris flowing in the current. There were some folks picking up scattered fish, but the best quality fishing is probably a couple of weeks away.
Largemouth Bass that had been the highlight of fishing last week were scattered and in very small groups this week. We still caught a few fish on spinnerbaits over the weed flats and a few in the bulrushes. It's time now to watch for the deeper weeds that stay green. These fish will begin to group up in these good green weeds and there will be yet another "hot bite" before the fall is over. With luck, I'll have a report on that next week.
Bluegills have been slow to move out of their weed locations and as long as the weed flats continue to be green, the majority of these fish will remain in these areas. There are some fish out in open water with the schools of Crappies, but not enough to make it the top pattern just yet. Most of the folks catching these fish right now are "still fishing" with bobbers, small jigs and pieces of worm or small bluegill size leeches. Locate the better areas by slowly creeping through the weed flats with light jigs tipped with worms. Stop as soon as you locate a school of fish and either anchor the boat or hover with an electric trolling motor.
Crappies are still saving the day on a lot of trips. They have been willing biters for the past month or more and they've been relatively easy to locate.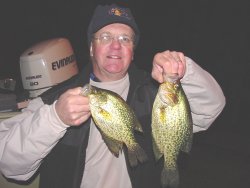 Crappies like these are probably the best news we've had for most of the fall season. They've been willing to bite and relatively easy to locate. Well worth the effort!
We've found good schools of fish in a variety of lakes. They are still relating loosely to the deep breaklines, but there are now also some small schools of fish roaming open water, well away from the structure. Best bet for success is to keep on the move and stop only when you locate better groups of fish. This will really swing the odds in you favor. The standard approach of using jig & minnow and fishing vertically is still working fine, but there are times when we've used a live bait rig tipped with a lively minnow as "search baits". We troll around slowly until we make contact with a better school of fish. Once we find a good school, we'll switch back to the jigs for more precise control.
Northern Pike of small size have been up in the shallow water and somewhat vulnerable to spinnerbaits. There are a couple of area lakes that are reported have decent action, but for the most part, the absence of quality Pike on lots of lakes is notable. Until we see the fall spawning runs of Tulibee and Whitefish, we're not very optimistic about the Northern Pike fishing. This is one time I'd like to be wrong, but it doesn't look like we're going to get that hot fall pike bite that we always look forward to. If you really want to make a day of it, I'd suggest trolling the deeper flats and steep drop of areas with crankbaits. Covering lots of water will probably trick a few fish as a reward for the stealthy angler.
Perch action has kicked up a notch and some folks are enjoying pretty fair fishing in terms of both numbers and size. Schools of fish are randomly scattered and most folks are finding them while in the search for Walleyes. Shallow weeds and mixed rock have been better areas and "simple, but effective", jig & minnow fishing is doing the trick.
Cormorants; coming to a lake near you! Keep an eye open for some reports about the spread and seriousness of the challenge these birds will be presenting. I'll be posting lot's of information in the coming weeks.