Ice conditions improved this week when Sunday's blast of warm sunshine reduced snow cover on most area lakes. We saw certain areas of Leech Lake where snow was reduced to standing water on the ice. Perfect timing for the return to colder weather that blew in on Monday. For the first time in a couple of months, there are folks driving on the ice without needing any plowed roads. This has opened up huge amounts of new territory that was previously available only to the anglers clever enough to bring their snow machines. On a trip to the Wadena, Minnesota area this past Sunday, we saw lots of snowmobile trails now showing open grass or dirt, so it looks like early spring fishing is creeping our way. We saw vehicle traffic on many smaller lakes that were previously inaccessible.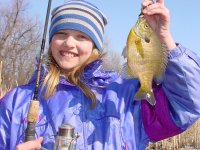 Spring fever hits when the weather gets this nice. Here's proof that you can never be too early for spring shore fishing.
Bluegills are turning up in the creels of quite a few Northern Minnesota fishermen right now and we're going to be hearing a lot more buzz about this in the next couple of weeks. The majority of the action is ice fishing of course, but believe it or not, there is already some shore fishing action available. A case of spring fever and an opportunity to fish in open water for a change inspired us to take a shot at some of the seasons earliest spring Bluegill fishing in an area adjacent to the river where the water opens up early. We had a reasonably good catch of fish ranging from 6 inches up to maybe 9 inches. No real whoppers, but some delicious eating size fish. One of the keys to keeping your favorite Bluegill lakes healthy is to get in the habit of harvesting some of the smaller fish and releasing larger ones. This can help avoid the over-crowding and stunting of the smaller fish, so we don't get too concerned about the size anymore.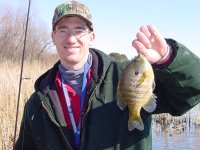 My, Hero! Matt picked the right color, the right spot and the right bait that set us on the track. Some baits were better than others, so change them around until you hit the right combinations.
Our best baits were regular round jig heads tipped with wax worms. We caught some fish on Euro Larvae after the waxies ran out, but they were not quite as productive. Color combinations of green, green-glow, black and black-green produced well. Other colors we've been using for Crappies this winter were a bomb. Reds, pinks and brighter combinations failed to bring in a single Bluegill, so be prepared to switch away from some of the habits that formed earlier this winter. Our fish were holding tightly to patches of coontail weeds in shallow water, start your search in the weeds and don't be afraid to go really shallow.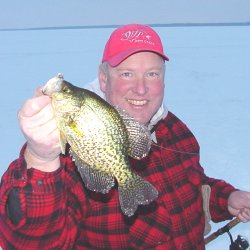 Crappie fishing continues to pay off for anglers as well, the Red Lake bite has continued to pay for folks who really study it, but there's easier fishing on the smaller local lakes right now. Crappies are still holding in the deeper holes but like the Bluegills, they'll be moving toward the shallower drop-offs and into the weeds as well. On the smaller lakes, start looking for the Crappies near the deeper holes and then move toward the shallower breaks. As you search, watch for suspended fish, some spring crappies with be active just a few feet below the ice. Reports from friends are that minnow tipped blade baits continue to be the top choice. Late winter, I expect to catch Crappies on the grubs as well, so from here on out we'll carry waxies as a backup on every trip.
Perch reports are still coming in mixed with some folks finding fish and others getting shut out. It sounded like the key for those who succeeded this weekend was to move into new territory. There's been pressure on the deep-water haunts for most of the winter and with the coming warming trends, I'd expect to see better action by heading for the shallows. Most of the folks who did well over the weekend had moved back toward the shorelines. Although it sounded like the fish were running smaller than the deeper spots, the action was quite a bit better. So the trade off is action for size.