---
---

Greg Clusiau, "Greg's Guidlines"

January 16, 2018

"The Ice Ride (Part V)"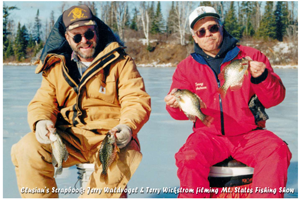 My very first guided ice trip took place thirty years ago and I really wasn't quite sure what to expect. So, with that in mind, I asked my son-in-law if he wanted to come along to help, if needed.
Things went well and the only real concern to me was the fact that we would be leaving a "footprint", meaning that evidence of exactly where we were would now be there for all to see. Would my clients come back to the same spot on their own?
Back in the working days, Monday through Friday, most of my fishing took place on weekends and on my return trip to the same lake, the following Saturday, I found the same group, fishing the same spot. You couldn't blame them. I didn't own the lake but it was definitely of some concern to me.
Exchanging pleasantries, we drilled a few holes next to them and checked it out with our one and only Vexilar, looking for fish. Wouldn't you know it? There wasn't a fish to be found in this area.
We explored other areas of the lake and found a good bite, unlike our hapless friends, who remained in the same spot, trying to catch a few crappies in pretty much fish-less waters. I think they learned a valuable lesson on that day, being "go with a guide or buy a Vexilar."
I don't know if it's my imagination, or not, but it sure seems like we had a lot more snow and cold weather back then. Trying to reach some of my favorite fishing holes wasn't easy, as I didn't have a snowmobile. Countless hours were logged, pulling my one-man Fish Trap all over the North Country. Sometimes it meant wading a mile or two through snow too deep for a four-wheel drive pickup truck. Hey, a man's gotta do what a man's gotta do.
GPS units weren't available yet so anytime we found a good bunch of fish, landmarks were pinpointed in hopes of returning to the same exact spot. Sometimes, discreetly positioned "snow mounds" or a small tree branch was left to show us the way.
Minnows were used most of the time, although waxworms and maggots eventually made their way into my arsenal of baits. When guiding fairly steady, a regular shipment of bait came to my doorstep, ordered from Vados Express Bait. I still have an account there and use it from time-to-time.
It took several years before I had "all the right gear". Having a snowmobile and hand-held gps unit opened up several options. Now I could fish those little hard-to-reach honey holes that only a select few were visiting.
The "Ice Team" was founded and I was honored to be a charter member, along with a handful of others. Terry Wickstrom, formerly of Hibbing, now living in Colorado, was one of them. We now had access to the best information and products in the business.
Guide popularity opened several doors that lead to television shows and some of the first were with "Outdoors Minnesota", based out of St. Cloud.
I recall we had a good bite going on Big Bowstring (yes, I fished this lake many years ago and it's still a favorite today). OM came up for a shoot and things weren't going well at all, as fish were really tight-lipped and hard to come by.
I could tell the hosts, Tom Brandt and Jerry Carlson, were getting a little frustrated, as they had a bunch of money tied up in this thing, hiring a cameraman, etc. I suggested packing up and going to another lake. They were all for it but a little reluctant when I told them it was an hour away, just north of Nashwauk. Yes, we were going to Crooked Lake. I don't think there's ever been another show filmed on that body of water. LOL.
It was late-ice and easy traveling with vehicles. We drove out of the "piling landing" to a spot that I had only recently discovered. I sure hoped the fish would still be there.
Imagine my surprise, when the fish were biting even better than on my most recent visit. Many of the fish, crappie and sunfish, were even larger than I was catching beforehand.
It turned out to be a good show but the funny thing (well, maybe not funny) is that I haven't done well in this spot since. Incredible (incredibly lucky).
Teaming up with Terry Wickstrom, who had now started the Mt. States Fishing television show, based out of Colorado, I did another show on another little lake north of Nashwauk, Little Buck Lake.
It was first-ice this time and Terry had arrived in Minnesota to attend the new and up-coming St. Paul Ice Fishing Show as part of the Ice Team. He wanted to do a show and the ice was sketchy, at best, but I knew we could get it done.
With the help of Jerry Waldvogel as cameraman, we made it happen and it turned out to be a pretty good show.
Now here's the funny thing. We attended the St. Paul show and people were amazed that we had already been on ice, as the weather was really warm. So much, in fact, that when we filmed the show, we had to get off the lake, as the ice was getting very soft and almost disappearing below our feet.
After the St. Paul Ice Fishing Show, I returned home to find Little Buck Lake had opened back up. Waiting for it to freeze up again, I made it back out there and can proudly claim to be one of the very few to fish "first ice" twice on the same lake in two weeks. That doesn't happen very often, if ever.
(to be continued)
---
Wired2Fish January 16, 2018 "Megabass Vision Oneten Silent Jerkbait Giveaway"
"There is all kinds of debate out there to whether rattles are more or less effective for catching fish. There is a growing group that believes that silent has its places and subtle can be better. Most of us will use rattles in our hard baits and plastics but there is no question there are places where silence is deadly.
Megabass is introducing a new silent jerkbait called the Vision Oneten Silent that is something new to add to the arsenal in cold clear water. The Megabass pros have just started to test this new bait and we want to give you the opportunity to win two each of the new Vision Oneten Silent's for you to test as well. They fish just like the ..." Learn More and Enter >> Megabass Vision Oneten Silent Jerkbait Giveaway
---

Greg Clusiau, "Greg's Guidlines"
January 9, 2017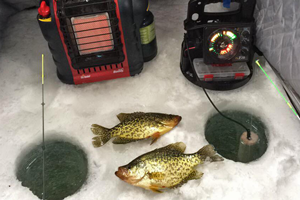 Yay! Finally, a reprieve from Mother Nature. The recent super-frigid temps kept me off the lakes for a few days and I didn't even mind it. Imagine that. Back in the day, when working fulltime, I'd pretty much force myself to go, no matter what the weather, just to "get my licks in." However, now every day is "Saturday" for me. How sweet it is!
The recent warm spell has fish cooperating very nicely. I think they're happy with the warm-up as well. At least they're biting a lot better than before.
I'm finally driving out onto a few of the lakes but still taking a good deal of safety precautions. My most recent adventures have been on Big Bowstring Lake, where ice was measured at 21-22".
When it comes to checking ice thickness (and safety), I drill a hole, shovel it down to the ice, and use a tape measure, to get an accurate reading. It's a secure feeling, knowing exactly what's beneath me but, then again, ice is never 100% safe so I always keep that in mind, especially when nearing pressure ridges, etc.
I've been going out of Geiger's Trail's End Resort on the north end, as Bill has a nice network of plowed roads to travel on and he always tries to go within a short distance of prime fishing areas. A lack of snow cover allows one to travel "off the beaten path" but I did come to a stand-still a few times, when encountering crusted drifts that gave way to the heavy frontend of my truck (bring a shovel, just in case).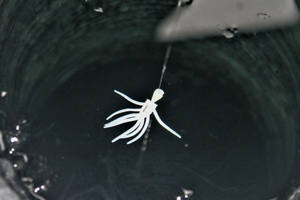 Some anglers have struggled in their catching and I believe most of the problem lies with their ability to stay mobile. If I'm not seeing many fish, I don't stick around. Often, fishermen will see a lot of fish and try to catch them, as they slowly come up off the bottom but many times these are small perch and a move is required. Don't waste your time, especially if the moving is easy.
"Fishing memories" often limits anglers in doing well and I've been just as guilty as anyone of this. I always check out past hotspots, just to see if anything is happening there and most of the time it's not.
Many of my memory spots are waypoints on my graph and have names of fishing partners. How can one not fish areas like "Joel 1" (brother Joel), "Jack 2" (uncle Jack), and "Bills" (Bill Olson).
On most lakes, there are hundreds of places to fish. If the fish aren't cooperating (or can't be found), don't hesitate to drive another ¼ mile, ½ mile, or even 2 miles or more.
Fish aren't always relating tightly to structure. You may want to stop out in the "middle of nowhere" to try your luck. I've done this several times and every-once-in-a-while you just happen to find the Mother Lode.
Usually, these random spots have fish there and then gone, as there's nothing to hold them, other than forage and that's why they're there in the first place.
Now you run into the decision of "do I sit tight and wait for them to come back or run around and try to find them?" I usually let the fish tell me the answer. If they're in a real aggressive mood, chasing around, here and there, it may be best to sit and wait for the next flurry. Sometimes you only need to wait for 15 minutes or so.
However, if the weather is nice and you have several drilled holes at your disposal, you may want to go with the "run and gun" approach. That's all up to you. I recall many a guide trip when the customer was older and preferred to sit and wait them out. They did well. Go with your gut feeling.
When it comes to live bait, I usually have a very nice selection of most everything. My usual offerings are waxworms, colored maggots, and small crappie minnows but the best presentation last week has been a small jig and plastic.
It was a little bit of a stubborn bite, when I noticed some white plastics that were left behind from a recent guide trip, where Wisconsinites Marques and Scott really did a number on the fish. They were both using a Freedom Baitz "Hellcat".
I stuck one on the end of a small tungsten jig and the result was overwhelming. What a difference that made. Fish were rising up in a hurry to engulf this long-legged presentation. Needless-to-say, I finished the day with it and realize I just may need to make a small order.
Have fun, be versatile, and stay safe!
---

Greg Clusiau, "Greg's Guidlines" January 2, 2018

- "The Ice Ride" (Part IV) Read Parts 1 thru 3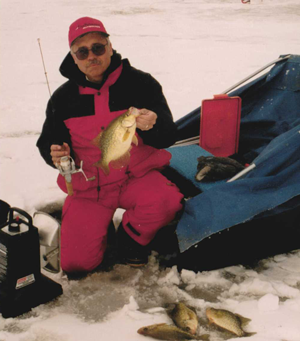 Another memorable event, from "The Masters", was with the hired help.
After a couple of very successful years hosting the Masters, I decided to hire someone to keep an eye on the cabin while we were out fishing all day and had the perfect guy in mind. We'll just call him Rip.
Rip was one heck of a cook. As a regular member of our Little Bear Lake deer hunting crew, I got to witness this firsthand. The man was incredible. All he had to do was keep the cabin warm (we had a barrel stove for heat), serve up a piping hot breakfast, and have dinner waiting for us upon returning to "base camp" each evening.
The first year went smoothly, with delectable appetizers being served before each meal, which was always something special and often a complete surprise. One time, we ran out of propane, so Rip prepared everything on top of the barrel stove and managed to have peach cobbler, pies, and a five- course meal waiting for our cold and hungry bodies. I couldn't believe it.
Now, lets talk about the following year, shall we? I had a number of guests that I wanted to impress (that was a part of the fun) and everything was going smoothly, which started out with a fantastic breakfast.
It was cold out and we fished right until dark. I could hardly wait to get back to a warm shack and have a hot meal.
Surprise, surprise. Now, I should mention that Rip liked to have a little "nip" once in a while but I didn't expect him to do it on this day (we talked about this beforehand). I noticed something wrong as soon as I opened the door. The cabin was cold and there was Rip, sleeping, with his head on the kitchen table.
While guests were standing around, wondering just what they got themselves into, Terry and I took control and quickly got the cabin warmed up and started cooking. Thankfully, Rip had the food prepared so all we had to do was heat it up (I'm a terrible cook).
Rip had a big beard and could have filled in at anytime for a ZZ Top band member. As a matter-of-fact, he said he hadn't shaved since he graduated from Hibbing High School, many years ago. I remember looking at him, passed out, and contemplating cutting that big beard off his face. Yes, I was a little hot. But I didn't, thank God.
The next morning, we had the "breakfast of champions", as Rip, licking his wounds, had really done it up right.
That memory is so etched into my brain that I can even recall the lake we went to, Gunnysack.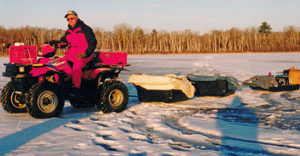 We fished a lot of local Itasca county lakes back then, many of which were the first to freeze, so you can only imagine where we went. The majority of the time, all fish were released but we did take thousands of photos.
Many say that it was the popularity of the Minnesota Masters of Ice Fishing gathering that lead to the big St. Paul Ice Fishing Show, along with others across the Midwest.
My ice guiding had taking off very well, with clients contacting me from all over. I believe I was the first to offer guided trips on a personal level, where everyone had their own heated shelter, Vexilar, etc. I had so much equipment that it was hard to take it all along, if I had a large group.
I recall one trip, in which I tried to talk my clients out of, was taken on the coldest recorded day in Minnesota.
Looking at the forecast, about a week before the trip was scheduled, I called my client and told him it was in their best interest if they canceled and tried for another date. Frigid weather was moving in and it wasn't going to be pretty.
His response was "nope, we've been planning this for weeks and we're coming". Oh boy. Doesn't anyone ever listen to their guide? Of course, this was back then, when I'd let the customer tell me what to do (my how I've changed).
They showed up and were staying at The Pines on Big Winnie. That morning (February 2, 1996), which has been recorded as the coldest day in Minnesota, I headed over, only to have the antifreeze blow out of the truck.
Luckily, I flagged someone down and brought most of my gear to the resort for them to use. There was no way I could guide them. They'd be renting a permanent shack on the big lake, which was really the only way to go under these circumstances.
I left them (total strangers) a four Vexilars and $20 worth of minnows. I returned a couple days later to pick up my equipment and never even got a tip out of the deal.
The coldest recorded temperature on that day was a hearty -60º below zero, Cook, Minnesota. (to be continued) ..." Read >> More Greg's Guidelines
---
---